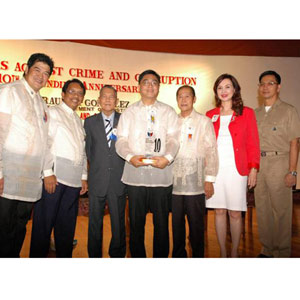 ---

GMA Network was named Outstanding Television Station for theyears 1998-2008 by the Volunteers Against Crime and Corruption (VACC). The"Dekada" award was conferred to the station for its high-caliber newsprogramming and investigative reporting that paralleled campaigns against crimeand corruption.

The award was given last August 28 during the VACC's 10th Founding anniversary celebration in Quezon City. GMA-7's Vice President for Corporate CommunicationsButch Raquel received the "Dekada" award for the Network.
GMA News and Public Affairs also received an award for itscontinued fight against crime and injustice. The VACC granted awards to thePresidential Anti-Smuggling Group, the Philippine Drug Enforcement Agency(PDEA), and to dzBB radio reporter Sam Nielsen.
PDEA chief Dionisio Santiago thanked the VACC for the awardsaying it is only fitting that those cited for the award were recognized fortheir anti-crime efforts. Dionisio said in his speech: "This is a veryopportune time para yung dapat mabigyan ng parangal ay mabigyan ng parangal."

dzBB is the flagship radio station of Philippine television network GMANetwork.