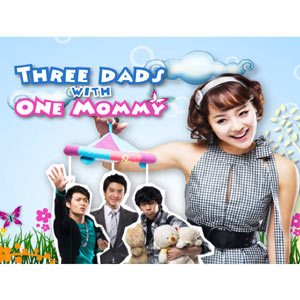 ---
How can one mommy raise her one and only baby with threedaddies around?
Eugene Kim of Save the Last Dance and WonderfulLife shows you how as she topbills ABS-CBN's newest Koreanovela offering ThreeDads with One Mommy.
Watch Korea's sweetheart as she plays Lizette, a girl whodesperately want a child but her husband Justin (Yun Sang Hyun of Marrying aMillionaire) is unable to get her pregnant.
Running out of other options, Justin then seeks the help ofhis best friends Ariel (Shin Sung Rok), Jayden (Jae Hee), and Jake's (Jo HyunJae) by convincing them to donate their sperms.
The three were hesitant at first but after a few shots ofliquor, they agreed to do it and even signed a contract to formalize things.
To everyone's surprise, Lizette becomes pregnant and Justinassured his three friends that he didn't push through with his originalproposal.
An accident suddenly killed Justin that paved the way forthem to find out that he lied all along, and indeed used their sperm donationsto give Lizette the baby that she has always wanted.
Now, Lizette is all alone with her newborn baby girl withouther knowing who her daughter's real father is.
How will they go about the situation? Can Ariel, Jayden, orJake possibly fall in love with their dead buddy's wife?
Don't miss the exciting premiere of Three Dads with OneMommy on Tuesday (September 9), after Pinoy Dream Academy Season 2on ABS-CBN.