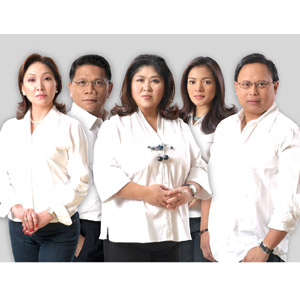 ---

See former Presidents of the Philippines appear on the sameprogram with the incumbent to talk about how they shaped history. ThisSeptember, get to know better the Philippines' top newsmakers by watching a TVspecial to be aired on GMA-7.

A first in local TV history, the four living Presidents and a former First Ladyappear in exclusive, one-on-one interviews with the five pillars of GMANews—Jessica Soho, Mike Enriquez, Mel Tiangco, Arnold Clavio and VickyMorales—for an unprecedented coverage titled Newsmakers: the GMA NewsSpecial.
After decades of unforgettable news-making spanning fivepresidencies, GMA News unmasks the untold stories behind major events, stories,and the most influential names that shaped the nation—Ferdinand Marcos, Corazon"Cory" Aquino, Fidel Ramos, Joseph Estrada, and Gloria Macapagal-Arroyo. Takingstarkly different paths to power, they all ended up in Malacañang. GMA Newsreviews its most unforgettable coverage and takes a closer look into thepersona of these unique individuals who held the country's fate in their hands.
Before finding themselves in the seat of power, these menand women were ordinary citizens like everyone else. Each was propelled into the spotlight when they rose to power,made headlines and caught their own share of controversies. But beneath the issues, what goes on insidea president's mind? Behind theimage-making, what is each President really like? Who is the person behind the position?
Watch as former first lady Imelda Marcos shares stories ofwhat she describes as the country's "golden years." Imelda gives a revealing account of the life of arguably one ofthe most brilliant, but feared men in politics—Ferdinand Marcos.
The Philippines' and Asia's first female president alsoappears in her first formal television interview of late. Cory Aquino, the ladyin yellow, provides her own take on the struggle for democracy. While serving as mother and wife to her ownfamily, she finds herself the mother of an entire nation.
ADVERTISEMENT - CONTINUE READING BELOW
The list of former presidents goes on. Get to know a side of Fidel Ramos you'venever seen before as the General and law-enforcer shows his light side. Newsmakersuncovers the idiosyncrasies behind this military man and backtracks to histime as President.
Actor-turned-politician Joseph Estrada recalls the days heessayed his most important role. Erap'sstories reveal a life made for the movies, with winning lines and unforgettablescenes caught on camera. The theme ofhero and villain, friend or foe is a constant in his political career.
Newsmakers also goes current with a rare sit-downinterview with President Gloria Macapagal-Arroyo herself. The current resident of Malacañang sharesher thoughts on finding herself back into the Palace—where she oncelived as a child.
GMA News has served to uncover truths behind each of theadministrations of five leaders in our nation's history. But with each report comes a backstory. Witness a major presentationthat will reveal never-before-seen footages and little-known facts about themost powerful people in recent Philippine history.
Watch as five presidencies merge in a singlepresentation. Catch
Newsmakers: the GMA News Special
on September 21,Sunday, at 10:30 p.m. only on GMA-7.