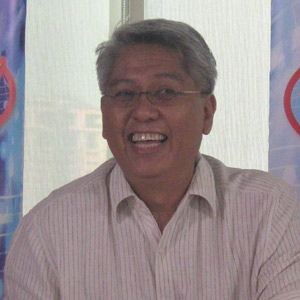 ---
The P2 million jackpot in Kapamilya Deal or No Dealseason 3 continues to be elusive since the hit number game show returned onprimetime TV in late July.
That's why the pressure is on for society columnists and TVshow hosts Johnny Litton and Maurice Arcache, and Pinoy Dream AcademyHeadmaster Ryan Cayabyab this week as they try to make a deal of theirlifetime.
Don't miss the exciting episode when Litton and Arcache facethe Banker together. Will they trusttheir instincts and stick to their chosen briefcase, believing that it containsthe P2 million jackpot? Or will they blink and succumb to the Banker's offer?
On the other hand, Maestro Ryan Cayabyab takes some time offfrom his busy schedule as the headmaster of PDA to play the numbers game. Will Lady Luck smile or frown on hisfortune? How far will the PDAheadmaster go in dealing with the Banker?
Serving as their guide is KDOND host Kris Aquino and shewill be joined by the sexy 26K girls.
The show has seen famous personalities from different fieldsplaying the game this season, including former president Joseph Estrada, actorGabby Concepcion, Billy Joe Crawford, Jessa Zaragosa, Dingdong Avanzado,Cornelia "Angge" Lee, and Ben Chan.
Who will be the first millionaire of KDOND this thirdseason? Find out in Kapamilya Dealor No Deal, which airs weekdays before TV Patrol World on ABS-CBN.