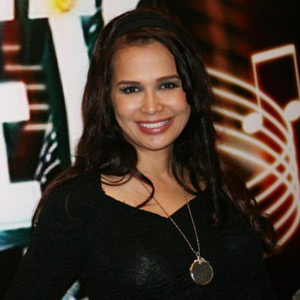 ---

It seems that the contestants are feeling the heat andpressure of the competition as the first round of eliminations took place lastSaturday, September 6, on Celebrity Duets 2. First to exit was model andactress Melanie Marquez who got the boot after receiving the lowest number ofvotes from a nationwide audience.
Still in the running, however, are soccer player PhilYounghusband, chef JL Cang, beauty and wellness guru Cory Quirino, Metro ManilaDevelopment Authority chairman Bayani Fernando, beauty title holder CarleneAguilar, actor and comedian Joey Marquez, and fashion designer JC Buendia.
Before completely leaving the show, Melanie performed herversion of Madonna's "Vogue"—the song that she chose and rehearsed prior to herelimination. The Queen of Soul Jaya joined her on-stage.
After the eliminations, it was once again time for thesinging showdown. Last week saw the unfolding of a new line-up of singingsuperstars, each complementing the style and song choice of the celebritycontenders.
First on the concert stage was wellness guru Cory Quirinowho had comedienne Nanette Inventor as her partner. Cory moved and grooved toOlivia Newton-John's '80s hit, "Physical," wearing a pink-and-green aerobicsoutfit. Nanette danced with her on-stage, but in a similarly styledblue-and-yellow costume.
After the performance, the three celebrity judges thenoffered their comments.
Stage director Freddie Santos told Cory, "Ikaw yungwellness, si Nanette yung fullness," he observed. "Katulad ng lahat ng mgaaerobics, nangailangan ka ng konting warm-up. Just be very careful with that.Because once you get going, tuloy-tuloy ka 'e, ganda ng ratchada mo 'e. So,konting bwelo lang," he advised.
"You started well, actually," observed musical directorDanny Tan. "Nasa tono siya. Pero bago pumasok si Nanette, medyo nag-off ngkonti. So be careful na maging consistent yung pitch...[yung] intonation," headvised the wellness guru. "Bilib ako sa choreography niyo. Talagang nag-workkayo as a team."
As for Celebrity Duets Season 1 winner TessaPrieto-Valdes: "I'm always positive!" she exclaimed "Ang cute ng combinationninyo and everything. Of course, you know me...I'm always into cinematography[so] I love the combination. I like the outfit! I'm happy that you're stillin," she told Cory.
ADVERTISEMENT - CONTINUE READING BELOW
Next was designer JC Buendia who opted for a rock jig thistime around. Together with rock icon, Jett Pangan of The Dawn, JC sang U2's"Pride (In The Name of Love)". And like in most of his performances, JCdesigned his own costume for this number.
"Ang maganda kay JC," started Danny Tan, "pag nagpe-performsiya, talagang bigay-todo—yung energy niya...Tsaka nag-e-enjoy siya sa ginagawaniya. Para sa isang taong may sakit, magaling ka," he told JC, taking notice ofthe celebrity contestant's raspy and hoarse voice. "Yung tiyempo lang. 'Pagganung may beat, kailangan talaga nasa beat ka pag kumakanta."
"Nabingi ako," criticized Direk Freddie. "Medyo sorta kindamaingay. Ang ganda pa naman kasi nung umpisa 'e. Pero talaga nung nagka-bwelona yung kanta, medyo whoa-okay! In the name of noise na talaga," he dead-panned.
Tessa, however, was more generous in giving praises. "Thisis a much better song than last week. Rock and roll, man! JC to the end! I loveit!" she exclaimed.
With consistently good performances, MMDA bigwig BayaniFernando was again a crowd favorite. This time, Bayani sang the '60s OPM song,"Hahabol-habol" with rapper Andrew E. In his video primer, the chairmandescribed his and Andrew's pairing as "paraang inihaw na talong atbagoong...masarap!"
Meanwhile, Tessa exclaimed, "Galing! Getting better everyweek," she told the chairman. As for Freddie Santos, "Tama ka," the directorsaid. "Malinamnam yung pagkasama. Ang ganda nung number."
"Maganda ang performance," agreed Danny Tan. "Ang comment kolang, sana nagamit ni BF yung back-up dancers. Kailangan may interaction sadancers," he noted.
Like the MMDA chairman, Bb. Pilipinas-World title holderCarlene Aguilar swept a yes vote from the judges last week. With sexbombRochelle Pangilinan as her partner, she performed a blazing sing-and-dancenumber of Pussycat Doll's "Don't Cha."
"That was so hot," said Direk Freddie, referring to thegirls' sexy midriff-showing outfits. "And yes, I wish my girlfriends were bothof you. This is by the fact na halos walang tono yung verse. Wala akong naintindihangtono. Pero nung pumasok yung chorus, sige, swak na." he remarked.
ADVERTISEMENT - CONTINUE READING BELOW
"Best performance, so far," commended Danny Tan. "Ganyandapat ang performer, sexy, beautiful, and bigay-todo. Ganyan palagi, Carlene.Very good."
"So far, you beat already last year's beauty pageant[contestant]!" cried Tessa, comparing Carlene to Bb. Pilipinas Universe AnnaTeresa Licaros, who was the first to exit in season one. "All the way ka na!"she exclaimed. "Baka this year, it's gonna be a beauty pageant winner! Wonderful!"
Next up was comedian Joey Marquez, who sang with long-timefriend Keempee de Leon. For their duet, they sang the OPM novelty song,"Bikining Itim."
Of their performance, Danny Tan observed, "Ginamit mo angpagiging artista mo...very natural [yung] pagiging komedyante mo," he told Joey."Maganda yan, ginamit mo ang strength mo. Entertaining performance," he said,taking notice of Joey and Keempee's 'gay act' which the singers incorporated intheir number.
"Bakit parang every week, hinahalikan mo yung ka-partnermong lalaki?" joked Tessa after Joey pecked Keempee de Leon on the cheek. "PeroI love it! Entertaining."
Freddie, however, opted for a short but extraordinarilysweet comment. "Tsong...Cheriffic!" he told Joey, who is nicknamed Tsong in theshowbiz industry.
Next to last was chef JL Cang who performed APO HikingSociety's classic song, "Prinsesa" with singer Wency Cornejo. Like mostcontestants in the show, JL wore something that matched what his partner wore-apair of sunglasses.

"At least, hindi na siya nag-look sa floor, kasi may shades na siya!" observedTessa. "And I think he's having more fun this week."
"Dude, hindi ito beer garden," criticized Direk Freddie."Yun talaga ang naging dating sa akin. Para kayong dalawang lasenggo. Sanamaibalik natin yung musika. Pero kwela sa akin yung pagka-kwela ninyo," headded.
"E, yun yung interpretation niya, so pasado sa akin yun,"countered Danny Tan. "At saka si JL, yung singing medyo..." he motioned with hishands, signalling a so-so performance, "ganun...pero nadadaan sa confidence 'e.Yun ang maganda dun."
ADVERTISEMENT - CONTINUE READING BELOW
But Direk Freddie was bent on giving a negative feedback."Kaso hindi ito Celebrity Confi-duets," he told his fellow judge.
Last to perform was soccer heartthrob Phil Younghusband whowent for the romantic song track last week. He chose Ariel Rivera's OPMclassic, "Getting To Know Each Other" which he sang with SOP mainstayMaricris Garcia.
As though romantic stares at Marciris weren't enough, Philalso gave Tessa a bouquet of roses for the judge's birthday.
The Sea Princess was obviously thrilled. "Okay, I was gonnasay something, you know...but oh my gosh, Phil, thank you so much! I'll see youin the finals."
"She liked your performance, that's what it meant," saidOgie, as he jokingly translated Tessa's comment for Phil.
"Phil, both you and JL are the heartthrobs in thecompetition," observed Danny Tan. "[But] the difference between the two ofyou-you are debonair, dashing, and you emote well. You have a betterperformance tonight. And you are interacting with your ka-duet. Very good."
"It was like a movie," Direk Freddie observed. "Para siyangsine...you know, perfect faces, perfect bodies, perfect fit...and like mostmovies," he paused, "maybe it should've been dubbed," said the director. Butdespite the negative comment, Phil simply flashed a smile.
Next week, another round of celebrity eliminations will takeover the concert stage. Who gets to leave and who gets to stay? Find out nextweek on Celebrity Duets 2, Saturdays on GMA-7 after Pinoy Records.