Dimples Romana's portrayal of Amanda in ABS-CBN's afternoon series The Greatest Love recently became a trending topic.
This was because of her confrontation scene with her siblings (portrayed by Andi Eigenmann, Matt Evans, and Arron Villaflor) and her mother (played by Sylvia Sanchez).
In the said scene, it was revealed to Amanda that Paeng (Arron) has been using her after he pawned their ancestral house when he lost in a bet. This is the reason why he became persistent in selling the house.
It was Andrei (Matt) and Lizelle (Andi) who discovered what Paeng did and revealed it to their elder sister, despite their animosity.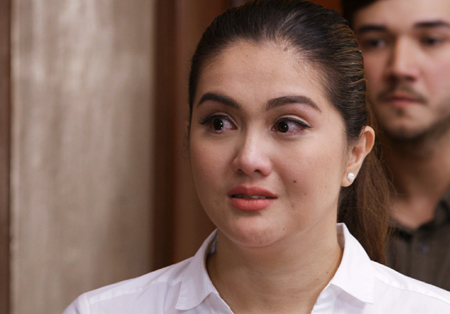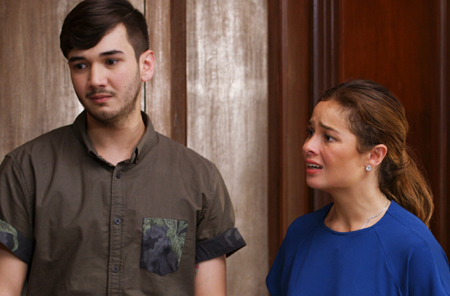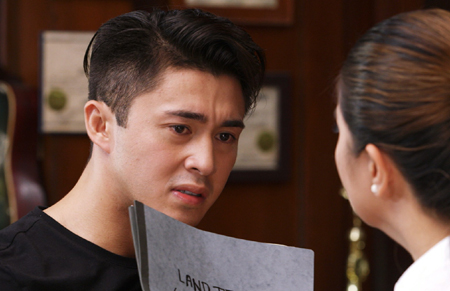 As a result, Amanda became furious with her siblings. Gloria (Sylvia) arrived in time to see that a brawl has been happening in their house.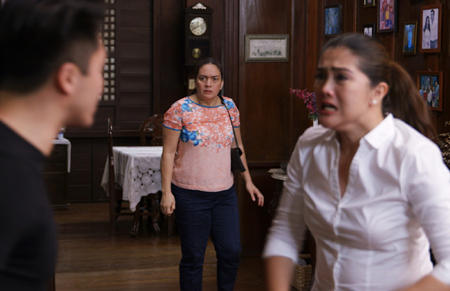 To stop her children from fighting, Gloria flipped a table and threw away flower vases as she shouted, "Nakakapagod na!"
Still furious, Amanda turned to her mother and shouted, "Tama ka, Ma! Nakakapagod maging parte ng pamilya mo!"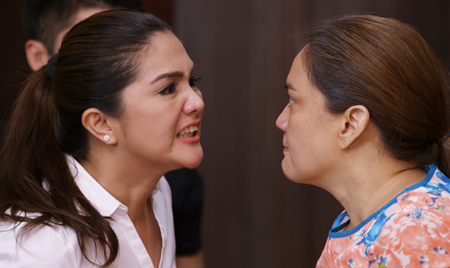 The episode with the hashtag #TGLTheBloodWar became a trending topic on Twitter.
While Dimples received praises from netizens, her Amanda character earned ire and at the same time, aroused pity from viewers.



Dimples posted a screengrab of her conversation with her husband Boyet Ahmee on Instagram last Saturday, January 7, saying that Amanda is again in "beast mode."
Her husband told her, "I'm sure you'll do a good job later myluv."
But he also warned her to get out of character: "Make sure lang na huwag mo iuwi si Amanda dito mamaya."
She then wrote in the caption, "Still taping for #TheGreatestLove now at eto ang mensahe ng asawa ko sakin #legitconcern."



Dimples took to Instagram last night, January 9, to say that she feels challenged and blessed to portray Amanda because of the character's complex personality.
She wrote, "Sharing this beautiful message to you. Today I began my Monday with a prayer for help and assistance.
"Alam ko na that we will be shooting today the heavy and heartbreaking scenes you are about to witness within the week in the coming episodes of #TheGreatestLove. If you are a fan of the show, we are certain you will cry with us.
"Amanda is one hell of a woman. She is pained, hurt and strong and weak all at the same time. She is complex and an enormous challenge to do.
"But because the makers of Amanda and our directors and everyone behind and in front of the camera are all so awesome, araw araw ko talagang ipinagdadasal na ipahiram na ni Lord sa akin lahat ng pwede niyang ipahiram na kakayanan para magampanan ko si Amanda ng may puso at ng naaayon sa takbo ng aming kwento."
She also pointed out the lessons she learned while bringing life to Amanda.
"One of the many lessons I've learned through portraying Amanda is that "Hurt people hurt people" So the next time someone tries to hurt you with their actions or their words, isipin niyo na lang, malamang sa malamang, may pinagdadaanan.

"I can't wait to share with you the painful but beautiful journey the Alegre Kids and Mommy Glo have in store for you. It will blow your mind!!! And the #TheGreatestLove will be THE show to remind the importance of remembering and family. Goodnight everyone."


Dimples also posted her photo with Andi, Arron, and Matt while poking fun at their characters who are usually engaged in heated confrontations and arguments.

In today's episode, Gloria scared her children when she texted them "Mamamatay na ako" on her birthday.
Her children rushed to their ancestral house but when Amanda arrived, Gloria, Andrei, Paeng, and Lizelle were already eating and having a blast.
Amanda angrily told her mother, "Anong kalokohan ito? Akala ko ba mamamatay ka na?!"
It can be recalled that this was also the scene shown in the first trailer released for The Greatest Love in July 2016.