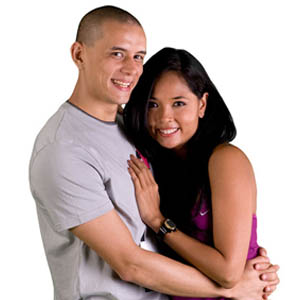 ---
After the third-place finish of buddies Marc Nelson andRovilson Fernandez in the second season of The Amazing Race Asia, thePhilippines will be represented in the third season by dating couple TishaSilang and Geoff Rodriguez.
The two are actually familiar faces in local showbiz. Tishawas crowned Bb. Pilipinas-Universe in 1998 but resigned because ofher Canadian citizenship. Geoff, on the other hand, was a member of the all-male groupPowerboys—along with Jordan Herrera, Frank Garcia, Greg Martin, and Jay Salas—who became famous after appearing in a deodorant commercial.
PEP (Philippine Entertainment Portal) had the opportunity to talk toTisha at the launch of The Amazing Race Asia 3 (TARA 3) sponsored by Caltex last night, September4, at Fiamma Bar & Resto on Jupiter St., Makati City. Those invited had theprivilege to watch the first episode—minus the ending—that will be aired onSeptember 11 in AXN.
Tisha, who just arrived from Toronto, Canada early morningon the same day, actually cannot divulge too much information about theirparticipation and experience because of confidentiality clause.
ADVERTISEMENT - CONTINUE READING BELOW
"[You will be] sued for fivemillion dollars," warns Tisha if she says too much. "You're not allowed to divulge talaga. I mean,it would ruin it, because the reason why the people watch it is because theywanna see what happened. And like, even us, the contestants, for what we wentthrough, we want everybody to also have the enjoyment of knowing, wondering whogot eliminated."
What are the details they can't talk about?
"Particular things about the show. Anything that hasn'taired yet, hindi puwede. But we were gone for one month, and it's really thetoughest race ever. For me ha, I've watched a lot of episodes, pero siguro it'sdifferent when you're the one actually doing it. But it caused a lot of tears,a lot of stress, and it's not easy at all," said Tisha cautiously.
Although she can't reveal the places and countries they wentto, Tisha said that the race ended last June.
ADVERTISEMENT - CONTINUE READING BELOW
PARTNERSHIP WITH GEOFF. Tisha and Geoff have been dating for four years now. But howwas their partnership throughout the race?
"Explosive!" Tisha says with a laugh. "It's just that hindimaiiwasan na minsan mag-aaway kayo. You're under high stress and situations,and we're both so competitive against other people. We are also competitivebetween the two of us. Siyempre, there are instances... 'Tsaka kami lang yungcouple in a relationship, everybody else is like sister-brother, friends...kamilang yung dating. So when you're dating, it's different."
Was there a point when she wanted to break up with him?
"Oo! I'm sure...I don't know!" she laughs. "There are timesthat you're like, 'Ay, ayoko na sa 'yo, 'no!' But I mean, it's the situationthat you're in. Siguro we won't be as bad as the last fierce couple that wasfighting, Henry and Terri [Reed, also from the Philippines]."
Who had more temper, she orGeoff?
"Si Geoff, I'm sure!" she saysquickly. "Probably because he's more competitive than I am. Plus, he's bestfriend with Marc and Rovilson, so siyempre gusto niya, 'We're just as good asyou guys.' But it helps, it helps me to push also.
ADVERTISEMENT - CONTINUE READING BELOW
What were the things that she discovered while they were inthe race?
"That there are things that I can do that I would have neverimagined that I'd ever do," replies Tisha. "And you will see that later. Yungmga napapanood mo sa TV, you're like, 'There's no way I'd do that.' Pero 'pagnandun ka na, gagawin mo, e. Kasi you see everybody else doing it, parangyou'll think, 'Why can't I do it if they're doing it?' I can do it, so..."
Why did she join Amazing Race Asia?
"Well, I was a fan of the show before... But I wanted to jointhe one in the States, pero kailangan U.S. citizen ka to join. So when theycame up with the one in Asia, we sent an audition tape pero for last season. Perohindi kami natanggap last year.
"Sila Marc and Rovilson yung last year, who happen to be ourfriends also. So, parang last year we were watching with them. And then when itstopped airing, we were like, 'Ano nang gagawin natin ng Thursday? Wala natayong gagawin.' So we sent in another audition tape for this year," relates theFil-Canadian beauty queen.
ADVERTISEMENT - CONTINUE READING BELOW
BIG SHOES TO FILL. Tisha and Geoff have some big shoes to fill since Marc andRovilson lasted until the final episode and ended up third last season. Is there anypressure on their part?
"Yeah, that was a big pressurekasi we know that there's so many fans in the Philippines ng Amazing Race. Soparang, you don't wanna be out first. You wanna do well so the Filipinos hassomething to watch for a long time. Plus the fact that Marc and Rovilson did sowell, it made us want to at least sana do as well as them. But you know, thereare different dynamics. They're two guys, that's an advantage also sometimes.So, we'll see if we match up to them."
Did they get any tips from Marc and Rovilson?
"You know, they can give maybelittle tips, like make sure you read things carefully. But they can't really doanything because they don't know what you're gonna be doing. Everything'sdifferent, so kahit na ano'ng sabihin nila, it wouldn't help," says Tisha.
ADVERTISEMENT - CONTINUE READING BELOW
THE OTHER TEAMS. What can the Filipinos expectfrom TARA 3?
"What I find different thisseason... Last season everybody was, you know, very nice to each other. This one,everyone's cutthroat, there's a lot of characters. The teams who have seen therace already, they said it's hilarious. So I think we have a lot of funny charactersalso on this one. It's gonna be more exciting to watch.
"Nothing can prepare you for it.You can be the most athletic person and it wouldn't help. It's like a mix of alittle bit of athleticism, a lot of strategy, and a lot of patience and luck."
Aside from Tisha, there are twoother beauty queens this season—Miss Universe 2005 Natalie Glebova and bestfriend Miss Thailand Universe 2006 first runner-up Pailin Rungratanasunthorn,who represented Thailand in Miss Earth 2006. Although Natalie is Russian-Canadian—sherepresented Canada in the Miss Universe—she will represent Thailandalong with Pailin in TARA 3.
Tisha has this explanation aboutNatalie's case: "She's based in Thailand now. She's married to one of the toptennis players [Paradorn Srichapan] in Thailand. So she joined with anotherThai beauty queen, so they're team is the beauty queens."
ADVERTISEMENT - CONTINUE READING BELOW
Did the make any friends with theother teams?
"We were more focused on thecompetition," answers Tisha. "We did make friends, like we still talk to themnow and there's always plans to try to meet up with everybody again. Especiallybefore nag-air yung race, parang they're the only ones you can talk to about itbecause you can't share your experience with anybody else. So it's just them.So, you know, sa mga Facebook, nag-uusap kami. We always keep in touch, it'ssomething that will always keep us in touch with each other."
Aside from the Philippines andThailand, the other teams this season consist of pairs from Hong Kong, India,Malaysia, South Korea, and Singapore.
AMAZING RACE VS. SURVIVOR. Interestingly, the airing ofAmazing Race Asia 3 will coincide with the start of GMA-7's SurvivorPhilippines, hosted by Paolo Bediones. In case you don't know, Paolo becameTisha's boyfriend after she won in Binibining Pilipinas, where they first met.
ADVERTISEMENT - CONTINUE READING BELOW
"Ewan ko, wala akong alam. But yeah, I heard about that,"says Tisha when asked about her reaction to the "competition."
What can he say about Paolo?
"I'm happy for him, he's got thatshow now. I haven't spoken to Paolo since he probably interviewed me that timeI was about to get married. That was like 2003," says Tisha, who was oncemarried to a non-showbiz guy but they separated afterwards.
Did she also consider joining Survivor Philippines?
"Ayoko ng Survivor, it's worse, like the things that theyhave to go through," she replies with a smile.
The winners of The Amazing Race Asia 3 took home $100,000.So we asked Tisha if she and Geoff are richer by $100,000 now.
"No comment!" she says laughing.