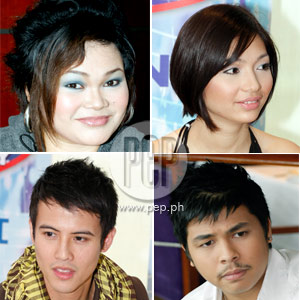 ---

Former Pinoy Dream Academy Season 2 scholars BunnyMalunda, Iñaki Ting, and Sen Nichols, together with Honorary Scholar Poy Palmamay all have missed making it to the Final Six but just the same, they are allkeen on going to wherever their love for music takes them.


Bunny, Iñaki and Sen couldn't be any more different in theeyes of the viewing public.
Bunny is a loving wife and mother determined to reach herdreams despite her limitations. While inside the Academy, she was diagnosed tohave a cyst in her throat that greatly affected her singing. Prior to that, shealso had to deal with the forced expulsion that was given to her husband,Chivas, because of his episodic collapses. Hard as it may have been for Bunny,she never gave up the fight until the night she was expelled.
THE TEACHER'S WIFE. Now that she is already outsideof the academy, Bunny is more than ready to make things happen to herself. Sherecently had her cyst removed and is now undergoing therapy to restore thesinging capabilities that were momentarily marred by it. In just a couple moreweeks, Bunny will be eating be belting out songs as if she never had a cyst.

How is life after PDA? "Very good. I was able to make up for the monthsthat I was not with my family and I'm very happy with how things are at themoment," she said with a smile.

How does it feel that she now has a lot of supporters?


"It is very surreal for me because I never expected peopleto root for me considering that I had problems singing," Bunny tearfullyreplied. She gets emotional when it comes to talking about her supportersbecause she's really overwhelmed by their faith in her. In fact, she almostcried during her guesting on Uberture wherein Billy Crawford asked herto read fan mail. She didn't get to finish the letter because she was on theverge of tears. Billy took over and finished reading the letter for her.


ADVERTISEMENT - CONTINUE READING BELOW
What is her message to all the people who supported her andbelieved in her talent?
"I really want to thank them and I hope that they continuesupporting me outside the Academy. I'm really doing everything that I can tomake them happy and hopefully, the removal of my cyst would be the start ofbetter performances dedicated to them," she humbly said.


THE STAGE PERFORMER. Iñaki has been interpreted by viewers in differentways. Some think that he's an arrogant rich kid while others think he'sstrong-willed young man who knows what he wants in life. While it is true thatIñaki is from a well-off family, he is not spoiled as some would claim. Eventhough he is a nephew of Juan Miguel Salvador (a known singer who becamepopular during the 1980s), he has always preferred to make it on his own meritsas a singer.


"I hope that the people would give me another chance toprove that contrary to what some think, I am actually a good person," saidIñaki.


Is there anything he regrets doing or not doing inside theAcademy? "I regret the things I did that have offended anyone or hurt theirfeelings in any way," he genuinely replied.


What are his plans after PDA?
"I want to pursue my singing career. Maybe come up with analbum or venture into composing. I want to work with my friends like ChristianBautista and Sam Concepcion and, of course, my idol Gary Valenciano," said theStage Performer.
THE CANCER SURVIVOR. Sen was baptized byMedia Performance Mentor Joey Reyes as "The Saint" because of his goodqualities. Viewers couldn't agree more as the Cancer Survivor won them overwith his good looks, charm, and kindness. A lot of people admire Sen for beinga good friend who's always more than willing to lend a hand and for being agood student who always perseveres to improve himself.


ADVERTISEMENT - CONTINUE READING BELOW
The perseverance and drive that the people see in Hansen areproducts of his ordeal with cancer. Right after he was able to surpass thefatal ailment, he was told that he would never sing again but Sen begged todiffer. The US-grown Fil-Am went to the Philippines to find a career out of thething he loves the most-singing. He auditioned to be a Scholar during the firstseason of PDA but unfortunately, he didn't make the final cut. When theAcademy's door opened for a new batch of Scholars, Sen tried his luck oncemore.


What made him audition again?
"I have always been a fighter. I was inflicted with cancerand I fought it. I came home to the Philippines to fulfill my dreams andthere's no way a rejection is going to hold me back. I didn't make it beforebut it doesn't mean that I can't make it the second time around," he said.

Was he aware of the risk he was taking? "Very much, actually. I knew I wasrisking getting another rejection but I still did it anyway. My efforts paidoff and I was able to get in this time," Sen pointed out.

Was he disappointed when he was expelled?
"Of course I was disappointed. I was really close to gettingin to the Top 6 but I got voted out. Nonetheless, I don't believe that gettingexpelled makes me less of a performer. What I believe is that my gettingexpelled is just a start of good things to come. As long as I continue workinghard, I know that I'll be able to achieve my dreams" he concluded.

THE OBEDIENT DAUGHTER. Among the four, Poy is the only one who was notable to snag a spot in the season's Top 16. She was one of the four wildcardswho vied for the chance to get into the Academy. Unfortunately, she failed toget the text votes needed for her to become an official Scholar.


ADVERTISEMENT - CONTINUE READING BELOW
To her and her fan's delight, she was given the opportunityto enter the Academy as an Honorary Scholar tasked to clinch the Star Scholartitle thrice. Each Star Scholar award was equivalent to a prize money ofP50,000 and had she fulfilled her assignment as an regular Honorary Scholar,she could've decided whether to take home P150,000 or carry on as a regularScholar and battle it out with the rset for this season's Grand Star Dreamertitle. As consistent as she was in making it to the Top 3 each week, Poy wasn'table to get the Star Scholar award.


Was she disappointed when she failed to carry out herassignment?
"No, because in my opinion, I was able to fulfill my job asan Honorary Scholar. In my four-week stay, I consistently made it to the Top 3and that's worth everything for me," she said. She also added that she isreally happy that her she was able to help bring out the best in the otherScholars as her presence made them work harder.

What does she plan to do after her stint on PDA?
"Strike while the iron is hot! I will surely grab anyopportunity that comes my way," she said, beaming.

Who does she want to win this season? "In terms of vocal ability, I think it'sa toss between Laarni [Losala] and Bugoy [Bogayan]," she replied.


As different as Bunny, Iñaki, Sen and Poy are perceived bypeople, one thing's for sure: they all have made impressions that will never beeasily forgotten. They are four individuals who dared to fulfill their dreamsinside the Academy. Even though they didn't clinch spots in this season's Top6, they have successfully endeared themselves to the viewers who are eagerlywaiting for the next step that they are going to make.

Find out the fate of the Final Six as the two-part finale of Pinoy DreamAcademy Season 2 takes place this weekend. Watch Bugoy Bogayan, CrisPastor, Laarni Losala, Liezel Garcia, Miguel Mendoza, and Van Pojas compete inthe Cuneta Astrodome in Pasay City on September 13 and 14, 2008.
ADVERTISEMENT - CONTINUE READING BELOW