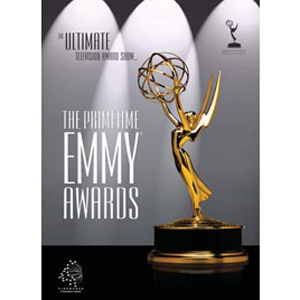 ---

Studio 23 brings you the live via satellite premiere of themuch awaited 60th Annual Emmy Awards in Los Angeles next Monday (September 22),8:00 a.m.
Be the first to witness television industry's biggest andmost prestigious night as the brightest stars of your favorite American TVseries' gather in this exclusive event.
With almost 100 nominated programs, 15 shows currentlyairing on the Kabarkada network got a total of 49 nominations that includesABC's Lost and CBS' Two and a Half Men nominated for theoutstanding drama series category and outstanding comedy series category,respectively.
Hit reality show The Amazing Race, which will behaving its newest season soon on Studio 23, was also nominated for Emmy's newlyformed category Outstanding Reality-Competition Program and will competeagainst equally successful reality shows American Idol, Dancing with the Stars,Project Runway, and Top Chef.
Meanwhile, reality TV personalities and nominees forOutstanding Host for Reality-Competition Program Tom Bergeron (Dancing withthe Stars), Heidi Klum (Project Runway), Howie Mandel (Deal or NoDeal), Jeff Probst (Survivor) and Ryan Seacrest (American Idol)will be the hosts for this year's show.
This is the first time Emmys are moving from the Shrine Auditorium to the new 6,500-seat Nokia Theater in downtown Los followinga recently signed 10-year deal by organizers Academy of Television Arts &Sciences with Anschutz Entertainment Group.
Don't miss this exciting event and watch the 60th AnnualEmmy Awards, airing live via satellite next Monday (September 22), 8:00 a.m, onStudio 23 with primetime telecast on Friday (September 26) at 7:30 p.m.