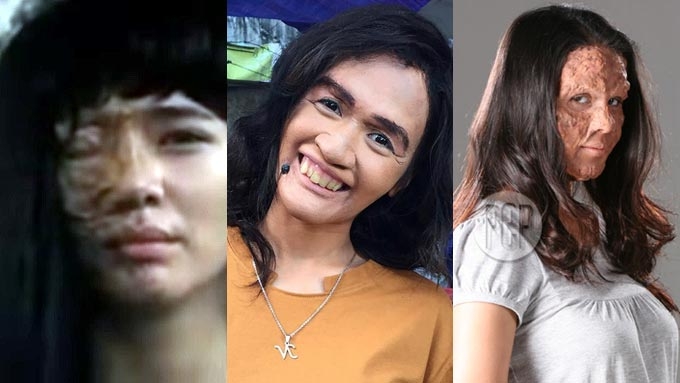 IMAGE Screengrab from VIVA (Alice) / Instagram @wilfredtabs (Kris) / GMA File Photo (Iza)
---

GMA-7 actress Kris Bernal has been preparing for her new teleserye, the adaptation of the TV series Impostora, which was aired way back in 2007.
This 2017, Impostora is not solely based on the TV series since the upcoming GMA show features elements from Sa Isang Sulok ng mga Pangarap.
The 1994 movie Sa Isang Sulok ng mga Pangarap featured Alice Dixson in a dual role while Impostora was topbilled by Iza Calzado and Sunshine Dizon.
As a brief background, Sa Isang Sulok ng mga Pangarap is based on the comics serialized in True Horoscope Stories. It was written by RJ Nuevas who is now one of GMA's creative managers for its drama shows.
RJ also wrote the screenplay of the 1994 film and served as the headwriter of the 2007 TV series.
The lead characters in the incarnations of Impostora had facial deformities from the start until they undergo plastic surgery and become glamorous, beautiful versions of another person.
ADVERTISEMENT - CONTINUE READING BELOW
While Kris's version hasn't started, the Kapuso actress has been posting photos of her two characters in the series: the glamorous one and the deformed one.
Let us take a look at these three lead actresses in prosthetics prior to their transformation in Impostora.


ALICE DIXSON. For the 1994 movie directed by Joel Lamangan, Alice brought life to Nimfa, a woman who has always been the subject of discrimination because of her deformed face.
It was revealed through her dreams that it was her uncle who caused her facial deformity when he tried to rape her.
Nimfa foght back by kicking her uncle's private part. To exact revenge, Nimfa's uncle stabbed her in the face several times.
This was how Alice looked like when wearing prosthetics: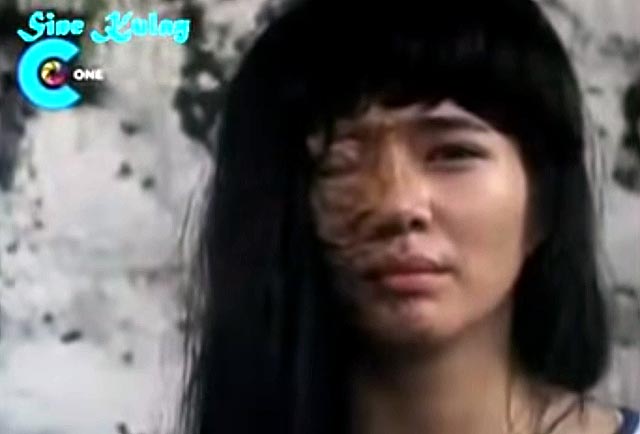 ADVERTISEMENT - CONTINUE READING BELOW
Nimfa accidentally committed a crime and ran away from their town. She then bumped into Errol (Tonton Gutierrez) who offered to conduct plastic surgery on her so that she can escape the police.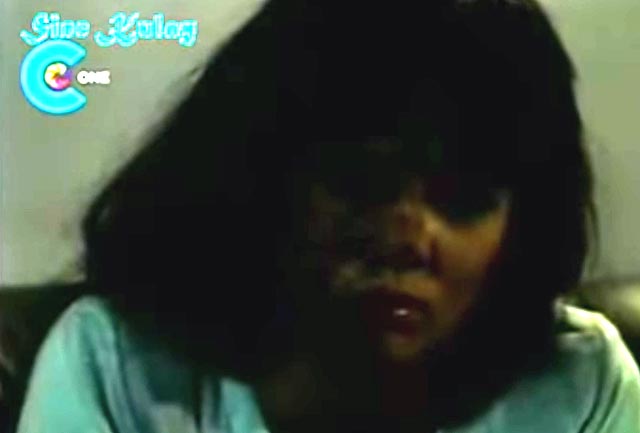 Upon waking up, Nimfa was shocked to see that she bore the face of another woman. Apparently, she was transformed into Rosette. Nimfa was used by Errol and Rosette so that they can escape the latter's husband and continue their affair.



ADVERTISEMENT - CONTINUE READING BELOW
IZA CALZADO. The 2007 series directed by Maryo J. Delos Reyes had major differences from the 1994 film.
Impostora served as the reunion of Iza and Sunshine after working on the teleseryes Kung Mawawala Ka (2001) and Encantadia (2005). At that time, the two actresses were being considered as GMA's drama queens.
Iza portrayed the conjoined twins Lara and Sara who were separated from each other through an operation. However, tragedy struck in their family because of their aunt Betty (Jean Garcia) and cousin Vanessa (Sunshine).
The twins got separated and had different lives. Lara grew up with a responsible, adoptive father while Sara was left with abusive adoptive parents.
As a young girl, Sara had an argument with her abusive father who was so angry that he poured boiling water on her face.
As a result, Sara grew up with this deformed face: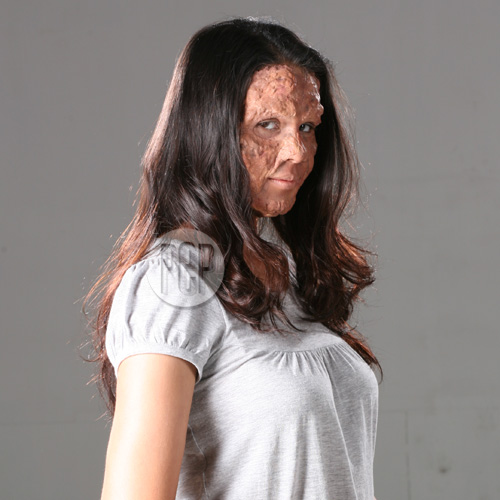 ADVERTISEMENT - CONTINUE READING BELOW

Sara later on met plastic surgeon Leandro Meneses (Luis Alandy), who was having an affair with Vanessa.

Vanessa was already married to Nicolas (Mark Anthony Fernandez) and she wanted to leave him.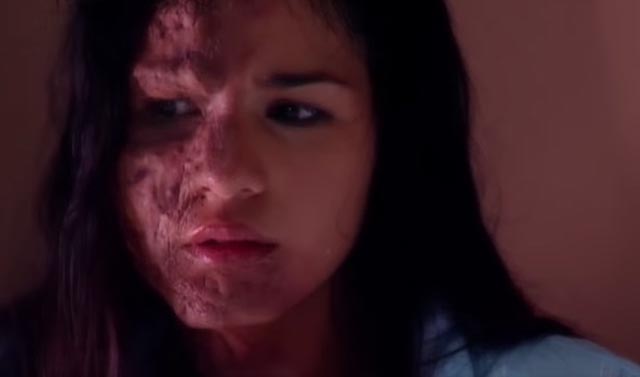 Dr. Leandro offered to conduct plastic surgery on Sara's face. When Sara woke up, she was shocked to see that she had a different face. It turned out that she became the scapegoat so that Sara will pay for Vanessa's sins against her husband.



ADVERTISEMENT - CONTINUE READING BELOW
KRIS BERNAL. Ten years after the TV series aired, GMA decided to do a remake of Impostora.

This is Kris Bernal's first project after she almost transferred TV networks.
This version is loosely based on the 1994 film where the lead characters are named Nimfa and Rosette.
Just like in the film version, Nimfa also has a deformed face and sells street food for a living.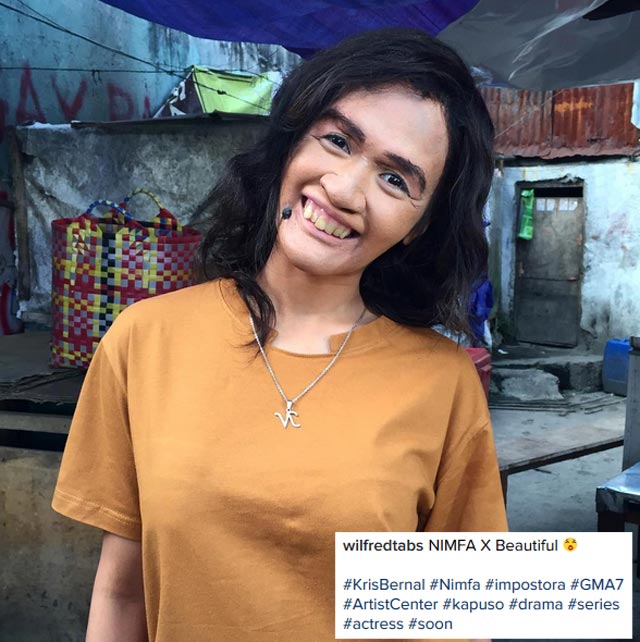 ADVERTISEMENT - CONTINUE READING BELOW
Just recently, Kris shared on her Instagram account that her character is set to undergo plastic surgery.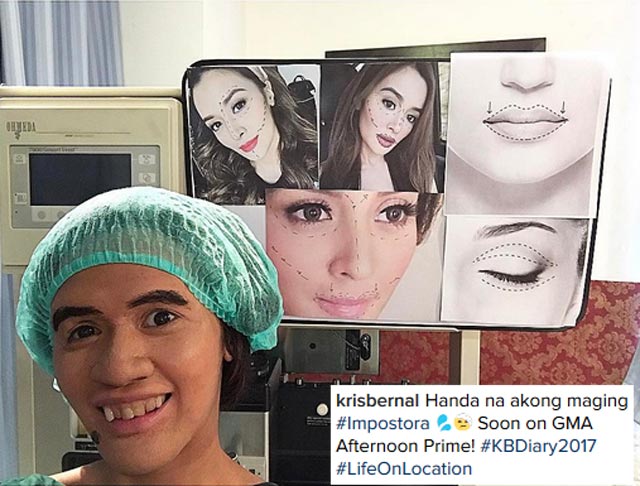 In an interview with PEP contributor Rommel Gonzales, Kris revealed that she watched the film version.
"E, kasi siyempre, maraming may gusto nung movie, e.
"Nag-hit yung movie, so parang kahit papaano, kailangan kong makita kung ano ang ginawa ni Miss Alice Dixson."
ADVERTISEMENT - CONTINUE READING BELOW
The Kapuso actress says she enjoys playing a villain since she considers it as a challenge.
She explained, "Mas gusto ko yung bad, kasi sabi ko nung nagwu-workshop ako, kumbaga yung mahirap, parang lagi na lang akong mahirap, parang sanay na ako.
"Pero yung mayaman, parang hirap na hirap ako kung paano gagawin yung mayaman."
In a recent Instagram post, Kris looked back on the times when she used to play goody-goody roles in the shows that she topbilled.
She wrote, "The fun in portraying a bida-kontrabida role! I've always been the sweet and the api-apihan one since I started bagging lead roles in drama soaps.
"How fun it is to explore how to use my eyes and speak through it. Reflects my inner thoughts and emotions. My first to play a dual character!
"Still need to put more effort, have to work on with the antagonist character as I am not used to portraying such! #Impostora, SOON on GMA Afternoon Prime!"


ADVERTISEMENT - CONTINUE READING BELOW
For this version, Kris will be paired with Rafael Rosell and Ryan Eigenmann. Their co-stars include Vaness del Moral, Aicelle Santos, and Elizabeth Oropesa.
The Impostora 2017 version is directed by Albert Langitan and written by Denoy Navarro-Punio.
No announcement has been made yet regarding the airing date of this modern adaptation of Impostora on GMA's Afternoon Prime block.


---
Stories We Are Tracking
---
PEPsters, what can you say about Alice, Iza, and Kris's looks before their transformation as the Impostora?

Share your thoughts in the comments section below.