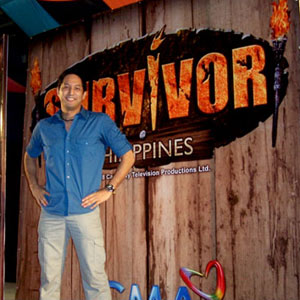 ---

Around 35,000 to 40,000 people auditioned for GMA-7's SurvivorPhilippines but only 18 Filipinos were lucky enough to be included ascastaways. Watch their struggles in Koh Tarutao island, Thailand startingtonight, September 15.

The show will run for three months and the castaways have all returned to thePhilippines but the winner has yet to be decided in a live "tribal council"that will also serve as the reunion of all the contenders.
Along with the 18 castaways, Survivor Philippines hostPaolo Bediones joined over 120 production staff in shooting the first season ofthis reality show. Two tribes will compete, namely Naak and Jarakay, whichtranslates to snake and crocodile, respectively, in the Thai language.
The castaways are composed of:

Kristina "Kaye" Alipio, 20, lingerie model (The Model)
Leona Rica "Nikki" Dacullo, 21, call center agent(Call Center Cutie)
Jervy "Patani" Daño, 20, babysitter (Ang Yaya)
Veronica "Vern" Domingo, 29, taekwondo coach(Taekwondo Champion)
Vevherly Gador, 20, student (Farmer Girl)
Chevyline "Chev" Macias, 26 years old, former GRO(Bisayang Palaban)
Zita Ortiga, 47, laundrywoman (Ang Labandera)
Maria Nona "Niña" Ortiz, 40, architect/wellnesscoach (Sporty Mom)
Anna Charisse Yacapin, 26, product officer (Smart Babe)
Marlon Carmen, 30, waiter (The Waiter)
Crisanto "Cris" Cartagenas, 30, company/taxidriver (The Driver)
Emerson Dino, 31, technician (The Technician)
Reynaldo "Jace" Chanco Flores, Jr., 19, gyminstructor (The Hunk)
John Anthony Lopez, 27, auto mechanic/model (Ang Mekaniko)
Raymund Francis "Kiko" Rustia, 27, businessman(Free Spirit)
Cesar "Gigit" Sulit, 49, web designer/mountaineer(The Lone Rider)
Robert Vincent "Rob" Sy, 30, sales officer(Loverboy)
John Carlo "JC" Tiuseco, 23, basketball player(Hardcourt Heartthrob)
BARE ESSENTIALS. Paolo Bediones narrates that thecastaways were allowed to bring only the following personal items: pair ofshoes, one piece of underwear, a swimwear, and a top. "That was all they hadfor 39 days. No shampoo, no toothbrush, no deodrant, no toiletries. For some ofthem, that was unheard of. Ang bathroom mo, shovel na ganyan kaliit [indicatessize]. Kanya-kanyang hukay 'yan sa campsite."
ADVERTISEMENT - CONTINUE READING BELOW
CHOOSING THE CASTAWAYS. The moreno host describes thescreening process that all the castaways went through before they could jointhis TV series. "There are technically 5 stages and each of them have to proveand go beyond just the looks, beyond their overall appearance. Personalitymatters...marami dyan kinuha because we knew that there's certain personality napwede nila ipakita and consistent dapat yun.

"Dun sa Stage 3 and 4, may psychologist na kami, and then ire-record lahat yun,endless footage of them talking para malaman namin kung ito ba talaga sila onagpapanggap. Kung may makita kaming inconsistencies, that's when we look atothers. Lahat sila inaalam namin, nagkakarron kami ng background check. Kunyarisabihin nung isa, ito yung background ko, dito kami lumaki, pupuntahan naminyung lugar na yun, to make sure na legitimate ito, na everything na sinabi mosa application mo totoo. Kumbaga, audition pa lang, grabe na ang pinagdaanan ngmga 'yan. Lahat yan pumila, lahat 'yan naghintay, lahat 'yan may numero, andit's something that makes me proud of them," declares Paolo.
BATTLE OF THE SEXES? Since the Survivor franchiseusually involves physical challenges, does it mean that the men have aninherent advantage over the women? Paolo defended the show by saying, "Nope,you'll be surprised. Challenges are designed such that whatever gender, ikawang pwede manalo. Ang daming mga considerations, especially in making achallenge, that's why importante na meron kang tinatawag na dream teamers,people who try out the challenge, kasama na rin ako dun."
He also reminded the press about the tagline of the show."Kaya nga pautakan, pagalingan, patatagan, di ba? [The English version would beOutwit, Outplay, Outlast]
"Outwitting is not just during the tribal council, or duringthe voting out. It is also during the game, paano ka didiskarte pag nakita muyung challenge, inexplain ko sa 'yo once, naintindihan mo ba agad, you rememberthe rules, kasi any violation, pwede kita tanggalin sa laro, di ba or out ofthe challenge, disqualified, you have to be alert, kahit gutom ka, wala kangtulog, bumagyo nung gabi."
ADVERTISEMENT - CONTINUE READING BELOW
Paolo adds that his stunt for the opening sequence of theshow involves a helicopter and they had to shoot it for only two hours sincethe rental of the chopper is every expensive. He also describes the campsite of the two tribes as havingsnakes, scorpions, and monkeys.
Find out who will win the title of Pinoy Sole Survivorand the P3 million cash prize (tax-free).
Survivor Philippines
will beaired weekdays for three months on GMA-7 after
Ako Si Kim Samsoon
startingSeptember 15.