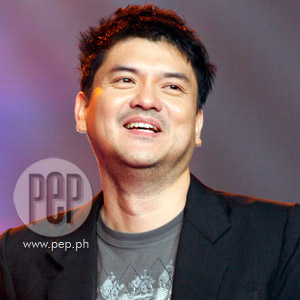 ---

Just like the Final Six of Pinoy Dream Academy Season2, voice mentor Monet Silvestre had just come out of the Academy where he hadbeen staying for the past three months since June 14, 2008. Last Sunday,September 14, the "live-in" mentor of the scholars was able to return to theoutside world and be reunited with his loved ones.
During the Grand Dream Night of PDA Season 2, PEP(Philippine Entertainment Portal) was able to talk with Teacher Monet regardinghis observations of the second batch of PDA scholars.
The widely watched show ended last Sunday, September 14,with Laarni Lozada bagging the much coveted title of Grand Star Dreamer. Shewas followed by Jay "Bugoy" Drilon and Miguel Mendoza. Landing in the fourth tosixth places were Liezel Garcia, Van Roxas, and Cris Pastor, respectively.
For three months, 16 scholars (and an honorary scholar)trained under headmaster Ryan Cayabyab, overall voice mentor Kitchy Molina,media performance mentor Joey Reyes and voice mentor Monet Silvestre.

They all stressed vocal training, the ethics of performing, and mostimportantly, how to last and have a steadfast career in the music industry.Does he agree with the result of the voting of viewers for PDA Season 2?
"Yes, you know in the end it's their [audience] judgment diba? I'm happy with the Top Six, whoever they are, it is the one you will last,the one you will last. And I hopewhatever the Academy has instilled in them, I hope that's it: you should last.And we should, we teach them how to do it, how to last in this industry," saidTeacher Monet.
He enjoyed working and living with the scholars inside theAcademy as he honed the vocal skills and people skills of those under his wing."As hard as it was, physically, mentally, and psychologically, it was so muchfun. If anything...if anything is fun,wala eh, okay lang. Ano ba naman yong trabahong walang hirap di ba at pasakit?As long as you have fun doing it, okay lang, e. Kaya when it ended, medyo sad din ako kasi this is the best gigof my life."


ADVERTISEMENT - CONTINUE READING BELOW
He cleared there was no favoritism inside the academy. Everyone was treated equally because each andeveryone have their own unique traits and eccentric habits.

Did he have an idea who would win during the Grand Dream Night? "Even if I knewat a certain point, for 13 weeks towards the gala night, I intentionally madeit a point to treat them equally. Totreat them equally, as individuals also. You have to adjust on a case-to-case basis. But you know any family, really, we treat them as you knowbecause we love them as a member."
The first PDA Grand Star Dreamer Yeng Constantino waspropelled to fame by her original composition, "Hawak Kamay." Does he think that Laarni can reach or evensurpass the popularity of Yeng?
"That's completely up to her. As long as she gives what herfans demand of her, as long as she tries to please her fans, as long as she isan easy person to work with, and she does everything to hone her craft and notforget what God gave her, then she will last," predicted Teacher Monet.
It will be remembered that during the first part of theshow, Laarni earned negative criticisms from the other scholars for her moodswings and so-called attitude problem. Even Teacher Monet admitted that shecould get on his nerves sometimes. "You know, Laarni would irritate me on howshe would react to situations. I wouldadmit and nakita naman yun. But youknow, if I turned a blind eye to her and just ignored her that would be theworst thing I could do as a live-in mentor. I have to address each and every problem.


"I've lent them books and Laarni voraciously read them. I'ma self-help book addict so lahat ng mga libro ko nand'yan sa Academy hanggangngayon. All the self-help books were on Laarni's bed and I saw her grow-herpersonal growth inside so I'm glad," he observed.


R&B singer Liezel Garcia placed fourth among the Final Six, even though shehas been voted Star Scholar for five times during the competition. Teacher Monet explained to PEP that hewasn't surprised that Liezel didn't win as Grand Star Dreamer. "Becausehonestly it depends on the demographics. I don't know but the fan base ofLiezel was not able to garner enough resources to get her to the top three.Ganoon, e, it's that simple. Even with her talent, ganoon 'yong game."
ADVERTISEMENT - CONTINUE READING BELOW
He pointed out that it wasn't merely the scholar's talentcounted in the competition but the number of fans supporting the singer.


Last Sunday at the Cuneta Astrodome, before thehosts announced who would be the fourth placer in the competition, the audiencestarted shouting the name of Miguel Mendoza. However, The Romantic Crooneractually landed in the Top Three and won as the Third Star Dreamer. Does heagree with this ranking?
He paused briefly to choose his words carefully. "That is avery difficult decision but sensitive for me. I believe in their talents. I believein their individual talents. Miguel issuch a multitalented individual. If Iwould be like him, if I were 18 yearsold, I wouldn't be Teacher Monet now. Iwould be a Grand Star Dreamer," he joked half-seriously.
He added: "I hope there's another season. I'm glad to be amentor, a small part of their journey. I am happy to have played that small part."
Click HERE to view photos of the Grand Dream Night of PinoyDream Academy Season 2.