Kim Chiu and Gerald Anderson's reunion teleserye, Ikaw Lang Ang Iibigin (ILAI), will be aired on ABS-CBN's daytime slot of 11:30 a.m.
This was announced yesterday, April 24, during the press conference of the upcoming ABS-CBN drama series.
Its pilot episode will air on May 1.
This is the first time that a Kim-Gerald teleserye will not have a primetime slot.
Earlier today, April 25, Kim posted a quote on her Instagram account.
The quote reads: "Shit happens. Every day. To everyone. The difference is in how people deal with it."
Kim wrote in her caption: "TRUST the people you WORK WITH. TRUST the people you WORK FOR. #grateful"



The 26-year-old actress's fans were quick to assume that Kim's post might be alluding to the timeslot of Ikaw Lang Ang Iibigin.
There were mixed reactions to the network's decision to air the Kimerald project in the daytime slot.

Many fans expressed their support for Kim and the upcoming daytime show.
Some expressed shock that ILAI would be aired on a morning slot.
Others looked at the positive side and said they would support the series despite its unexpected timeslot.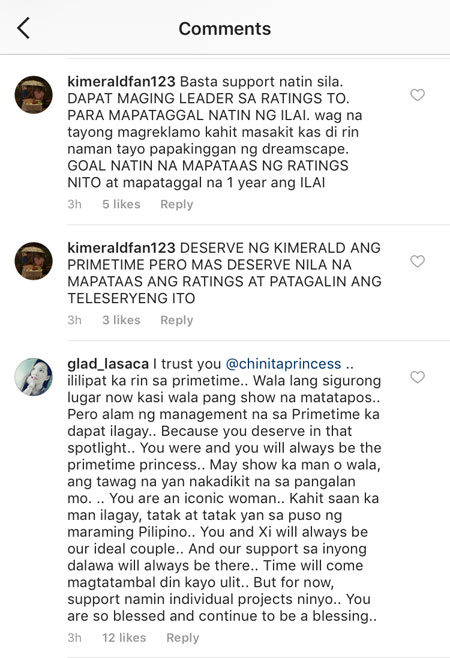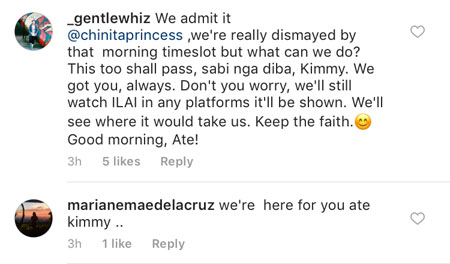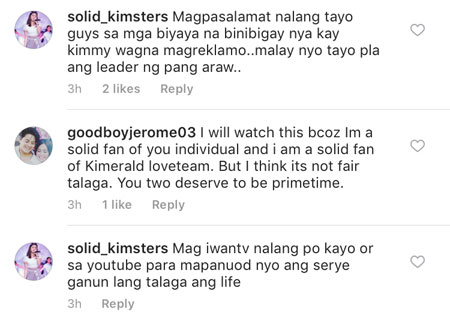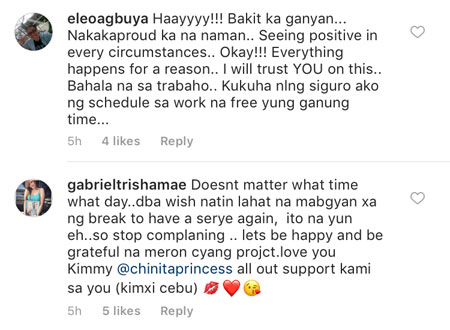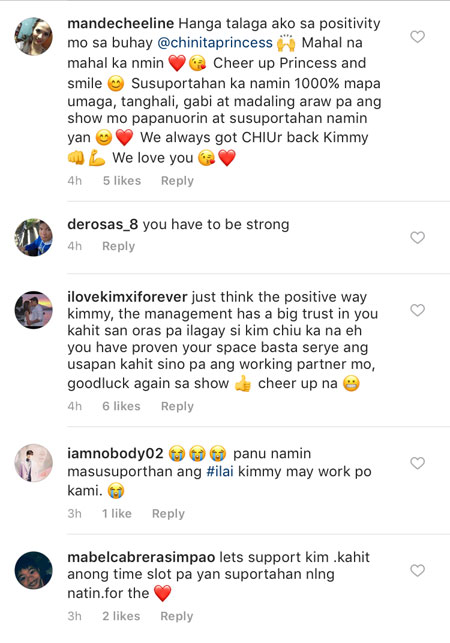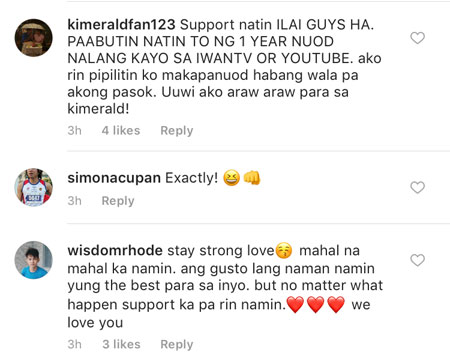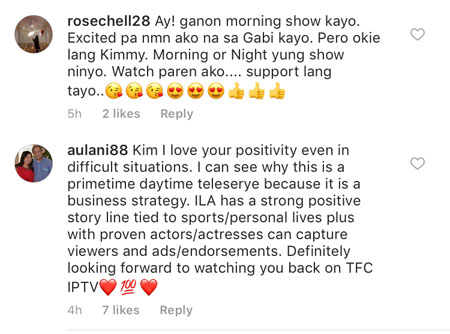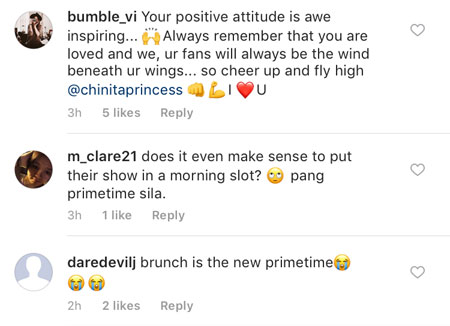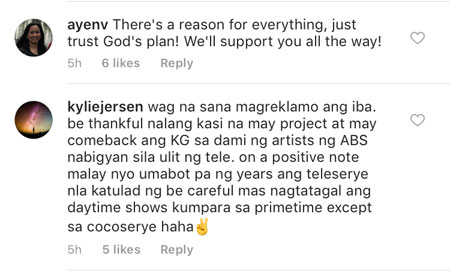 For her part, Kim did not clarify what her post was about, nor did she respond to comments on her Instagram post.
During the show's presscon, Kim said she was aware that her fans were used to watching them on primetime, but she still hoped to get their support now that her new TV series would be aired on a different timeslot.
She said, "Ilang years na rin kami sa showbiz, 11 years, nasanay silang panoorin kami sa gabi.
"Ngayon, umaga naman, sana suportahan nila kami."


MIXED REACTIONS. Meanwhile, after the April 24 announcement of the timeslot, Kimerald fans immediately took to Twitter to voice out their opinions about the daytime airing of ILAI.
Many fans were disappointed to find that ILAI will not be aired on primetime. Some pointed out that it took a long while before the series was aired.
Along with their opinions, some fans also wrote in their tweet "ILAI FOR PRIMETIME."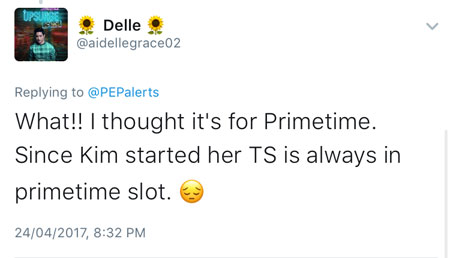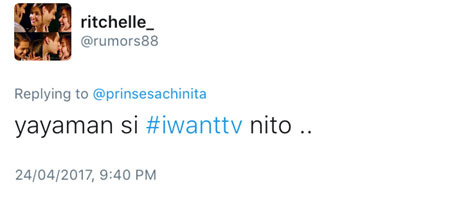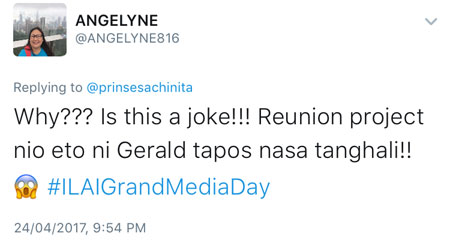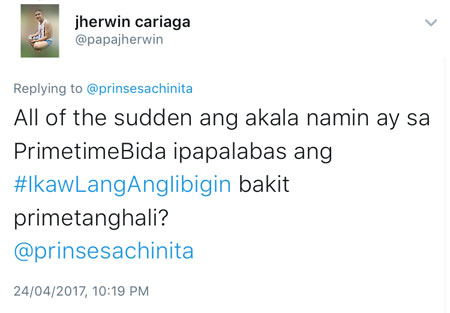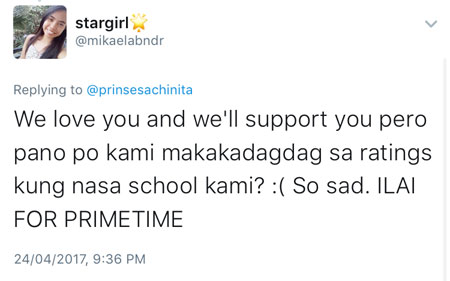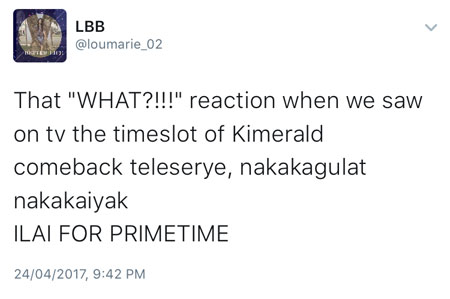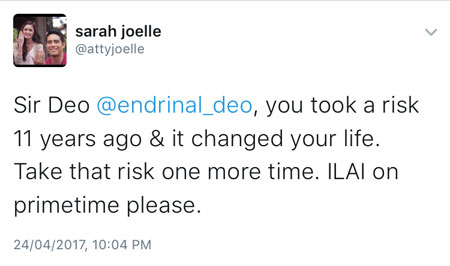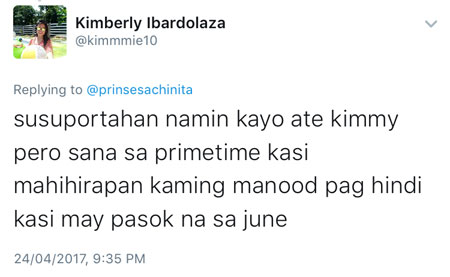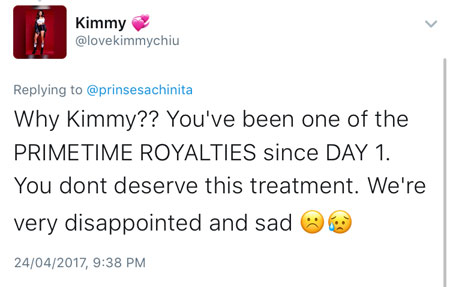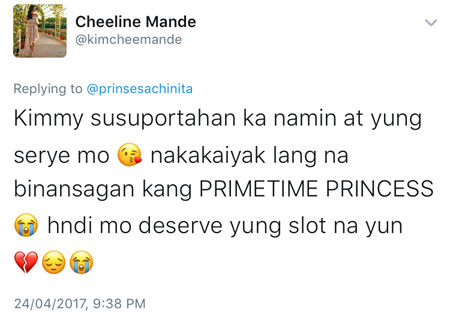 But then, some netizens were positive about ILAI's 11:30 a.m. slot, recalling how the defunct daytime series Be Careful With My Heart brought phenomenal success in the daytime slot.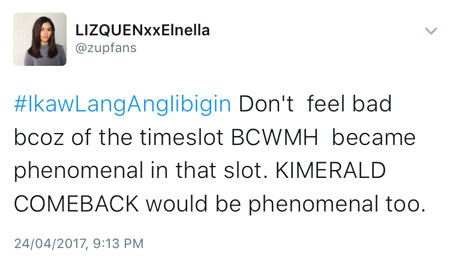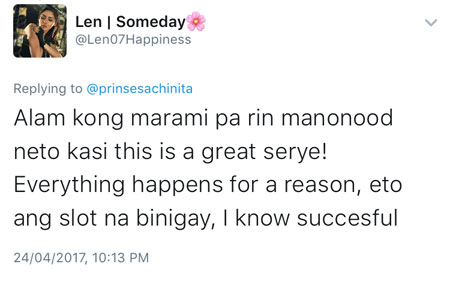 KIMERALD PRIMETIME HISTORY. In Kim and Gerald's 11-year career, their teleseryes were all aired on primetime.

This includes projects featuring them as a pair and as lead actors, apart from the Your Song and Love Spell episodes they starred in.
These teleseryes were: Sana Maulit Muli (January – April 2007), My Girl (May – September 2008), Tayong Dalawa (January – September 2009), and Kung Tayo'y Magkakalayo (January – July 2010).
When they parted ways as a love team, Kim went on to do more primetime teleseryes. In these four projects, she was paired with different actors, mainly with Xian Lim and Coco Martin.
Kim's teleseryes include My Binondo Girl (August 2011 – January 2012), Ina Kapatid Anak (October 2012 – June 2013), Ikaw Lamang (March – October 2014), and The Story of Us (March – June 2016).
Following this string of teleseryes, Kim earned the title of ABS-CBN's Primetime Princess.
Meanwhile, Gerald did four full-length primetime teleseryes: Budoy (October 2011 – March 2012), Bukas Na Lang Kita Mamahalin (September – November 2013), Mars Ravelo's Dyesebel (March – July 2014), and Nathaniel (April – September 2015).
In December 2014, Gerald starred in an installment of ABS-CBN's daytime Christmaserye, Give Love on Christmas, which ran for two weeks and was aired in the 11:30 a.m. timeslot.
This makes Ikaw Lang Ang Iibigin Kim and Gerald's first daytime teleserye.
However, when the project was first announced on October 2016, reports said that ILAI would be a primetime series.
In fact, the network's media announcement read: "After 10 years, they are back together in a primetime teleserye."

It was once rumored to replace the James Reid-Nadine Lustre series, Till I Met You, when teasers of ILAI began airing as the Jadine teleserye announced its impending finale in January 2017.
ABS-CBN DAYTIME DRAMA HISTORY. It was in 2012 when ABS-CBN produced a series, to air before its noontime variety program, as part of the PrimeTanghali block.
In the past, ABS-CBN's variety program, Showtime—which was then a talent competition, without It's in the title—was placed in the PrimeTanghali block, running from 10:30 a.m. to 12 noon.
When Showtime went off the air for a week, the Kapamilya network decided to experiment, and put the drama series Mundo Man Ay Magunaw in the 11:30 a.m. slot.
The series, starring Nikki Gil, Empress, and Eula Valdes, was originally intended to air in the 2:30 p.m. slot.
However, when management decided to turn Showtime into a full-fledged noontime show and put it at the 11:30 a.m. slot, Mundo Man Ay Magunaw was moved to the Kapamilya Gold block.
In July 2012, ABS-CBN took a gamble again, and aired the light-drama series Be Careful With My Heart in the 10:45 a.m. slot, just before It's Showtime.
Originally planned to air for only 13 weeks, Be Careful With My Heart performed higher than expected in the ratings, which resulted in its several extensions. The show also experienced timeslot changes: from 10:45 a.m. to 11:15 a.m., and 11:30 a.m.

From then on, succeeding daytime shows were lodged in the 11:30 a.m. slot.
The series, which starred Jodi Sta. Maria and Richard Yap, aired until November 2014. Its all-time high Kantar rating was 31.3%, a number only seen in primetime shows.
The success of Be Careful With My Heart also crowned Jodi and Richard as the Daytime King and Queen of the Kapamilya network.
In December 2014, ABS-CBN aired a timeslot filler—the Christmaserye Give Love On Christmas—which had three installments that ran for two weeks each.
It was later replaced by Oh My G! in January 2015, which featured Janella Salvador in the lead role.
The light-hearted series and religious-themed show had 20.4% as its peak rating, based on Kantar data.
When the show ended in July 2015, it was replaced by another light drama show, Ningning, which had child actress Jana Agoncillo in the title role.
The show registered a 21.9% all-time high Kantar rating, and finished its run in January 2016.
Ningning was then replaced by Be My Lady, which featured Erich Gonzales and Daniel Matsunaga.
This love story featuring an interracial relationship also proved to be a ratings winner, extending the originally 13-week series to November 2016.
Its peak rating on Kantar nationwide was 21.7%, and proclaimed the DanRich love team as the Daytime Prince and Princess of ABS-CBN.
Currently, the 11:30 a.m. slot is owned by the child-friendly series Langit Lupa, which features child actresses Xia Vigor and Yesha Camile.
Originally intended to air for only three months, the series will end on Friday, April 28, after five months of airing.
IKAW LANG ANG IIBIGIN. The successful Langit Lupa is the show that will be replaced by Kimerald's Ikaw Lang Ang Iibigin.
During the press conference for the new show, neither ABS-CBN management nor ILAI's producer Dreamscape Entertainment explained why they put the Kimerald series on daytime TV.
But if Kim and Gerald are to be believed, the timeslot of their new teleserye is not important to them.
Gerald pointed out, "Basta maganda at naniniwala kami sa produkto namin, hindi importante ang oras dahil binigay naman namin ang lahat doon."