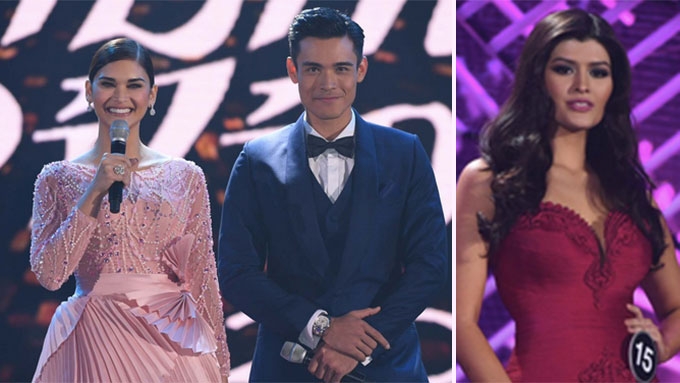 IMAGE Binibining Pilipinas Twitter Account
---

During the grand coronation night of Binibining Pilipinas 2017, hosts Pia Wurtzbach and Xian Lim uttered quotable quotes that lightened up the mood at the Araneta Coliseum last night, April 30.
Some of Pia and Xian's banters involved the Miss Universe 2015's experience in the pageant world, including the swimsuit and Q&A portion.
While doing the live pageant, there were a few bloopers onstage.


The airing of Bb. Pilipinas 2017 also resulted into numerous tweets and memes regarding Paulo Avelino who served as one of the judges that night.
(Read: Paulo Avelino is the hottest meme from Binibining Pilipinas 2017)
Here are some of the quotable quotes and funniest moments during the Binibining Pilipinas 2017 coronation night:

1. Xian Lim pointed out that it was the fault of Miss Universe 2015 Pia Wurtzbach why high standards are given to Filipina beauty queens.
When he introduced Pia, Xian remarked, "The lady right next to me is actually, siya po ang may kasalanan kung bakit napakataas ng pressure.
ADVERTISEMENT - CONTINUE READING BELOW
"Ladies and gentleman Miss Universe 2015 herself, Miss Pia Wurtzbach!"

2. Pia realized that she has actually been part of the Binibining Pilipinas coronation night for five years.
It was in 2013 since she first joined the pageant.
She shared, "Na-realize ko nga kanina, bago tayo umakyat dito kanina, five years na pala ako sa Binibini. Five years, consecutive years."
"Three years as candidate, last year to pass on my crown, and this year as host.
"So sobrang saya ko, pakiramdam ko nga, graduate na ako ng Binibining Pilipinas university, e. With flying colors pa!"

3. Pia later on realized that her co-host Xian should also be awarded for his loyalty to the Binibining Pilipinas pageant.
The actor-turned-TV host has been hosting the coronation night for four consecutive years: from 2014 to the present. This is apart from his first time to host Binibining Pilipinas in 2012.
Pia told her co-host, "Ikaw rin, may loyalty award na!"

ADVERTISEMENT - CONTINUE READING BELOW
Xian replied, "Oo nga, e, pareho tayo merong award pagkatapos nito!"

4. Before the swimsuit competition, Xian asked Pia how she felt when she was about to walk onstage wearing her swimsuit.
Pia admitted, "Siyempre, kinakabahan ako kasi ang hirap kaya mag-gym! Nakita niyo naman yung itsura ko nun dati sa Binibini di ba?!"
Xian stuttered as he told Pia with a smile, "You look absolutely beautiful… sexy… beautiful… sexy…"
Pia then responded, "Thank you!"

5. When it was already the time for the Question-and-Answer (Q&A) round, the air was filled with tension.
Xian explained the mechanics for the Q&A, including the time limit.
He then said, "When you hear this sound…"
The warning sounded like a shooting star sound effect.
Pia tried to lighten up the mood through a joke.
She blurted out, "…that means your wish has come true!"
The beauty queen then laughed and clarified, "No, just kidding. It means that your time is up."
ADVERTISEMENT - CONTINUE READING BELOW

6. Before the start of the Q&A, Xian asked Pia for some advice.

Pia said, "You should learn how to just focus on the question, tune out all the other noise, and just make it to that round.
"Just answer the question, say thank you when you're done, and smile."

7. Indeed, the Q&A round can really be nerve-wracking for the candidates.
Judge Mitzi Borromeo asked Binibining 13 Sirene Sutton if it's right to demand support for children in exchange for raising them.
Sirene paused before answering "No." However, she immediately asked, "May you please repeat the question?"
Mitzi then repeated the question.
Sirene haltingly answered, "Yes it's right for parents… for parents to demand… No, I'm sorry."
Unfortunately, the warning sound already played before she could finish her answer.

8. However, some candidates were able to show their confidence during the Q&A round.
For Binibining 15 Maria Angelica "Mariel" de Leon, she was asked about her activities that were perceived to be male-oriented.
ADVERTISEMENT - CONTINUE READING BELOW
Before she turned serious with her answer, the daughter of Christopher de Leon quipped, "Well, I think I can box better than males!"
This answer could be one of the reasons why she was able to get the Binibining Pilipinas 2017 International crown!

9. As hosts, Pia and Xian had their share of bloopers.
The Binibining Pilipinas 2017 theme song already played, but Pia continued on hosting and said, "Our next judge to ask a question…"

Xian told his co-host, "Oh, we're actually done with the first round!"
A surprised Pia asked, "Oh, we are done with the first round?
Xian confirmed, "Yes, we are done with the first round!"

Despite that one blooper, the winners were announced correctly without any mix-up.
Congratulations to all the winners of Binibining Pilipinas 2017 titleholders!


PEPsters, what can you say about the Binibining Pilipinas 2017 coronation night?
Share your thoughts in the comments section below.



---
Stories We Are Tracking
---