There's nothing more kilig than that stage when two people can hardly contain their feelings but can't confess to each other just yet.
That's the case between Maine Mendoza and Alden Richards's characters Sinag and Benjie in GMA-7's primetime series Destined To Be Yours.
Arguably, those push-and-pull moments when they were in a relationship with their respective special someone only strengthened the chemistry between the soap's main love team.
As Destined To Be Yours draws to a close, PEP.ph (Philippine Entertainment Portal) rounds up the ten times Sinag and Benjie's chemistry became evident in the Kapuso teleserye.


1. Sinag and Benjie's first kiss.
Even as they tried to stay out of each other's way, Benjie and Sinag chanced upon each other in a comedy bar. Thanks to two naughty stand-up comedians, they got tricked into kissing each other on the lips!

Sinag later acted as if it was no big deal, even if it was the first time ever that she got kissed. But truth be told, her unexpected kiss with Benjie kept playing on her head, causing her to tumble in the middle of a conversation with her parents.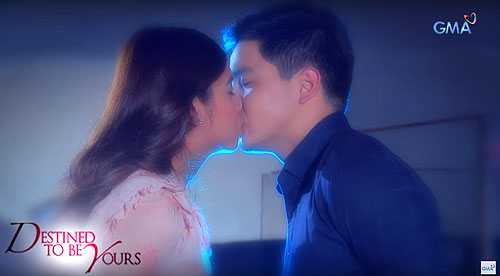 2. Sinag's confession.
In her drunken state, Sinag revealed to Benjie that her biggest regret was when they almost became a couple. She admitted that she fell in love with him when they became close to each other in Pelangi, the hometown of her family. She also confessed that she was about to say yes to his proposal to become his girlfriend. However, she discovered that he lied about his real identity all along.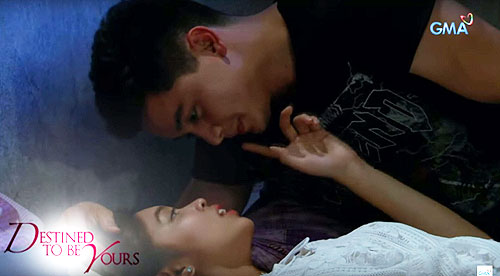 3. Stranded in the rain.
Stuck in the middle of nowhere, Sinag and Benjie got drenched in the rain and were forced to stay in the confines of his car. As he was changing his clothes, Benjie reminded Sinag that she can't stare at his body because of the car rules that she imposed. But he teasingly added, "Puwede ka namang tumingin kung gusto mo... Eto na, magdadamit na ako. Last chance!"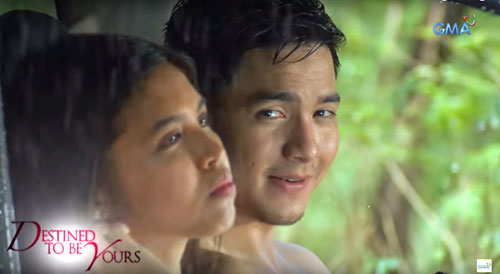 4. The truce.
Away from the city and their respective partners, Benjie and Sinag finally shared a light moment as they agreed not to argue with each other anymore. Benjie went so far as to admit that he actually missed Sinag's company. Sinag, for her part, apologized for being masungit.

The warm moment between them was capped off by a wedding taking place at the beach where they were doing an ocular visit for Sinag's company outing.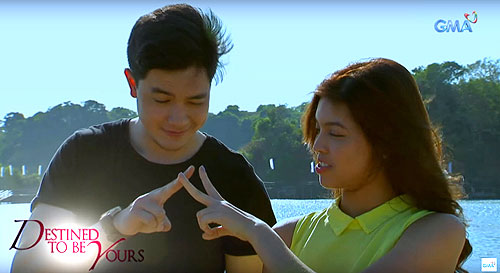 5. Sleeping Sinag.
You know that moment when Sinag imposed car rules (no staring, no talking, etc.) with Benjie? She was actually the first one to break it when she accidentally fell asleep on Benjie's shoulders! The ever-playful Benjie didn't push her away. He must have been thanking his lucky stars for that kilig moment with his one great love. ;)

6. Funny confession.
Once again, Sinag was trying to avoid Benjie. But they ended up stuck with each other when they didn't make it in time for a yacht party. While waiting at the port area, it was Benjie who saved Sinag from snatchers. She finally warmed up to him and spent the better part of their waiting time chatting with Benjie.

At one point, she forced Benjie into admitting that he accidentally peed on his pants twice when he was in grade school! They also discovered that they both loved collecting notebooks with celebrity covers when they were kids. So many shared interests, these two!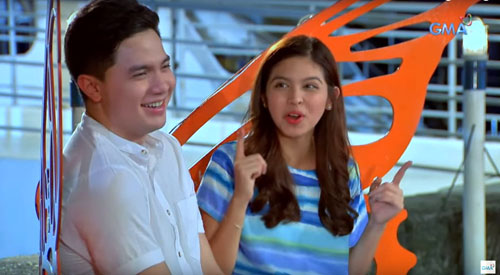 7. Fairy-tale-like reunion.
Can you imagine how two ex-lovers who still love each other felt when they finally see each other after a long time? It was surreal when Benjie found the other half of Sinag's glittery high heels at a fairy-tale-themed ball.

Sinag's boss at the radio broadcast company happened to be Benjie's girlfriend. This reunion sparked the series of push-and-pull moments between Sinag and Benjie.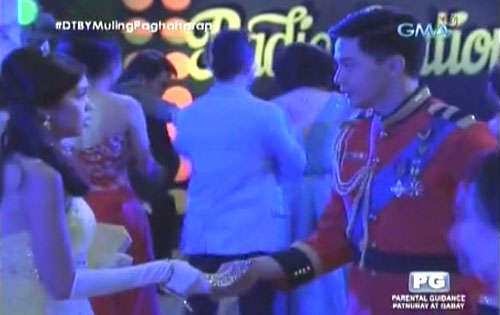 8. Unexpected carpool.
What are the chances of bumping into your ex while in a carpool? Sinag was shookt when Benjie turned out to be the other passenger during her ride to work.

Knowing the attitude of her boss Trish (aka Benjie's super jealous girlfriend), Sinag nervously tried to avoid him despite his insistence for them to have some sort of closure. Deep down, he still actually cares for Sinag.
9. Awkward double date.
Did you ever try to make your ex jealous by showing how lucky you are with your current beau? In this case, it's Sinag and her boyfriend Badong versus Benjie and his girlfriend Trish. The two couples tried to outperform each other in terms of the sweetest theme song.

However, the ever-competitive Trish upped her game by kissing Benjie on the lips! Sadly, the never-been-kissed Sinag can't do the same, so she awkwardly excused herself and went to the ladies room instead. Awww!
`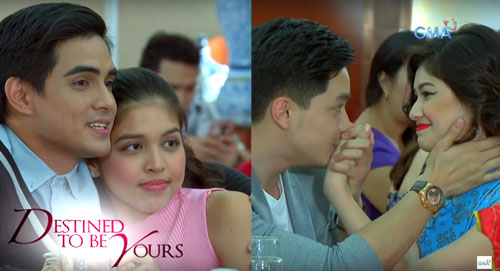 10. Bittersweet confession.
From the start, Sinag and Benjie were fated to be together. Even Sinag's boyfriend Badong thought so, hence his decision to break up with her.

In this particular scene, Benjie is still in a relationship with Trish. It was only through an impromptu spoken word performance that he was able to hint at his forbidden feelings for Sinag.

However, Sinag refused to be a relationship wrecker, and through spoken word, she bade goodbye to her love for him.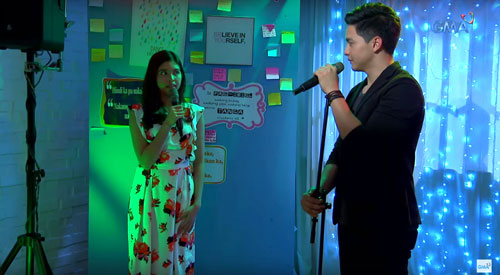 PEPsters, what was your favorite moment between Sinag and Benjie in Destined To Be Yours?

Share your thoughts in the comments section below.