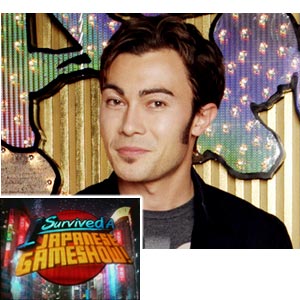 ---

I Survived a Japanese Game Show, now being shown on Studio 23 every Sunday at 7 PM, follows ten Americans who are whisked away to Japan to compete in the ultimate Japanese style game show to win US$250,000.



Guided by host/interpreter Tony Sano, contestants must go through out-of-this-world challenges and weird obstacles like catching and eating the mochi balls placed on helmets of fellow contestants who were running on the treadmill.


"Game shows have alwaysbeen big in Japan," Tony Sano casually told PEP (Philippine EntertainmentPortal) in a phone conversation last Friday morning, September 19. The interviewwas conducted as part of Studio 23's efforts to promote its newest reality gameshow titled I Survived a Japanese GameShow. It is aired its pilot episode last Sunday, September 21.

Most of us Filipinos wouldperhaps immediately think of Takeshi'sCastle as our first major introduction to Japanese produced game shows.

The American-Japanesehost, however, elaborated that I Surviveda Japanese Game Show is very unique as compared to the others we've seen inthe past and in recent years. To kick things off, the contestants tapped toparticipate are not Japanese natives but rather ten Americans who are completelynaïve about Japan and its culture.

"I'm not actually partof the selection process," the amiable host quickly clarified. "All I know isthat prior to the competition, all ten had never been to Japan and they werealso not informed right away. So it was a surprise when they were informed thatthey're heading to Japan."

Being in a totally unknownterritory while at the same time having to compete for a chance to take home$250,000 is what gives the game show that exciting twist according to Tony.

The challenges, said Tony,"are not easy" but they're not FearFactor-like challenges either. Japanese game shows are known to be more physicalbut delivered in a fun, almost childish, approach.

"But again, it's noteasy and it can get really crazy," warned Tony, who described the show asbrimming with "treadmills, Velcro suits and trampolines." There are also streetchallenges like the contestants being set free in Tokyo to chat with strangers.
ADVERTISEMENT - CONTINUE READING BELOW

Other than thedemanding physical challenges, the contestants are all stationed in one houseala-Big Brother throughout their stayin the show. There are challenges still even inside the house as thecontestants are strictly ordered to adhere to Japanese tradition under theguidance of resident Mama-san named Kozue Saito.

It was more than justwinning the cash prize, Tony rationalized, as contestants will do anything to passthe tests so as to prolong their stay in Japan. Beyond the usual elements of agame show and a reality program, ISurvived a Japanese Game Show exposes viewers on that scenario ofdiscovering and accepting new culture.

Asked whether he would like to visi the Philippines and discover our culture someday,Tony eagerly replied, "Oh yes, definitely! I would love to do that."


I Survived a Japanese Game Show airs every Sunday (7 pm) on Studio 23.