Maine Mendoza was filled with mixed emotions when Team Ramen was hailed as the champion in the grand finals of "#DabarkadsGoals: The Ultimate Battle."

This talent competition was held during the 38th anniversary of Eat Bulaga last Saturday, July 29.
Owning up to her usual pessimist and nonchalant attitude, Maine said, "Malaking bagay sa akin ito because I rarely put my whole self in the things I do.
"Like I have said, laging 'sakto lang' but this #DabarkadsGoals competition is an exception. Di ko inexpect!
"This is one of the few moments I feel proud and satisfied for doing something 'great.'"

In a lengthy Facebook post, the 22-year-old TV host and actress confessed that she had to put on her "warrior mask" during her performance.
When in truth, she felt so nervous and scared to be performing without her Team Ramen partner, Ryan Agoncillo.
"So ito na.. this morning, I was shedding tears like a kid out of frustration.
"When Kuya Ryan texted that he couldn't get out of bed because of his back, I was daunted by the possibility that I might do this whole thing on my own.
"I was up for it; I was more than willing to do it for our team.
"At the same time, I was scared that I might not be able to do well without Kuya Ry."
Maine went on to say that a lot of things went wrong during the allotted hour for the final rehearsal at 7 a.m. of Saturday.
She recalled, "Fail lahat; from the dance steps, cueing, blocking, to the execution of stunts.
"It seemed everyone was so lost.
"And even I, started feeling apprehensive too."
Maine continued, "My pessimist side got the best of me, and the only words that came off my mouth at that moment were 'Hindi ko to magagawa.'
"I couldn't stop my tears from falling, stressed ako sobra!
"I feel like I am not equipped to do the stunts."
Maine's attack of nerves was not unfounded.
She had to execute a lot of stunts including hanging by a pole, being thrown in the air countless times, and dancing to the remix of "Alarma" and "Boom Boom Pow."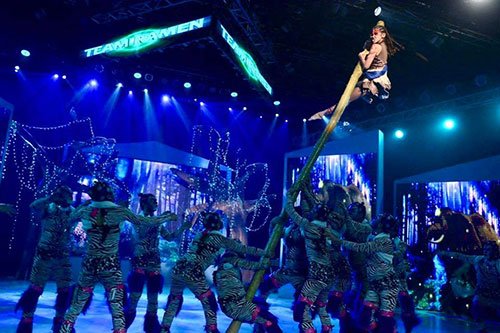 It came to a point that Eat Bulaga's production manager told Maine that she can still change the stunts if she's not ready for it.
But for some reason, Maine recalled that a burst of optimism kicked in and made her say, "Hindi, kaya ko to."
Locked in a restroom all by herself, Maine did a much-needed peptalk: "I was praying for the safety of everyone and for a successful performance.
"I looked in the mirror and told myself I can do it.
"I had to remove all the negativity inside my system."
During her performance, the Dubsmash Queen did a good job performing her stunts without showing any sign of nervousness at all.
"Thank God, we had a successful performance.
"Yung tuwa ko sa bawat salo sa akin! Thank heavens no one got hurt and everything went smoothly.
"I am just soooo happy because I can proudly say that I put my heart into this, as in buong puso, sa unang pagkakataon yata?
"Our team did our very best not to win, but to give everyone a great show."
Maine added that she shares Team Ramen's victory with her partner Ryan.
"I wish Kuya Ry was with us today, but nonetheless, nasa puso ka namin kanina Kuya Ry! We did it, we won!"