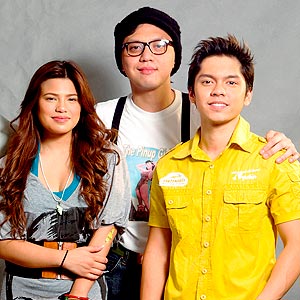 ---

The title is as straightforward as it gets. But TV5's newest hit series Rakista offers more than just rock music and young people trying to live up their dreams of making it big in the clichéd world of rock n' roll.

"Although the title speaks for itself na Rakista nga it's not really just about a rock band but a way of life na when you say r-a-k-e-n-r-o-l, na Filipino term for rock n' roll, term siya ng mga kabataan ngayon na parang let's just do our thing," explained director Wincy Ong, who is portraying the role of a drummer named Sven.

Rakista, he added, encourages young people to live outside the box and to take chances. "Take it as it comes," smiled Wincy.


CULT FOLLOWING. True to TV5's objective of offering alternative programs meant to challenge the formulaic menu offered by the two giant networks, Rakista tells the story of a young and unassuming musician named Caloy (portrayed by Carlo Aquino) who is determined to brandish his musical talent through his band called The Love Team.

Caloy's desire to form a band and write songs actually stemmed from his desire to express his hidden feelings for a girl named CC (played by Denise Laurel).

The show combines a number of elements not common in local programs. Aside from veering away from heavy drama and the fantaserye genre, viewers would surely be enthralled by the show's music (supervised by Ciudad's Mikey Amistoso and Pedicab's Diego Mapa), the twisted humor complementing the bizarre plot. Award-winning writer and Radioactive Sago Project frontman Lourd de Veyra lends his voice to add color to the narration.

Since its initial telecast last August 14, Rakista was able to attract a cult following which continues to grow in numbers every week. Even the people behind the show are surprised with the turnout of viewers.

Wincy, talking about demographics, proudly shared: "That's the weird thing because obviously we were targeting a younger market pero mostly 'yong mga nakukuha naming crowd mga Eraserheads crowd e, mga 25 to 30 years old. Kasi siguro mostly kami-kami rin, e, the writers, directors 25 going on 30 tapos we're on extended adolescence siguro. We're just going back to our college days I guess, 'yong sensibilities."


LATEST EPISODE. For its latest episode, The Love Team finally lands a gig outside the confines of their university. Stunned and excited, all members reacted differently with the sudden change of environment. While most were intimidated, Sven and Bebe (Rhea Nakpil) relished the uncertain punk-rock atmosphere.

A new character named Nico will be introduced. Nico instantly develops a rapport with Nix (Chris Algura) paving the revelation of a major secret. While the secret freaks out Nix, he decides to spill the surprise during a family dinner in the presence of his former Hukbalahap lolo down to the band members. The unveiling of the secret in effect spawned hilarious consequences.


Directed by Quark Henares, Rakista airs every Thursday at 7 pm on TV5.

ADVERTISEMENT - CONTINUE READING BELOW