A lot of viewers were by shocked by the life story of Jake Zyrus, the singer formerly known as Charice Pempengco.
His painful journey as a transman was shown in the August 26 episode of ABS-CBN's drama anthology show, Maalaala Mo Kaya, titled "Jumper."

Mutya Orquia, Sharlene San Pedro, and Jake Zyrus himself depicted his gender transformation and his admission that he is a transman.
As a young kid (portrayed by Mutya), Charice asked her father back then for a toy gun since she said she wanted to become a soldier.
Raquel Pempengco (played by Dina Bonnevie), the mother of Charice, was being teased by her amigas for sewing gowns for her daughter whom they said were growing up to be a tomboy.
She said it was just natural since her cousins and playmates were all boys.
"Phase lang yun," she said. "Hintayin ninyong mamulaklak ang anak ko kung maging sikat na singer ito!"
Raquel got angry upon seeing her wear a jumper with the words Good Boy. She pulled her daughter's hair and shouted, "Ito ang tatandaan mo: "Hindi ka tomboy!
"Magmula ngayon, hindi ka na magpapakita dun [sa tatay mo]!"
Raquel then lectured Charice for not practicing enough for her upcoming contest.
The young girl sings on the spot but her voice breaks, prompting Raquel to pull her hair and shout, "Malapit na ang contest mo, pumipiyok-piyok ka pa!"
MMK host Charo Santos-Concio read the letter from Charice that goes: "Dear Charo, My life is an open book.

"It took me so many years, tears and bruises before I came to this state."
Raquel led her daughter in joining a singing contest and on their way there, Charice got injured. The mother reprimanded her daughter, "Lalampa lampa ka kasi!"
Charice ended up singing onstage even though her leg was bleeding.
A boy from school asks if he could court Charice but she answered no.
Charice sees another girl in school and she is mesmerized by her.
Raquel tells her daughter about the tight competition in the ABS-CBN singing competition that she is anout to join. "Itong Little Big Star, ibang level na yan."
However, Charice seems distracted because she is texting Cheska: 'I love you.'

Raquel calls up Cheska and shouts at her, "Ang kapal ng mukha mo! Layuan mo ang anak ko! Huwag mo sìyang dedemonyohin!"
Raquel tells her daughter to wear a gown that she did but she asks, "'My, pwede bang iba na lang? Ayoko ng gown."
Raquel insisted, "Makinig ka sa akin: Hindi ka tomboy! Iyang kalokohan mo, magdadala ng kamalasan sa buhay natin!"
In the U.S., Charice had the chance to perform in an American show. In their hotel room, Raquel gets angry upon seeing Charice about to change to male clothing.

Raquel pulls Charice's hair and hits her but she gets stopped by the singer's American handler. He tells her, "You can't do that. You could go to jail for that. That's child abuse."


After the incident, Raquel threatened Charice: "Subukan mo akong suwayin, subukan mo lang," as she grabbed her hair. "Hindi lang sabunot at suntok ang aabutin mo! Wala akong pakialam kung mag-concert ka ng pasa-pasa."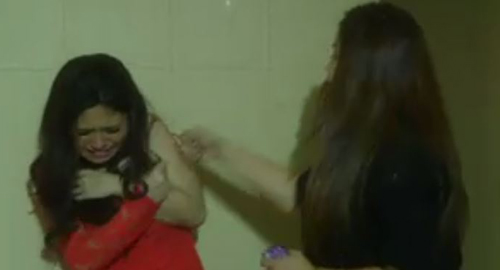 Charice becomes close to another girl while touring abroad.
Her brother Coy notices it and warns her, "Ayoko ng kapatid na tomboy."


While in the United States, Charice (now portrayed by Sharlene San Pedro) wrote an email to her mother:
"Natanggap niyo ba ang P500,000 para sa bahay sa Tagaytay? Konti na lang, mababayaran na natin ang dream house mo.
"Mi, may sasabihin po sana ako sa inyo. Huwag po sana kayong magagalit. Hindi ko na kasi kayang itago pa.
"May girlfriend na po ako dito. Sana po matanggap niyo po kami."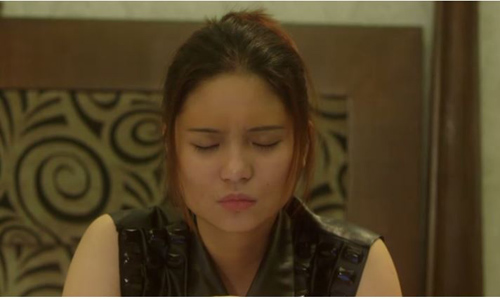 Raquel wrote back and threatened to disown her: "Pag hindi mo yan tinigilan, itatakwil kita! Hindi ka tomboy! Hiwalayan mo yang babaeng yan! Yag kaimoralan ninyo ang sisira sa career mo na matagal nating pinaghirapan! Hinding-hindi ko matatanggap yang katarantaduhan mo! Umayos ka! Hayop ka!"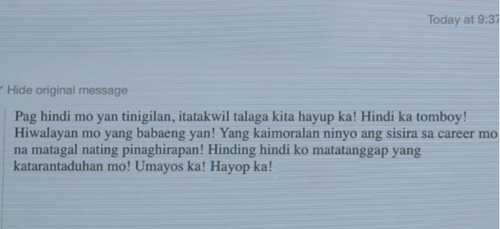 After reading the letter, Charice repeatedly said, "Ayoko na" and took a lot of pills as a suicide attempt.
When she woke up in a hospital, someone called up Raquel and informed her, "Nag-overdose kasi si Charice. Ni-rush namin siya sa hospital."
A distraught Charice said, "Bakit buhay pa ko? Why am I still alive? I should have just died."
Upon learning this, Raquel reacted by saying, "Hayaan niyo lang yan. Titigil rin yan. Nagpapa-pansin."
While talking with a friend online, Charice admitted that she did not have any contact with her father, "Sa mga interview ko, pinapagmukha ko siyang masama para maging maganda ang image ni mommy."

Through the Internet, Charice finds out that her father got killed.

Charice also got financial problems.
"I don't understand. I've been sending my mom P500,000 every month to pay for our house in Tagaytay. I even send her more for her personal use.
"But I got this letter that we haven't paid our electric bill for almost a year.The BIR in the Philippines has been telling me that I haven't been paying my taxes."
Charice was informed that her mother has not been paying her bills and the house has already been paid for.
Raquel found out that Charice would not be sending her any more money. Raquel angrily told her on the phone: "Ang kapal ng mukha mo. Wala kang utang na loob! Akala mo ba makakarating ka diyan nang wala ako? Imoral kang hayop ka!"
Charice tried to kill herself three times.
When she cut her hair short, Raquel ordered her: "Pahabain mo yang buhok mo kasi magme-mentor ka sa X Factor Philippines.
"Magpa-kulay ka, ipa-style mo. Kailangan magmukha kang babae uli."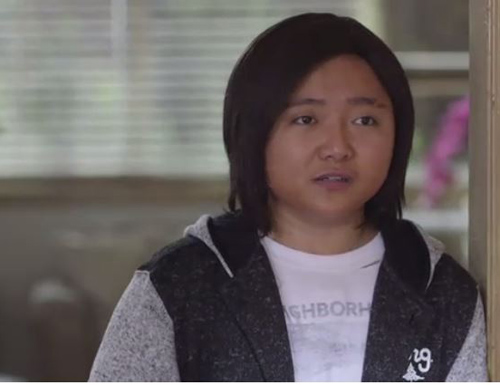 Charice is forced to stay at home and she asks for help so that she could leave.
She packs some clothes and gets away from her mother.
They meet again in front of a police station. Raquel beomes physical and a policeman mentions about a legal case.
Raquel shouts, "Anong demanda? Ako ang nanay. Wala kayong pwedeng gawin sa akin."
Later on, it was shown that Charice admitted on air that she was a tomboy.
However, she still felt unhappy. She says, "Hindi ako tomboy. Lalaki ako, Kate.
"Pero pag sinabi ko sa tao na transman ako, masasaktan sila, huhusgahan, lalo na ang family ko. Mahal ko pa rin sila kahit sakit na sakit na ko."
Raquel goes on air for a televised interview and admits, "Ako yung tomboy hanggang sa nireto na lang ako ng nanay ko sa asawa ko."
Charice and her mother then had a tearful reunion.
However, they had another falling out due to money matters.
Charice tells her mother, "Alam niyo naman hindi na ganun kalaki ang kinikita ko, hindi tulad ng dati.
"Kailangan nating magtipid."
Raquel reprimands her daughter, "Nasa tuktok ka na ng tagumpay! Ang dami mong sinayang na projects dito saka sa abroad! Sayang ka!"
Charice tearfully answers back, "Kahit pakiramdam ko nakakulong ako at sakal na sakal ako. Hindi ako malaya maging kung ano ako."
Raquels shouts, "Imoral ka nga, laos ka pa!"
Charice points out, "Ang dami ko nang ibigay sa iyo. Umaasa ako na tatanggapin niyo ako. Mangyayari pa ba iyon?"
After some time, Charice decides to get breast reconstruction surgery.
Raquel still tells her daughter, "Iyang ka imoralan mo, hinding hindi ko matatanggap ang katarantaduhan mo."
Charice, who decided to call himself Jake Zyrus, takes testosterone to help him transition as a transgender man.

He says, "Kung dati ang pagpiyok ay tanda ng pagkakamali, ngayon, ang pagpiyok ay tanda na magiging tama na ang lahat.
"Nagbibinata na ako."