After almost four months, GMA-7 aired the finale episode of Mulawin vs. Ravena last Friday, September 15, 2017.

The finale episode opens with Wak (Seth dela Cruz) and Tak (Caprice Mendez) being abducted by Rashana (Chynna Ortaleza) and brought to the kingdom of Halconia. Tak who is the "sugo" will only be returned to the Mulawin on the condition that Anya (Bea Benene) will go to Halconia.

Anya sets foot in Halconia and the battle between the Mulawin and Ravena warriors begins.
Tak sees his mother, Lawiswis (Bianca Umali), and Tuka (Valerie Concepcion) fighting with each other. Lawiswis tries to convince Tuka to return to Mulawin. In the end, Tuka chose to end her life by letting the rocks of Halconia fall on her.

Tak was brought back to Mulawin with Wak still left behind. Almiro (Derrick Monasterio) and his team devised a plan to attack Halconia and rescue Anya.

The next scene shows Anya trying to rescue Tak. As they were about to leave, they unexpectedly meet Rafael (Carl Acosta). Anya tells Tak to run away quickly.

Rafael, who has deep feelings for Anya, tries to make her stay but Anya tells him that her heart only belongs to Almiro, his rival. This revelation makes Rafael even more furious.

Almiro suddenly appears and takes away Anya to Rafael's surprise. Rafael catches up with them and he unleashes a ray of flames to destroy Almiro.

During their battle, Anya tells Almiro that she will never leave him. In the end, Almiro gathers all his might and stabs Rafael.

Rafael ends up dead while Almiro collapses and loses consciousness. Anya cries for help.

Lawiswis finds Wak together with Pagaspas (Miguel Tanfelix). They were about to leave when they hear Anya shouting. Pagaspas tells Lawiswis to bring Wak home to the Mulawin. He locates Anya and Almiro.

Lawiswis and Wak witness the crumbling of the cave. Lawiswis is sad, thinking that Anya and Almiro didn't escape. Suddenly, Anya appears but she is still distraught by Almiro's unconscious condition.

Almiro, who remains unconscious, had a vision. He was in bright, peaceful place in the afterlife. His father, Gabriel (Dennis Trillo) appeared and tells to him return. Gabriel tells Almiro that Wak, Tak and Anya need him. His father spreads his wings and flies away.

As soon as Gabriel disappears, Almiro wakes up. He tells Anya, "kailangan kong bumalik para kay Wak and Tak and para sa 'yo…"

Anya is overjoyed. Their wedding plans will finally push through.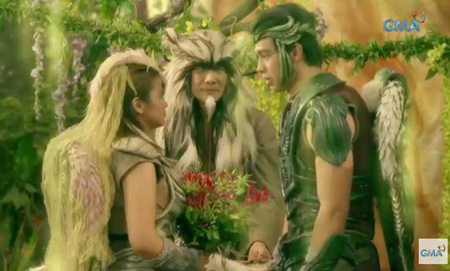 Both Almiro and Anya are all smiles on their wedding day. Anya walks down the aisle holding a bouquet of flowers. As the couple meet, Almiro says his wedding vows to Anya.
Almiro promises, "Anya, mahal ko, masayang masaya ako kasi naandito ako sa harapan mo. Nangangako ako sa iyo na hindi kita iiwan ulit. Kung kinailangan kong umalis at sana'y di na uulit. Gagawa't gagawa ako ng paraan para makabalik sa 'yo.
"Pinapangako ko din na magiging mabuting hari ako at higit pa roon, magiging mabuting asawa at mabuting ama sa mga munting prinsipe at prinsesa natin.
"Pinapangako ko sa 'yo na mamahalin kita higit pa sa aking buhay ko. Lahat ibibigay ko sa 'yo pati puso at kaluluwa ko."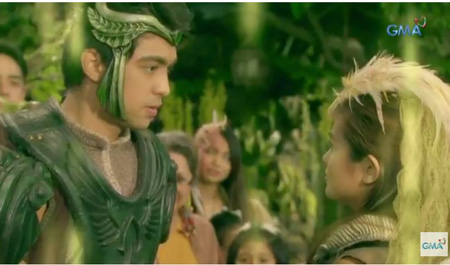 Anya vows, "Mahal ko, pinapangako ko na magiging mabuting reyna ako hindi lamang sa 'yo kundi pati na rin sa ating na rin mga nasasakupan.

"Ipinapangako na gagawin ko ang lahat para matulungan ka sa iyong mga tungkulin. Ipinapangako ko na pagsisilbihan kita at sa mga magiging munting prinsipe at prinsesa sa abot ng aking makakakaya.

"Almiro, ipinapangako ko sa iyo na mamahalin kita ng buong buo at walang pag-aalinlangan."

After the exchange of vows, the presiding leader tells them to drink from the same cup to signify their married state. He blesses them, and proclaims them as husband and wife.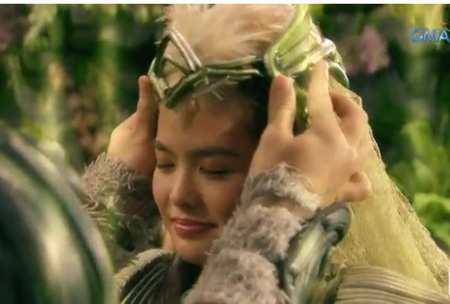 Almiro crowns his queen and plants a sweet and gentle kiss on Anya's lips.
They happily hug each other as a married couple.
AGB RATINGS. How did the finale episode of GMA-7's Mulawin vs. Ravena fare in AGB ratings?

According to AGB Nielsen, the finale episode, which used the hashtag #MVRPagwawakas, registered a TV rating of 8.9%.

Its rival ABS-CBN program La Luna Sangre—starring Kathryn Bernardo and Daniel Padilla—got a TV rating of 11.7%.

The Kapamilya show rated 2.8 points higher than the Kapuso show that ended on September 15, 2017.