Here's how the intense rivalry between ABS-CBN Broadcasting Corp. and GMA Network Inc. is playing out in terms of their financial performance.


GMA VS ABS-CBN 1ST HALF REVENUES AND NET INCOME.
The two biggest broadcasting networks in the country, ABS-CBN Corporation and GMA Network Inc., both suffered revenue and net income declines in the first semester of 2017 compared to the same period last year.

ABS-CBN's net income decline was bigger, which dropped almost half at 41 percent, from Php2.1 billion in the first six months of 2016 to Php1.3 billion this year.
Compared to that, GMA's net earnings fell only by 38 percent, from Php2.4 billion to Php1.6 billion.

However, GMA's decrease in revenues was greater than ABS-CBN. The Kapuso station's revenues slumped by 12 percent from Php8.8 billion in the first half of 2016 to Php7.7 billion in 2017, while the Kapamilya network's revenues dropped by eight percent from Php21 billion to Php19.3 million.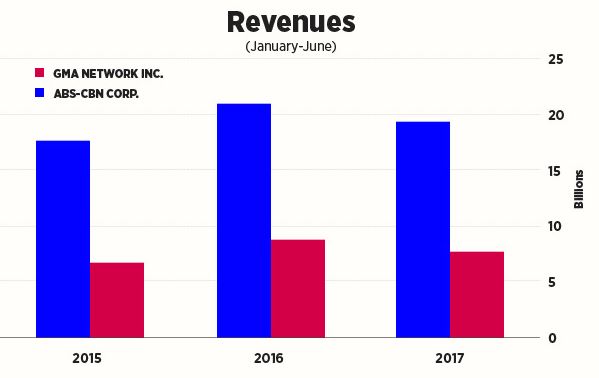 Despite lower earnings, GMA remains "optimistic on hitting its year-end target," the company said in a statement. The network explained the declines were the aftermath of the election season last year.

"Without the impact of political advertisements, GMA's airtime revenue platforms including GMA-7, GMA News TV, Radio, and Regional all posted revenue growths during the period," the network added.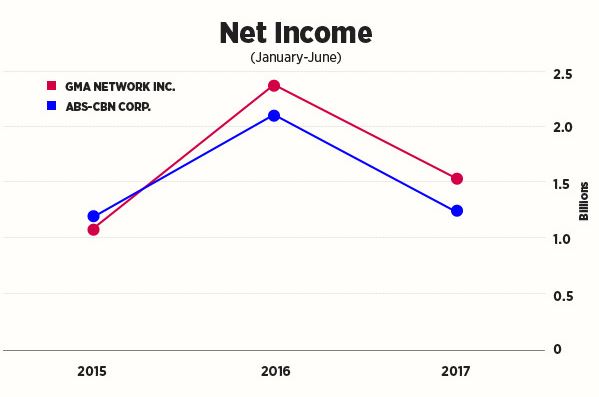 INVESTMENTS.
The same sentiment was echoed by ABS-CBN. The broadcasting station even increased its investments by 17 percent in the first semester of this year compared to the same period last year.

In contrast, GMA decreased its investments by 17 percent.

Entrepreneur Philippines calculated the networks' investments by adding its acquisition costs of property, equipment, land, software costs and investments, among others.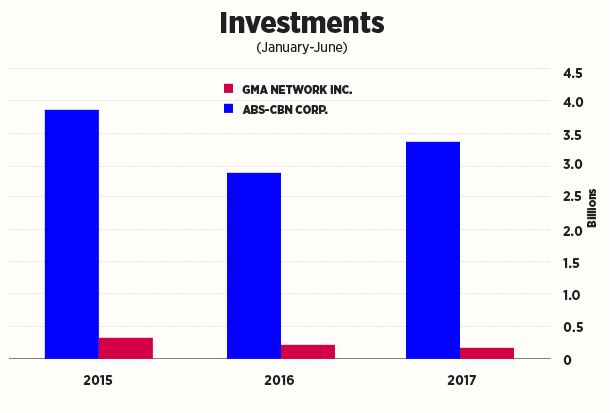 STOCK PRICES.
But between the two networks, it has been a tougher period for ABS-CBN since President Rodrigo Duterte has been a known critic of the network owned by the Lopez Group of Companies.
In April 27 this year, Duterte threatened to block the franchise renewal of ABS-CBN shortly after renewing the legislative franchise of its main rival, GMA, by another 25 years. ABS-CBN's share prices dropped 3.2 percent the next trading day, while GMA's stocks increased.
Even in Duterte's second State Of the Nation Address (SONA) last July, the president hit ABS-CBN for alleged biased reporting, along with online news site Rappler.

GMA, on the other hand, was not mentioned in the SONA.