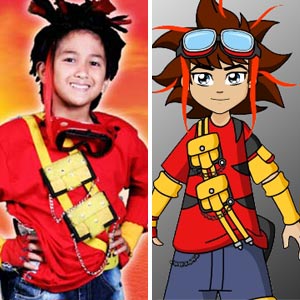 ---

Last October 3, PEP (Philippine Entertainment Portal) wasinvited to the animation studio of ABS-CBN to see firsthand the way animatorswork on the cartoon version of Super Inggo at ang Super Tropa. At thethird floor of the ELJ building is the studio where local animators arecurrently creating the anime series that will soon air weekly on the Kapamilyachannel.
Acknowledging the strong impact made by the superserye SuperInggo and the immense talent of young Filipino artists and animators,ABS-CBN will soon premiere the animated TV series that is expected to be shownnot only in the Philippines but also globally. For this reason, the creators ofthe cartoon series is careful not to put elements that are unacceptable inMuslim communities such as sexy clothing and religious items such as crosses.
Super Inggo at ang Super Tropa is the firstcollaborative project between ABS-CBN TV Production, represented by businessunit head and Vice President for TV Production Enrico Santos, and the newlyformed ABS-CBN Animation Department, led by business unit head Guia Jose.
Guia was part of the creative team of Optifex International,then working on projects such as the Flinstones, the Jetsons, Yogi'sTreasure Hunt, the Snorks and many others. She trained at the Hanna-Barbera Studios in Burbank in 1987, andTokyo Movie Shinsha in Tokyo in 1985 and 1986. She has worked with various reputable animation companies like TMSPhilippines as head of operations, Optifex International as head of color keyand mark up, Asianimation as production manager, PASI as Animation Checker andStar Animation (RNI) as managing director.
"Everything that the public loved in Super Inggo—thedrama, adventure, fun—will still be here," says business unit head EnricoSantos. "But in a new, moredynamic enviroment."
This weekly anime series is a product of numerous months ofhard work and dedication from around 100 people. It usually takes 18 weeks for one episode to be completedand the show is a 30-minute per episode, weekly.

ADVERTISEMENT - CONTINUE READING BELOW
In his adventures, Budong (Makisig Morales) is joined byJomar (Jairus Aquino), his trusty best friend and sidekick, andcontinues to be inspired by Maya (Kathryn Bernardo), his ultimate crush. Hissuper-allies Ken (Joshua Dionisio) and Teg (Andrew Muhlach) complete the SuperTropa.

The show also takes pride as one of the most successfulsynergized projects of ABS-CBN having its own, among others, mobile interactivegames, international sales, records, and licensed products.
Super Inggo at ang Super Tropa merchandise is nowavailable at all Toy Kingdom, SM Character Shop branches nationwide.Incidentally, Super Inggo at ang Super Tropa characters will take partin the ABS-CBN Funtaserye Day on October 19 (SM San Lorenzo) and October26 (SM North Edsa).
Super Inggo at ang Super Tropa
will air soon on ABS-CBN.