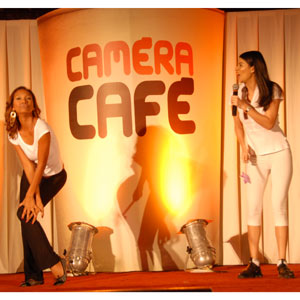 ---

Can you tell a funny story in three-and-a-half minutes?
If you can, then you will appreciate the way Camera Caféis presented. This quick-paced comedy TV series will begin airing its fifthseason on QTV-11 and GMA-7 starting October 13, 2008.
For three-and-a-half minutes, seasoned comedians portrayoffice workers who converge in an automated coffee machine to chat about thelatest gossip, their love lives, office promotions, and foul-ups in thecompany.
Camera Café looks back on its one yearof airing with a TV special titled Camera Café First Anniversary SpecialParts 1 and 2 on two consecutive Saturdays of October. Go on a nostalgic laughtrip as the show replays its funniest 3.5-minute episodes, withbloopers and interviews of the cast and production staff in-between.
The TV special will be aired on QTV-11 on October 18 and25, 9:10 p.m.
During Seasons 2 to 4, among those who appeared in the showwere Celia Rodriguez, Bella Flores, Yasmien Kurdi, Benjie Paras, Andrea delRosario, the French ambassador in the Philippines Gerard Chesnel, and others.


Starting October 13, viewers can look forward toseeing Rio Locsin, Joel Torre, Ronnie Lazaro, Drew Arellano, Vandolph, AnaCapri and Miriam Quiambao in the newest episodes of the TV show. Aiza Seguerrareprises her role as someone who continues her quest for her missing father.

As an added treat, Camera Café will now be seen five times a day on QTV-11 insteadof just three times a day. Get your dose of snack entertainment at thefollowing schedules: weekdays on QTV-11 at 10 a.m., 11:45 a.m., 2 p.m., 8:20p.m. and 11 p.m. and twice daily on GMA-7 at 8:55 a.m. and late night slotbefore sign off.
ADVERTISEMENT - CONTINUE READING BELOW
Four other shows and a "secret project" are in the works forthe Philippine creative team. One of these is You Women, a five-minutecomedy that shows silly situations women get into. According to French producer Henri de Lorme, "Short content isvery powerful."
Camera Café is produced by Axantis Productions Inc.,exclusive representative of Calt Asia Ltd.