The Movie Television Review and Classification Board, or MTRCB, is known for its big role in the shows that air in Philippine TV networks.
As a board responsible for the classification and review of movies and television programs, the MTRCB does not only rate or classify programs, it has also the power to suspend Pinoy TV shows.
In a span of seven years, from 2010 to 2017, MTRCB has had four chairpersons: Consoliza Laguardia (2010), Senator Grace Poe-Llamanzares (2010-2012), Atty. Eugenio "Toto" Villareal (2012-2017), and current chairwoman Rachel Arenas.
These four chairpersons of MTRCB had different ways of resolving issues and addressing complaints from the viewing public regarding TV scenes that were deemed too offensive for airing.
PEP.ph (Philippine Entertainment Portal) lists down 15 Pinoy TV shows from ABS-CBN, GMA-7, and TV5 that were summoned by the MTRCB from 2010 to 2017 and what decisions were made to resolve the controversy.
Excluded from the list are news and public affairs programs.


PINOY BIG BROTHER
ABS-CBN's reality show Pinoy Big Brother is also a "big winner" when it comes to grabbing the attention of the MTRCB.
In fact, there are three reported instances that the MTRCB called the attention of Kapamilya executives in the last three editions of the Pinoy TV show.
In June 2014, the MTRCB imposed strict rules on Pinoy Big Brother: All-In following a controversy that involved housemate Jayme Jalandoni posing nude for a painting.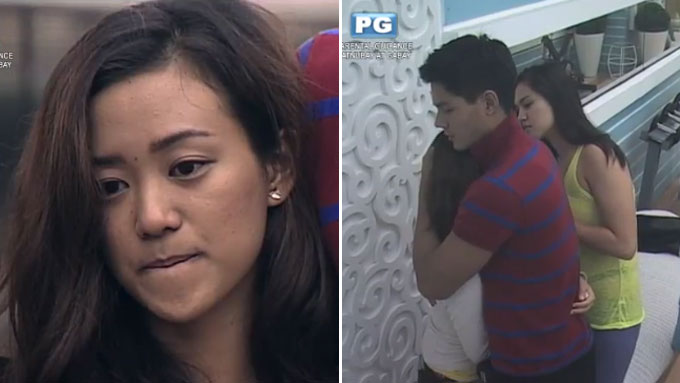 Certain sectors, including The Philippine Commission on Women, raised concerns about a weekly task wherein Big Brother urged Jayme to pose nude for a painting that would raise funds for a charity.
Jayme, who is vocal about being a devoted Christian, backed out from the nude painting challenge as did the three other housemates, Daniel Matsunaga, Michele Gumabao, and Ranty Portento, who were supposed to accompany her.
PBB All-In issued a public apology, as ordered by the MTRCB, through TV Patrol. The government agency also ordered the show to adopt gender-sensitive measures including seminars in coordination with the Philippine Commission on Women.


In June 2015, MTRCB co-chairperson Ricardo Salomon Jr. ordered Pinoy Big Brother 737 executives to attend a "developmental conference concerning children's rights and protection."
This was after the censorship board received "numerous feedback and complaints" about the TV show regarding some of the housemates.
The letter did not specify episodes, but back then, the alleged "bromance" of Bailey May and Kenzo Gutierrez was being talked about by viewers. The two boys, dubbed as the Kenley tandem, were seen being touchy-feely towards each other in PBB's 24/7 live streaming.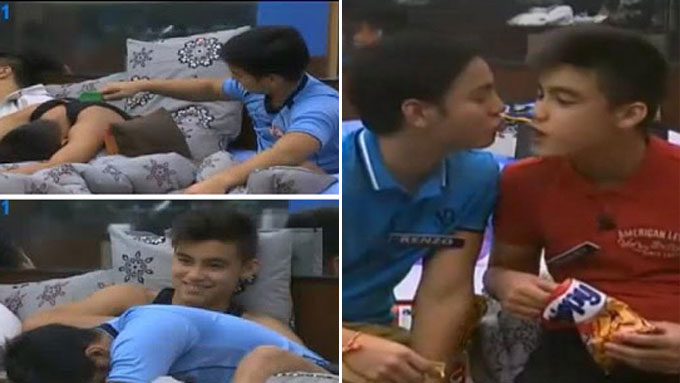 In July 2015, MTRCB ordered PBB 737 to enter in a "strict and close collaboration" with the regulatory board, as the resolution stated that certain scenes in the show offended the sensibilities of the viewing public.
Aside from Kenzo and Bailey's alleged bromance, other instances that were cited in the resolution were: "the huddling together and engaging in flirtatious talks and actions among male and female housemates; the indecent proposal by housemate Ryan [James Bacalla] to his co-male housemate if the latter could be his "mistress"; and the interaction with non-Muslim males and lack of privacy of a young Muslim woman."
MTRCB also ordered the show's afternoon edition PBB 737 Gold to elevate its classification rating from "PG" to "SPG"—or Strong Parental Guidance.
The prime-time edition, which airs beyond 10:00 p.m., was not asked to change its classification rating. However, the regulatory board required the prime-time edition, PBB 737 Gold and its cable channel counterpart to place an advisory at the beginning of each episode, stating the following: "This program may contain sensitive material. Viewer discretion is advised."


The most recent incident happened in August 2016, during the teen edition of Pinoy Big Brother Lucky 7.
MTRCB summoned the show after Rita Gaviola—more popularly known as Badjao Girl—cried after seeing housemates playing with her underwear. The housemates eventually apologized for their behavior.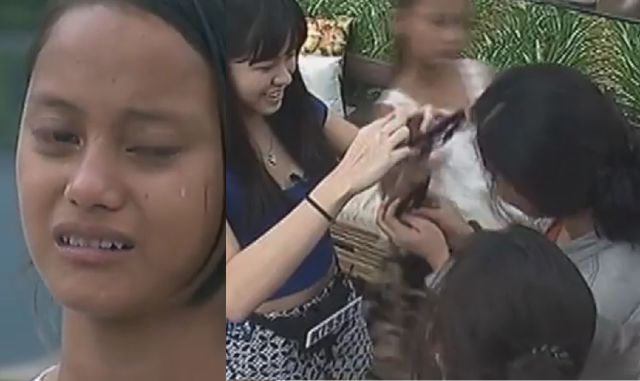 Albay 2nd District Representative Joey Salceda appealed to government agencies, including the MTRCB to take appropriate action after the incident.
The MTRCB responded to Governor Salceda's concern and called upon the show's executives for a meeting about the incident.
According to MTRCB's letter, factors that were considered before taking action on the incident were Rita's age, gender, and the representation that she belongs to an indigenous group.



IMPOSTORA
Kris Bernal's ongoing afternoon drama series Impostora was one of the recent teleseryes to be summoned by MTRCB.
This was revealed by the show's director Albert Langitan during a set visit with PEP.ph and other reporters. He disclosed that the reason for the meeting was the daring love scenes of Kris and leading man Rafael Rosell.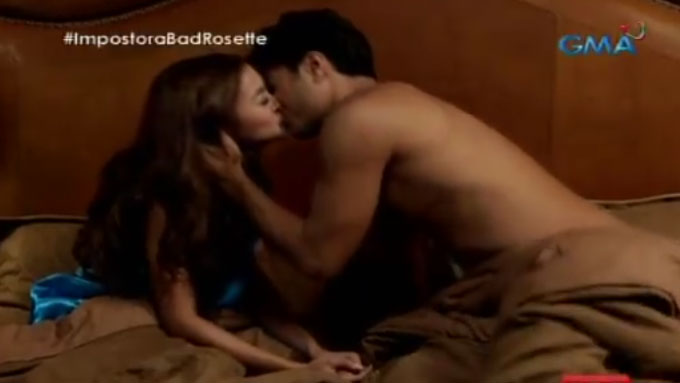 However, Direk Albert believed that the love scenes in the show did not go overboard, since he was able to do it in his previous shows.
He also said that he understands that there could be a "shift of values" depending on the person currently heading the government agency, which, in this case, is Rachel Arenas.
Direk Albert pointed out, "Siyempre sa standard ko, okay lang siya. Sabi ko nga sa hearing, may precedent kasi. Yung ginawa ko dati, yung Ang Lihim Ni Annasandra o Rhodora X, ganun na yung ginagawa ko.
"Kaya lang, siyempre, nagkakaroon ng shift of values depende kung sino yung nakaupo sa MTRCB."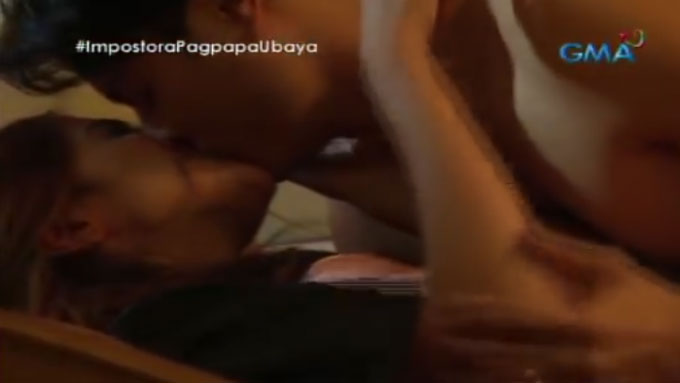 At the end of the dialogue, the show's production team and MTRCB were able to resolve the issue and agree on the terms.
Direk Albert explained, "Sa end naman ng dialogue na yun, nagkasundo ang MTRCB at saka kami na magkakaroon palagi ng ganung dialogue para walang miscommunication na mangyari.
"Palagay ko, yung pagpapatawag sa MTRCB, function lang yun na hindi nagkaroon ng tamang communication.
"Kasi ako, as a director, wala naman akong intensyon na mag above board."
Meanwhile, though lead star Kris did not want it to happen again, she took the situation lightly.
She quipped, "Ibig sabihin, pwede pala ako gumawa ng love scene, believable pala yung love scene na ginagawa ko!"


THE BETTER HALF
Last February 2017, a week after The Better Half aired its pilot episode, former MTRCB board member Mocha Uson used her video blog to voice out her complaint about the show's bed scenes.
One scene in The Better Half showed the character of Denise Laurel on top of Carlo Aquino while making love. Mocha described the bed scene by saying, "Ang haba ng halikan. Mayroon pang nakapatong yung babae sa lalaki."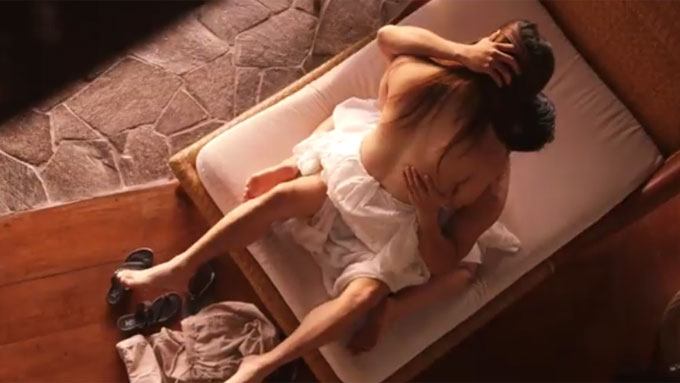 Mocha even accused the show and its network—ABS-CBN—of "abusing" the SPG or Strong Parental Guidance rating to air such scenes.
She said on her blog, "Yung Strong Parental Guidance, ginagamit ito para makalusot yung mga malalaswang eksena.
"Dahil ang SPG, in fact, under PG pa rin ang classification na yun."
Prior to the airing of the pilot episode, PEP.ph (Philippine Entertainment Portal) asked the show's business unit head Ginny Monteagudo-Ocampo for the MTRCB's reaction to their love scenes.
In fact, Ocampo said they took the initiative to have the show reviewed by the board.
She said, "Sa shoot pa lang, maingat na and if we see or we think that there are scenes that are quite sensitive, minsan, pinapareview namin sa MTRCB even before it's aired.
"Just a while ago, napreview na ng MTRCB yung pilot namin and SPG siya. Pumasa naman pero at least, walang ika-cut or anything kasi medyo sensual yung first day namin, e."
After Mocha's complaint, the management had a dialogue with MTRCB. The government agency reminded executives to be more cautious about airing such scenes.
EAT BULAGA
With this Pinoy TV show airing for 38 years, Eat Bulaga has not been spared by the watchful eyes of the MTRCB.
One recent instance happened in July 2016, wherein the board summoned the show for Senator Tito Sotto's controversial "victim-shaming" remark during the "Juan For All, All For Juan" segment.
A female contestant, who is married, shared her story that she was allegedly abused by a drunk friend after a drinking session.
This became the reason why her husband left her, even though she cannot remember what happened since she was drunk.
Senator Sotto reprimanded her by saying, "Kababae mong tao, shot-shot ka."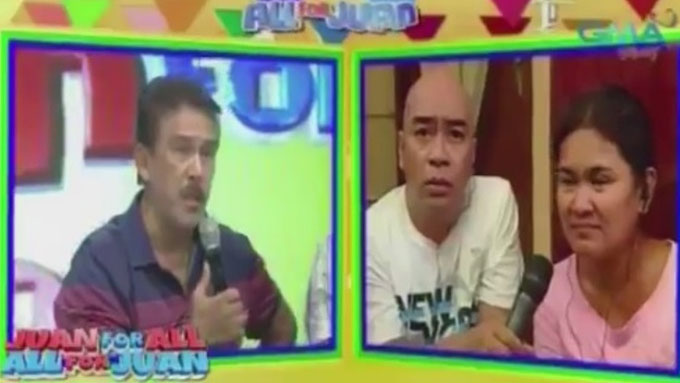 His statement did not sit well with viewers, which prompted MTRCB to call for a meeting with the show's executives.
Even though MTRCB only invited the program executives, Senator Sotto also attended MTRCB's meeting with the show on July 21, 2016, to clarify his statements.
According to him, his statement was taken out of context on social media.
"Sa tingin ko, convinced sila [MTRCB] na yung mga sumulat ng reaction were relying on comments of those who did not even know the context of the issue."


Meanwhile, in September 2013, MTRCB summoned Eat Bulaga and the defunct talk show The Ryzza Mae Show to attend a mandatory conference regarding "alleged child-unfriendly scenes."
One incident MTRCB cited was, "In Eat Bulaga's 29 July 2013 episode, a host spat juice into the face of child actress-host Ryzza Mae Dizon."
The government agency, then headed by Atty. Toto Villareal, said that the dialogue aimed to find out what caused the scene and what measures can be done to avoid the same incident to happen again.
In the end, MTRCB said that it "reiterates its serious and urgent concern for the welfare of children, who are most vulnerable in media and entertainment."


ON THE WINGS OF LOVE
In January 2016, MTRCB summoned the top executives of ABS-CBN to discuss James Reid's striptease scene in the TV series On The Wings of Love, which top-billed him and love team partner Nadine Lustre.
This was in connection to Philippine National Police (PNP)'s complaint about the improper use of the police uniform in television and movies for that matter.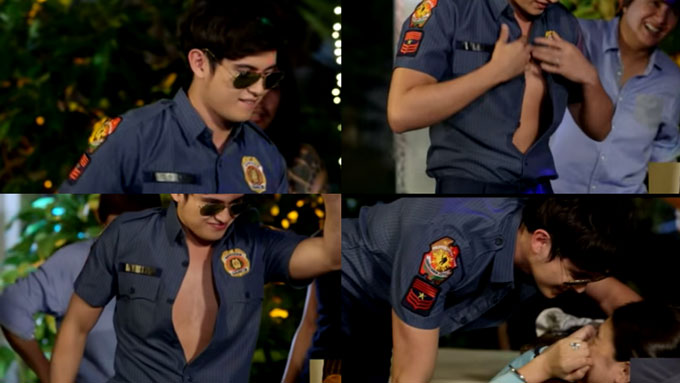 Atty. Villareal said in his statement, "The said episode portrayed actor James Reid doing a strip tease while wearing a PNP General Office uniform, allegedly with a police badge and showing the rank of SPO4.
"According to a statement by PNP Spokesperson CSupt Wilben Mayor on or about 14 January 2016, 'The PNP uniform is sacred to policemen and police women' and the strip tease scene of Reid xxx did not properly reflect a policeman's duty to enforce the law and assist citizens."
Prior to the MTRCB dialogue, ABS-CBN already issued a public apology to the PNP through an official statement.


IT'S SHOWTIME
ABS-CBN's noontime show It's Showtime also had its own share of controversial moments that grabbed the attention of MTRCB.
Back in January 2010 when It's Showtime was still titled Showtime, there was a dance contest with different celebrities serving as guest judges.
In its January 7 live episode, guest judge Rosanna Roces made a controversial remark on the air about teachers.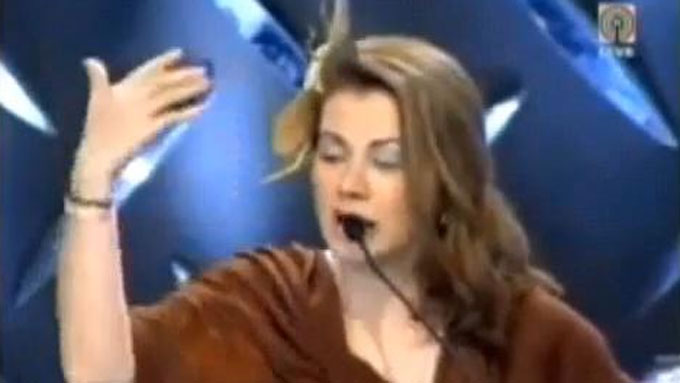 This prompted the MTRCB to impose a 20-day preventive suspension of the show, which started on January 12 that year.
The move of the MTRCB, then headed by Chairman Consoliza Laguardia, did not sit well with ABS-CBN. In an official statement, ABS-CBN argued that it already imposed self-regulation by removing Rosanna as a judge.
The Kapamilya network also appealed to the MTRCB to lift the suspension. The Court of Appeals granted a temporary restraining order on the show's suspension, saying that "It appears that petitioner's [ABS-CBN] fundamental right to due process was blatantly transgressed by the respondent [MTRCB]."
While Showtime was off-the-air, it was temporarily replaced by a show named Magpasikat, which featured celebrities performing special talents.
However, in March 2010, MTRCB imposed another one-month suspension to both Showtime and Magpasikat, and even considered filing criminal charges against then Head of Entertainment Production Linggit Tan and other executives who were "responsible for the violation."
According to a statement from ABS-CBN, the network was not surprised by MTRCB's decision.
The Kapamilya network also did not agree with the decision, which is why they planned to bring it to the Office of the President. Showtime continued to air on television, since MTRCB's decision is not yet "final and executory."
On September 2010, it was announced that Showtime won the case against MTRCB, according to a resolution from the Court of Appeals.

Another incident happened four years later, in 2014, when ABS-CBN already turned the show as the full-fledged noontime show It's Showtime.
In August 2014, it was reported that MTRCB called for a mandatory conference with It's Showtime's executives and host Vice Ganda for "Alleged Offensive and Degrading Scenes" aired in the July 28, 2014 episode of the show.
According to the letter, signed by MTRCB Hearing and Adjudication Committee co-chairperson Eric Mallonga and committee members Bobby Andrews and Joey Romero, "The challenge portion in the program's segment entitled 'Gandang Lalaki' showed program host Mr. Jose Viceral a.k.a. Vice Ganda wiping off with a towel his sweaty armpit and smudged this towel all over the face of one of the program's male dancers."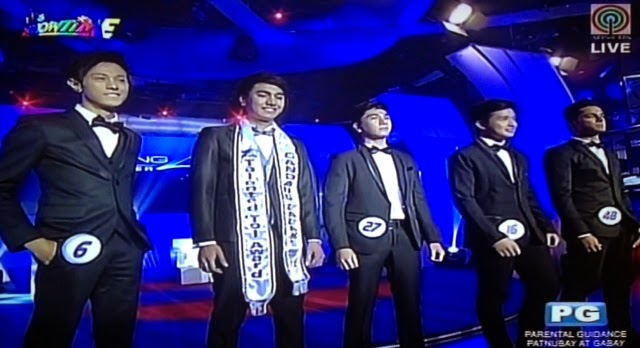 At the end of the conference, business unit head Reily Santiago admitted that there was a lapse in terms of the show's self-regulation.
Vice and other people behind the show also attended a seminar about "media and the legal profession in the context of both audience-sensitivity and the administration of justice."
The most recent incident happened in October 2015.
This time, MTRCB summoned the noontime show's executives due to negative feedback against the "Nasaan Ka, Mr. Pastillas" segment featuring Angelica Jane "Miss Pastillas" Yap.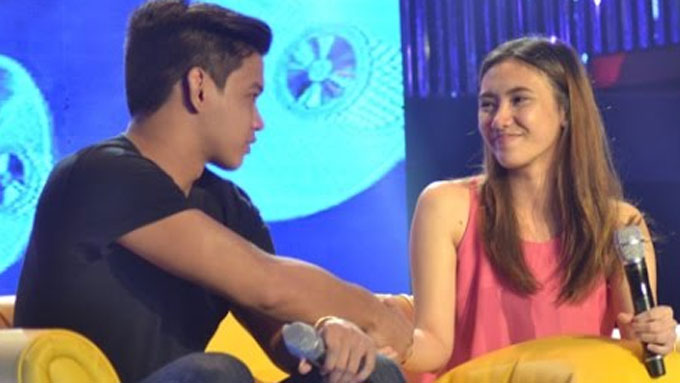 The segment showcases Miss Pastillas's active search for a potential boyfriend among a number of suitors.
In a letter dated October 1, the government agency summoned the show's executives to attend a meeting about "gender sensitivity concerns."
This was after the women's group Gabriela filed an "official" complaint against the segment.
Signed by MTRCB Chairman Toto Villareal, the letter cited the regulatory body's 2012 memorandum that requires all TV networks to maintain a "positive and non-derogatory portrayal of women in television, in support of Magna Carta of Women 2009."
In a resolution signed by then MTRCB chair Atty. Toto Villareal, It's Showtime was imposed to adhere self-regulation with the segment to protect the rights of Miss Pastillas.
The agency also reiterated that Miss Pastillas's outfits should be appropriate to the Parental Guidance rating of the show.



THE RICH MAN'S DAUGHTER
The MTRCB summoned the executives of GMA's LGBT-themed teleserye The Rich Man's Daughter for its July 8, 2015 episode.
In a letter dated July 20, and signed by MTRCB chair Atty. Toto Villareal, the show's executives were called to a mandatory conference because of a line blurted out by the character played by Katrina Halili.
In the episode, Althea (Glaiza de Castro) was seen confiding to Wila (Katrina) about how Jade (Rhian Ramos) denied their relationship in front of Jade's grandfather.
Wila then told Althea: "Ganyan talaga ang pakiramdam ng mga kabit. At saka pag kaharap ang pamilya, ide-deny ka talaga, e."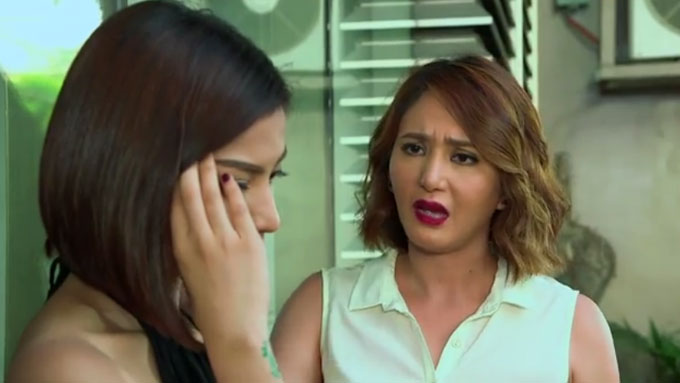 The MTRCB said that the line was only intended for mature audiences, and was beyond the Parental Guidance rating.
Part of the letter read: "The above-quoted strong language in regard to marriage is obviously meant for a mature audience. Such sensitive language by its nature, has to be explained to young viewers. If left unexplained, it cuts into the dignity and integrity of marriage, which is a protected institution under the Constitution. Under these considerations, the scene is beyond the program's granted rating of "PG" (Parental Guidance)."


PARTY PILIPINAS
MTRCB ordered a six-month probation of GMA-7's defunct variety show Party Pilipinas for airing "sexually-charged scenes" during its January 27, 2017 episode.
The scene in question was the steamy dance number of Lovi Poe and Rocco Nacino during the show's opening production.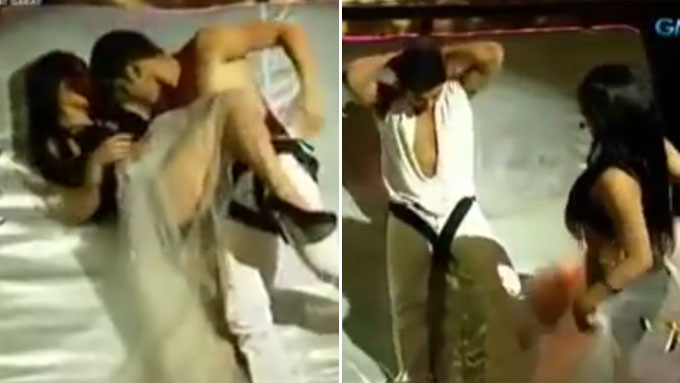 The government agency ordered the Kapuso Network to issue a public apology, which the network followed.
However, the probation did not last for six months since Party Pilipinas ended its run on May that year.

ASAP
Just like other long-running shows in this list, ASAP had its own share of encounters with the MTRCB.
One recent incident was Anne Curtis's 28th birthday production number where she did a "wet performance" of Rihanna's hit song "Diamonds."
In the performance, aired in February 24, 2013, Anne wore a black strapless dress with a very high slit.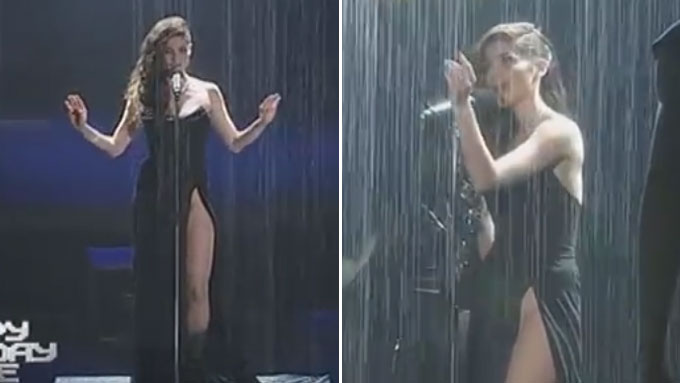 MTRCB called the attention of ASAP's executives to attend a dialogue to ensure gender sensitivity.
BUBBLE GANG
GMA-7's long-running comedy gag show Bubble Gang was also not spared from the watchful eyes of the MTRCB.
In December 2013, the executives of Bubble Gang, including actors Michael V. and Rufa Mae Quinto, were called for a mandatory conference.
The conference was in relation to an episode aired on November 29, 2013 which, according to the MTRCB, showed "discriminatory and derogatory portrayal of a woman."
The segment in question was "D Adventures of Susie Lualhati," which featured Rufa Mae as Susie and Michael V. as Birdie.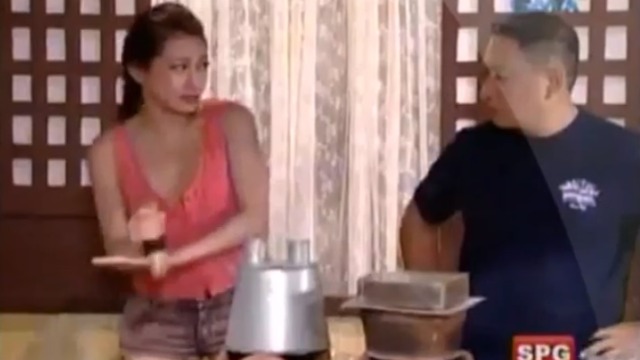 The segment, which ran for almost two minutes, was about Susie who applied as a cook for Birdie.
During the segment, Rufa Mae was seen wearing a sexy outfit and some scenes of the show were described as "suggestive."
On December 9, Rufa Mae, Michael V., and the show's executives attended the mandatory meeting. The show promised to submit proposed measures to ensure gender-sensitive content.
PANGAKO SA 'YO
MTRCB called the attention of executives of the defunct teleserye Pangako Sa 'Yo for the use of "foul language" in the May 29 episode of the show.
The episode in question, which happened three days after its pilot episode, featured a confrontation scene between Pilar Pilapil and Ian Veneracion.
Benita (Pilar) confronted her son Eduardo (Ian) after he had a relationship with their cook Amor (Jodi Sta. Maria), despite his engagement to Claudia (Angelica Panganiban).
She told her son, "Kung pampalipas libog lang iyan, that's okay. Go ahead."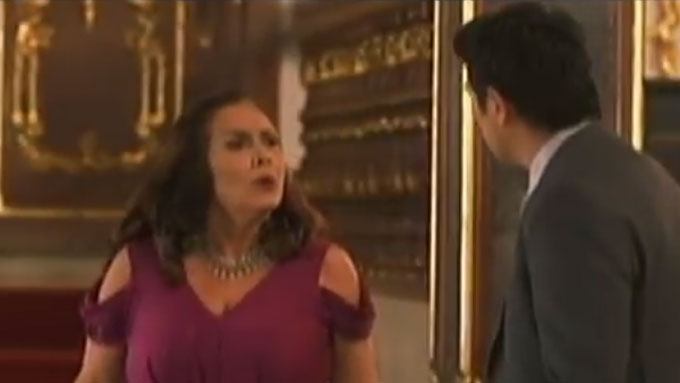 Pangako Sa 'Yo, which was top-billed by Kathryn Bernardo and Daniel Padilla, was placed at the 8:30 P.M. timeslot, where kids and younger audiences are expected to be awake.
Atty. Toto Villareal explained in the letter, "The above-quoted strong language in regard to sex and the insinuation that it is okay to use a woman for the mere purpose of satisfying one's fleshly desires even if he is already engaged to marry another woman, are obviously meant for a mature audience.
"The scene, if left unexplained, also cuts into the dignity of the woman and the integrity of an impending marriage—which is a protected institution."
For this reason, MTRCB called the executives of the show for a mandatory conference to ensure self-regulation in the programs aired in the Kapamilya network.
Days after the mandatory conference, a decision was released, saying that Pangako Sa 'Yo would be placed under a three-month probationary period.
On June 10, 2015, ABS-CBN issued a public apology for the strong language used in the episode.

TILL I MET YOU
In November 2016, MTRCB called for a meeting with executives of the JaDine prime-time series Till I Met You. The episodes in question were aired from October 25-28, 2016.
Viewers filed complaints about the steamy car love scene of James and Nadine aired on October 25 as well as the bathtub scene of the JaDine love team that aired in the succeeding episodes.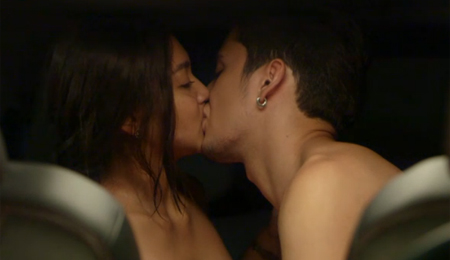 While the October 25 episode carried a Strong Parental Guidance or "SPG" rating, the other episodes only had a "PG" rating.
The letter dated November 2, 2016 explained: "Considering that 'PG' and 'SPG' ratings still admit the reality of having young audiences, the Board shall expect you to present your side at the said conference which shall be before a Committee particularly designated for the matter."
The meeting did not sit well with some of the show's fans who accused the MTRCB of "selective censorship."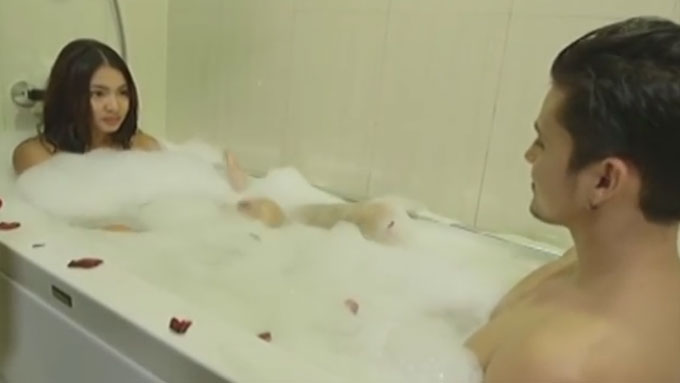 However, Atty. Villareal denied the accusations by pointing out that the MTRCB does not intend to "play a policeman" but to empower TV programs.
He explained, "For the conference next, we see it as more of a dialogue.
"Notwithstanding the fact that we have received through email, social media, [and by] monitoring conventional media certain reactions to several scenes."
He also clarified that MTRCB appreciated that Till I Met You self-regulated itself by putting the SPG rating on its October 25 episode.
"Because our records show, in fairness to TIMY [Till I Met You], for the so-called car episode, they previously wrote the MTRCB, advising us that for that particular episode, that they will impose an SPG advisory with indicators for theme and for sex."
He also acknowledged that the scenes in question were aired after 9 P.M., a prescribed time slot for shows with mature themes.


MAALAALA MO KAYA
In 2012, Maalaala Mo Kaya's "Cursed Beauty" episode, featuring Jane Oineza and Angel Aquino, was initially given an "X" rating by the MTRCB, which means that it is not for public exhibition.
This is the reason why MMK had to postpone its June 2, 2012 airing since it was submitted again for another review to the MTRCB.
The MMK episode tackled a sensitive topic since Jane's character is a 15-year-old girl who is recurrently raped by her stepfather.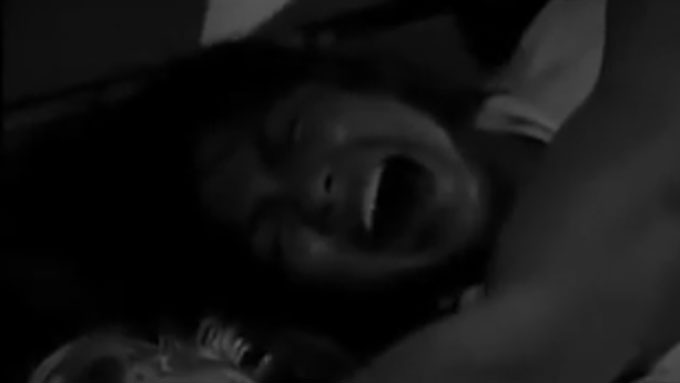 Angel's character, who played Jane's mother, reportedly assisted her live-in partner while doing the act of rape.
Almost a month later, in June 28, MMK finally aired the controversial episode with an "SPG" rating.
The episode, which had the title "Manika," proved Jane's acting prowess. The former child star received an acting nomination at the prestigious 2013 New York Festivals World's Best Television and Film.
MOON OF DESIRE
In 2014, ABS-CBN produced an adult daytime drama series titled Moon of Desire, starring Meg Imperial, JC de Vera, Ellen Adarna, and Dominic Roque.
It focused on the story of Ayla (Meg), a woman inflicted with hypertrichosis or abnormal hair growth.
In an interview with PEP.ph (Philippine Entertainment Portal) during its press conference, Meg revealed that she shot a love scene with Dominic. However, it was not aired because of the MTRCB.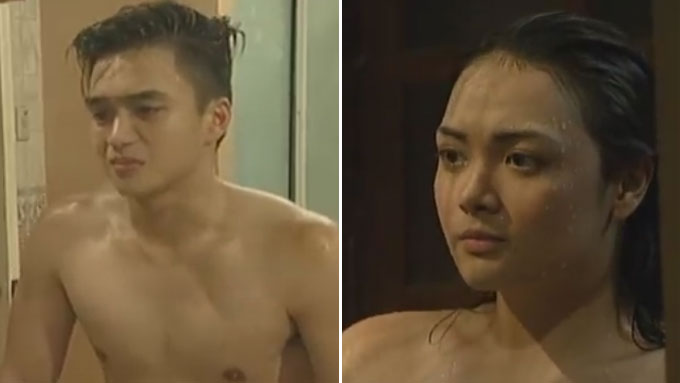 "Yung promo namin, may ginawa kami ni Dom na parang may love scene kami pero hindi pinakita..."
She narrated: "Weird siya kasi may buhok ako nung ginagawa namin. Sa playground namin ginawa kunsaan may treehouse."
Meg recalled, "Dapat nung trade launch [held last January], dapat isasama siya sa teaser pero ang MTRCB na-check nila at pinaalis nila. It's not super malaswa...nakapatong and may kissing. Pinatanggal kasi siguro kasi pang TV.
"Si Direk [FM Reyes] ginawa naman niya artistically pero siguro hindi pumasok sa standards ng MTRCB."
WILLING WILLIE
In April 2011, Willie Revillame was involved in a controversy when he was accused of child abuse.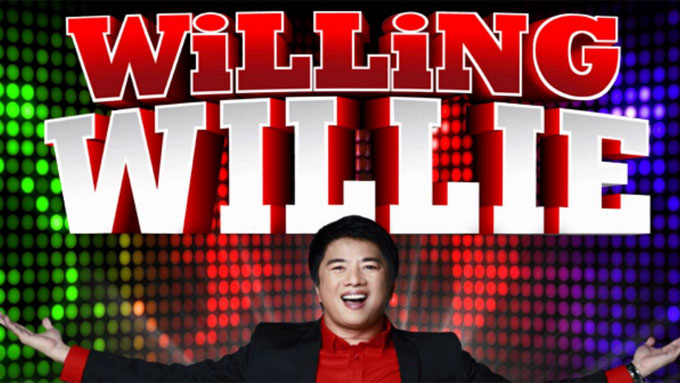 The alleged child abuse happened during the March 12, 2011 episode of his TV5 show Willing Willie. A six-year-old boy named Jan-Jan did a "macho-dance routine" in exchange for P10,000 from the TV host.
The episode sparked criticisms from different sectors, causing advertisers to pull out.
MTRCB, then headed by Senator Grace Poe-Llamanzares, had a series of hearings with TV5 and the show's producers.
In a PEP.ph report published in April 5, 2011, TV5 promised to impose self-regulations including stricter guidelines on appearance and performances of minors.
However, at that point, the MTRCB had not decided yet on the sanctions to be imposed on Willing Willie.
Senator Poe explained in an interview with News To Go, "Alam mo, kaya nga pinag-aaralan natin dahil ayaw naming abusuhin ang aming kapangyarihan.
"Kasi, nasa board 'yan at nasa chairman kung ano ang paratang—mayroong fine, may suspension ng show, mayroong suspension ng network kung saka-sakali.
"Ayaw nating humantong... Alam nating maraming dumedepende sa trabaho nila dito sa industriya.
"Pero dapat naman nating itama kung saka-sakaling may nagkamali."
In April 7, 2011, TV5, its lawyers, and host Willie attended another hearing with the MTRCB to defend themselves.
According to TV5, the videos of the boy doing the macho-dance routine that were posted on social networking sites were already edited, and clips were cut. Thus, it did not show the whole scene aired in that March 12 episode.
The network also questioned MTRCB's objectives, explaining that three members of the MTRCB's panel belonged to a rival network, which they did not name.
The statement also said that the rival network also aired dance numbers similar to what the boy performed on Willing Willie, and these were also presented during the MTRCB hearing.
Lastly, TV5 pointed out that if MTRCB plans to impose further regulations on Willing Willie, the investigation should also involve all TV networks and the KBP, or Kapisanan ng Brodkaster ng Pilipinas.
Days after the issue, in April 8 and without any decision yet from the MTRCB, Willie announced on his live show that Willing Willie would go off the air for two weeks.
In his long statement, Willie said that MTRCB planned to suspend them already until they showed videos of children dancing while wearing sexy outfits from programs of another station.
He said, "Alam niyo, dapat suspended ang show. Suspended last night [April 7] ng 20 days to 30 days. May tumawag sa akin na MTRCB sa desisyon nila.
"Pero ano ang nangyari? Naputol.
"Pinakita ho namin ang mga batang babaeng nagsasayaw sa Goin' Bulilit na naka-bra lang. Pinakita rin namin ang mga batang lalaki na nakalampin sa Showtime, na sumasayaw din ng katulad kay Jan-Jan."
In May 3, 2011, MTRCB finally came to a decision regarding the case.
They decided to suspend Willing Willie for one month and allowed it to return on May 9, 2011.
The suspension period already included the days Willing Willie went off the air, which started in April 8, 2011.
The letter of the MTRCB explained the two violations that Willing Willie committed:
"1. For violation of Section 3 © of PD 1986, the penalty of SUSPENSION for ONE (1) MONTH is hereby imposed on the program Willing Willie, and crediting the period of its voluntary suspension.
"2. The show is placed on Probation, or on a per-episode permit basis."
In May 14, days after the decision of MTRCB came out, Willie Revillame's show returned to TV5 with a new title, WilTime BigTime.