GMA-7's new primetime drama Kambal, Karibal starts with a chase scene deep in the forest with Crisanta (Bianca Umali) running very fast. She screams as she slips and is at risk of falling into a cliff. She calls out to Diego (Miguel Tanfelix) for help. He holds on to her and asks her not to let go, but suddenly, a spirit in the form of a young woman appears and pulls Crisanta into the cliff.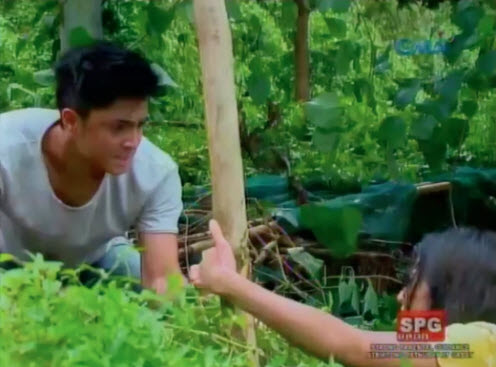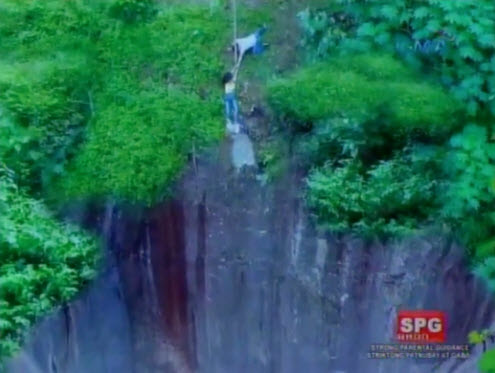 Then, there is a flashback to 1999, at the seashore wedding reception of Allan and Geraldine Magpantay (Alfred Vargas and Carmina Villarroel).

A voiceover says: "Sa bawat kadiliman ay may liwanag. Ngunit paano kung ang kadiliman ay kakambal mo na mula pa sa sinapupunan?"

Geraldine is already obviously pregnant. She is the only granddaughter of Dona Alicia Enriquez and he is a former seaman. Not so far away, Dr. Raymond De Villa (Marvin Agustin) is drunk and laments to his friend Vincent (Rafa Siguion-Reyna) that he should be the one marrying Geraldine, not Allan.

Everyone is a festive mood, with some of the guests presenting the couple and their unborn twins with gifts. A figure in black, Amang Edith (Angie Ferro), observes the newlyweds and vocalizes a sinister vision: "Liwanag at dilim. Ang isang anak mo ay mamamatay, ang isa ay mabubuhay." This dampens the wedding party and Amang is led away by her granddaughter Margarita (Diva Montelaba).

As night falls, Dr. Raymond decides to crash the party. He gets into a fistfight with Allan and pulls a gun on him. Dr. Raymond is eventually pulled away by guards. Geraldine is rushed to the hospital.

After an ultrasound is conducted, the gynecologist reassures her that her babies are both alive, but expresses concern that one is smaller than the other. So she cautions Geraldine to take care of herself.

Soon after, Allan runs into Nida (Katrina Halili), his ex-girlfriend, at a restaurant. She makes advances toward him even though she knows he is already married. Dr. Raymond observes them, even as Allan hastily leaves.

Dr. Raymond visits Geraldine to apologize for his behavior and they reconcile. He tells her that he saw Allan with his ex-girlfriend in his arms.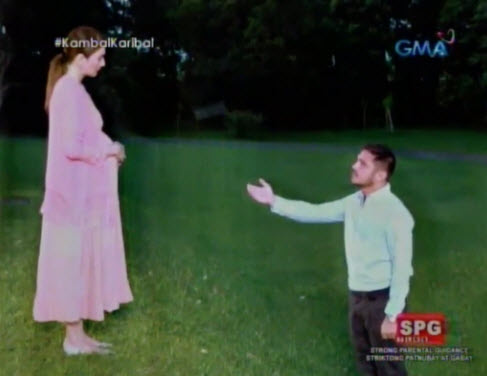 Later, Geraldine visits Allan at the farm and confronts him about this. He explains that he left so as not to talk to Nida anymore—and that he loves only his wife.

Dr. Raymond visits Nida at a bar where she sings and they strike up a deal to help each other so that they can break up Allan and Geraldine.

Allan plans to go to the yacht party of his former ship captain and invites Geraldine to join him. She prefers not to. When Allan arrives at the party, Nida immediately calls his attention, but he tries to avoid her. Later, they sit at the same table and Nida exchanges her wine glass for his, so that Allan becomes drowsy. She brings the sedated Allan into a small room on the yacht.

In the morning, they are both naked in bed. When Allan realizes this, he gets dressed immediately and rushes home. Nida calls Dr. Raymond to report and find out if Geraldine has already seen the video.

When Allan arrives home bearing a bouquet of flowers, he walks in on Geraldine watching a video of what transpired between him and Nida in the room. Geraldine flies into a fit of rage and Allan profusely apologizes and tries to explain that he remembers nothing. Geraldine jumps into her car and drives away; Allan follows her in his car. Dr. Raymond eventually follows the chase.

As they snake through the country road, Geraldine swerves to avoid running over a pedestrian. The cars crash and both Allan and Geraldine are badly hurt.

This is how the pilot episode ends.


AGB RATINGS. How did the pilot episode of Kambal, Karibal fare in AGB Nielsen ratings?
The GMA-7 teleserye, Kambal, Karibal, got an AGB TV rating of 8.5%.
The prime-time series of Miguel Tanfelix and Bianca Umali aired its pilot episode on November 27, 2017.
ABS-CBN's counterpart program, La Luna Sangre, got an AGB TV rating of 10.3%.
Kathryn Bernardo, Daniel Padilla, Richard Gutierrez, and Angel Locsin topbill this Kapamilya teleserye.
The new Kapuso prime-time series was 1.8 points lower than its Kapamilya rival.