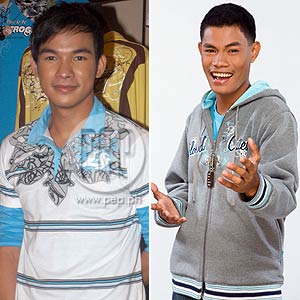 ---

Viewers closely followed the lives of the Pinoy DreamAcademy Season 2 scholars, among them Jay "Bugoy" Bogayan of Ocampo, CamarinesSur. He was characterized as the comedian of the group since he was alwaysready with a witty line or a wacky pose.


But little do people know about the difficult life that Bugoy had to go throughin order to claim the title of first runner-up in ABS-CBN's reality singingcompetition. In the October 11 episode of Maalaala Mo Kaya, singer-actorMark Bautista will undergo a physical transformation to match the looks ofBugoy.
Himself a product of singing contests, Mark is tapped toportray the life of the PDA scholar dubbed as The Farmer's Son. Born in anunderprivileged family in Camarines Sur, Bugoy had to work at a young age inorder to support his studies. He accepted menial jobs such as being a dishwasher and cleaning floors as a janitor so he could have money while studyingFood Service Institutional Management at the University de Sta. Isabel.


The October 11 episode of MMK will also shed light on Bugoy's relationship withhis alcoholic father. Learn how Bugoy was able to forgive his father for alltheir troubles in the past.
Bugoy got a new screen name when he entered the Academy: hewas baptized as Bugoy Drilon. Now, he is starting to make a mark in theindustry with his recognition as the Most Promising Male Performer in the 2008Asian Star Entertainment Awards. Get a chance to see Bugoy try his hand in acting in the upcoming episode of this drama anthology show.
ADVERTISEMENT - CONTINUE READING BELOW
Maalaala Mo Kaya (October 11, 2008)

Director: Ruel S. Bayani
Writer: RuelMontanez
Cast:
Mark Bautista as Bugoy
Ronald Humarang as young Bugoy
Soliman Cruz as Elmer (Bugoy's father)
Malou de Guzman as Myrna (Bugoy's mother)
Paw Diaz as Mhabel (Bugoy's sister)
Sarah Palad as young Mhabel
Aldred Gatchalian as Jim (Bugoy's friend)
Monet Silvestre as himself
Maalaala Mo Kaya, which airs on Saturday night, ishosted by Ms. Charo Santos-Concio.