The year 2017 was indeed a colorful one for Philippine television, especially when it came to Filipino teleseryes.
It was indeed a "pasabog year," since most scenes that went viral involved campy but creative confrontation scenes, and/or brutal and surprise deaths.
There were also plenty of love scenes, transformations, and scenes that were done for the first time on Filipino TV shows.
Netizens and viewers were also surprised by some bloopers that were accidentally caught on camera.
With 14 daytime shows and 15 prime-time shows produced by ABS-CBN and GMA-7 this 2017, PEP.ph (Philippine Entertainment Portal) highlights 20 surprising and savage teleserye moments that shookt TV viewers this year!
1. Wildflower: Maja Salvador's tsinelas was caught on cam while wearing her black wedding gown.
Dubbed as the "Wildest Wedding of the Year," Maja Salvador's character Ivy Aguas surprised everyone when she wore a black bridal gown during her wedding to Arnaldo Torillo (RK Bagatsing).
Ivy is the first bride on Pinoy TV to wear a black wedding gown.
The wedding scene—even before it was aired on TV—already became a trending topic on Twitter.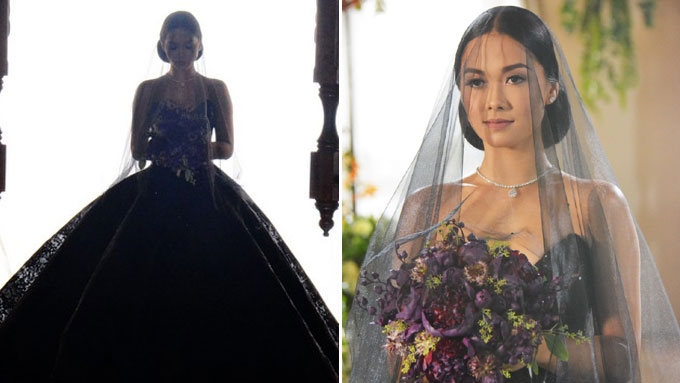 After its airing, the wedding scene spawned viral memes online.
But it wasn't only the black gown that caught the attention of viewers.
A photo went viral online where Maja was seen wearing slippers underneath her black gown!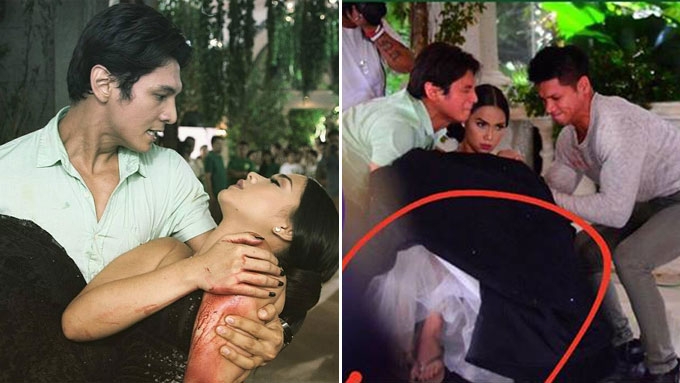 The lead actress of Wildflower later explained that the photo was taken while they were rehearsing a scene for the wedding.
2. Wildflower: Maja Salvador's fight scene in heels receives praise from celebrities.
Maja was praised by celebrities of ABS-CBN and GMA-7 for her action scene in Wildflower while she was wearing heels.
In the teleserye, Lily (Maja) confronted a lady bomber (Dawn Chang) after an explosion that happened in a media complex.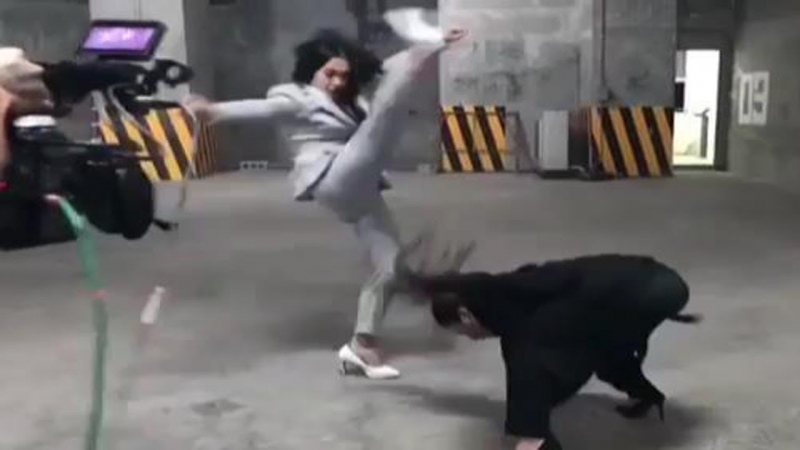 To pull off the scene, Maja had to perform roundhouse kicks and cartwheels.
Kapuso actresses Pauleen Luna-Sotto and Carla Abellana, and Kapamilya celebrities such as Gary Valenciano, Karylle, Sofia Andres, and Maymay Entrata commended Maja for her performance in the fight scene.
3. Ika-6 Na Utos: Georgia's nerf gun went viral and spawned memes.
GMA-7's daytime series Ika-6 Na Utos, which started airing on December 2016, became a source of viral memes online.
This started when the characters portrayed by Sunshine Dizon and Ryza Cenon had a confrontation scene inside a toy store while both of them were pregnant.
In the latter part of their fight scene—after they pushed each other and slapped one another with big stuffed toys—Georgia (Ryza) pointed a nerf gun at the pregnant Emma (Sunshine). The latter got scared because of her delicate condition.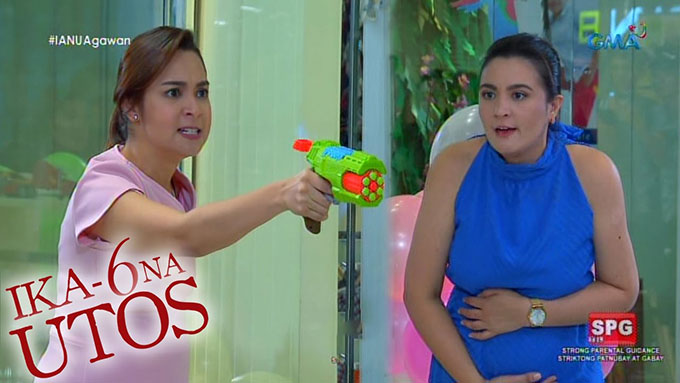 This TV moment spawned viral memes on social media and signaled the start of campier confrontation scenes. Ika-6 Na Utos eventually became the No. 1 most-watched Filipino TV show in the daytime block, according to AGB ratings.
Due to its popularity, GMA decided to air it six times a week, from Mondays to Saturdays, unlike other shows that have a regular five-day run.
4. Ika-6 Na Utos: Emma and Georgia tapped unique weapons for their fight scenes.
The nerf gun fight scene marked the beginning of many physical battles between Emma and Georgia.
Another viral scene happened when the two rivals threw "balut" at each other in a park!
Since then, the writers of the show have made use of various weapons to make the fight scenes of the characters more creative: these include gym balls, a photocopying machine, cupcakes, watermelons, and even a hot oven!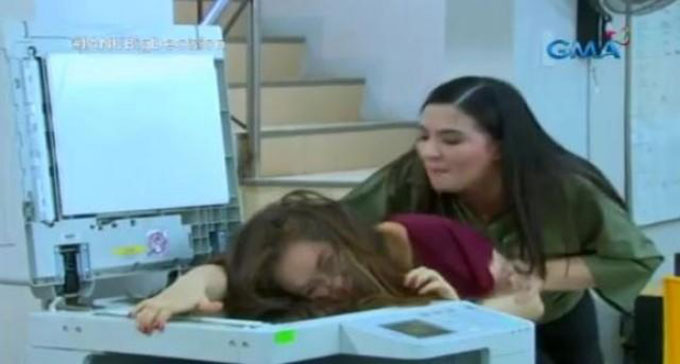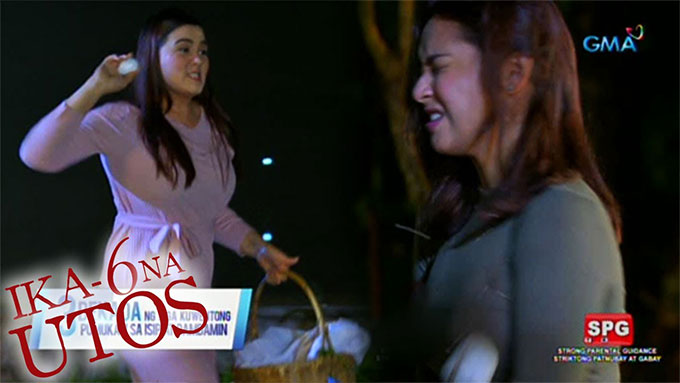 Because of these fight scenes, the show acquired a big following.
Unfortunately, in the middle of the show's run, Ika-6 Na Utos stunt director Baldo Marro died due to health complications.
Ika-6 Na Utos, which was originally intended for a six-week run, just celebrated its first year on the air last December 6.
5. Encantadia: Sang'gre Amihan was killed off, following the controversial pregnancy of Kylie Padilla.
A lot of Encantadiks were shocked when GMA-7 started airing teasers that a Sang'gre, or one of the show's main characters, would be killed off in January 2017.
PEP.ph (Philippine Entertainment Portal) then broke the news that Kylie Padilla, the actress playing Amihan, is pregnant, with fiance Aljur Abrenica as the father.
Eventually, the news was later confirmed by the couple to PEP.ph, intensifying rumors that Amihan is the Sang'gre who will be killed in the show.
True enough, on January 24, a photo leaked online showed the death of Sang'gre Amihan.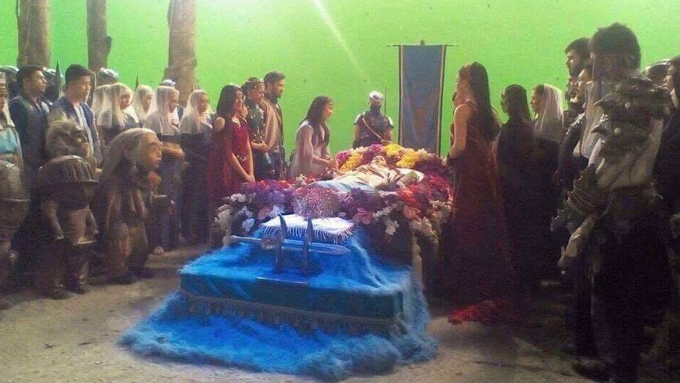 The pregnant Kylie continued to appear in the show for a few weeks after Amihan's death.
Amihan was eventually transformed into a "sarkosi" or a reincarnated soul.
During the show's finale last May, Kylie appeared again in the series which dropped hints that the show might have a second chapter.
6. Encantadia: An outtake photo showing a Monobloc chair inside Lireo went viral

On March 2017, another photo from Encantadia went viral after it showed a Monobloc chair inside the kingdom of Lireo.
A Facebook page even made a meme out of it, saying: "Napaka–modern ng Encantadia! Kitang kita ang monobloc!"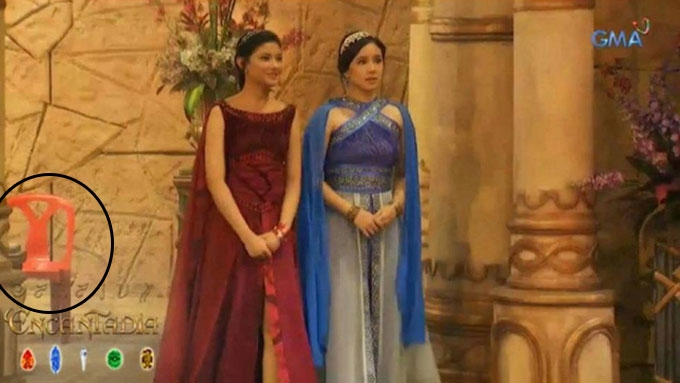 The official page of Encantadia clarified that the Monobloc was not shown on air and that the photo that spread online was a screengrab from an outtake of the show.
Weeks later, in an episode of the defunct comedy show Full House Tonight, Encantadia cast members Mikee Quintos and Ruru Madrid did a spoof of the viral Monobloc photo.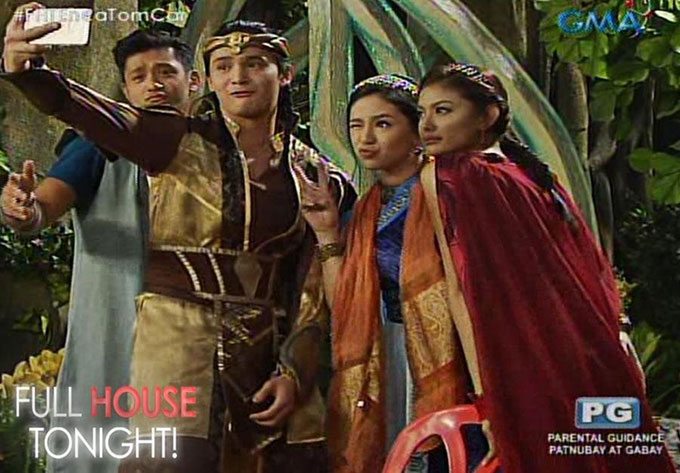 7. Encantadia: The appearance of Ice Queen in the finale hinted at a sequel.
In the last episode of Encantadia, it was revealed that Cassiopea (Solenn Heussaff) had a twin sister who lives in a faraway Ice kingdom.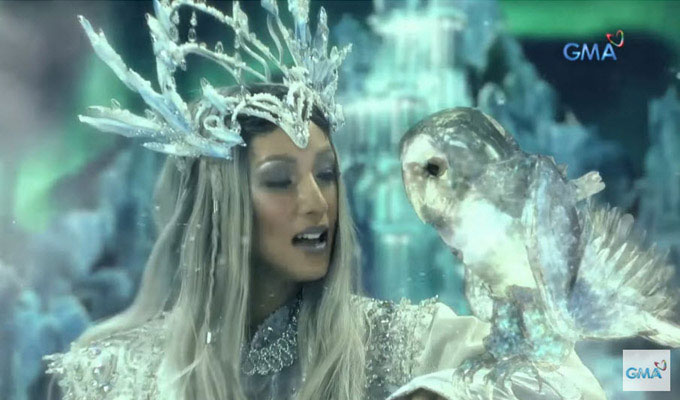 Encantadiks speculated that the cliffhanger signals a sequel for the Kapuso telefantasya.
In an interview with PEP.ph, director Mark Reyes confirmed that they are planning a Book Two, but the production is not rushing into it, especially since they are waiting for Kylie Padilla to be ready for her television comeback.
8. La Luna Sangre: Kathryn Bernardo and Daniel Padilla share a bed in one scene.
KathNiel fans expressed their kilig through social media when Kathryn Bernardo and Daniel Padilla shared one bed in an episode of La Luna Sangre aired in August 2017.
Fans were thrilled even though the "bed scene" did not feature any form of intimacy between the rumored couple.
As a matter of fact, Kathryn's character Malia was disguised as a boy called Miyo at that time. For this reason, Daniel's character Tristan did not have any malice while sharing a bed with her.
What made the scene romantic was when Tristan accidentally hugged Miyo while sleeping!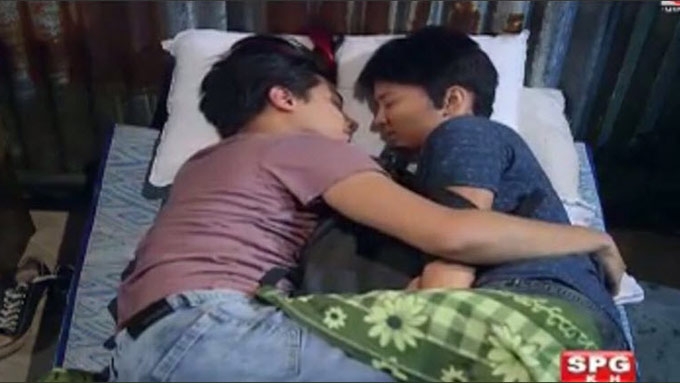 9. La Luna Sangre: Angel Locsin makes a comeback

Angel Locsin returned to La Luna Sangre in September 2017 after her character Lia was killed during the show's pilot week.
However, this time, she portrayed a new character named Jacintha Magsaysay.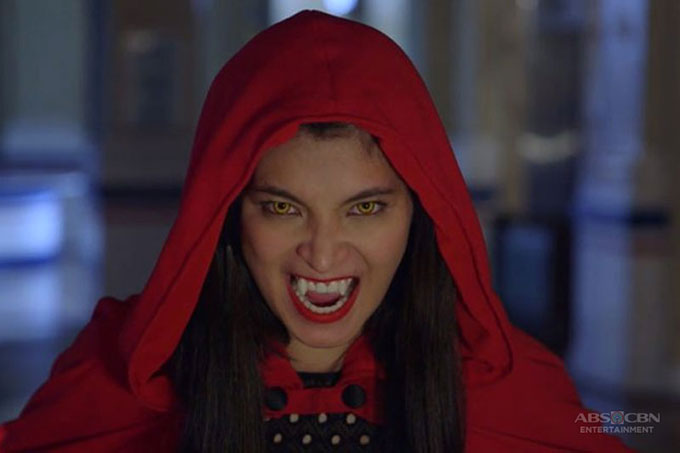 Angel's comeback in the series brought excitement to her fans, especially since she was the lead actress in the show's first two installments: Lobo (2008) and Imortal (2010).
However, Angel's inclusion in the series did not sit well with some fans because they feared that Kathryn Bernardo and Daniel Padilla might be overshadowed in the series.
Angel later assured fans that La Luna Sangre is still KathNiel's show, while Kathryn and Daniel defended the actress from bashers.
10. FPJ's Ang Probinsyano: Benny's sacrificial death

Viewers of FPJ's Ang Probinsyano were surprised when Benny, played by Pepe Herrera, was suddenly killed off in the series in January 2017.
In the scene, Benny sacrificed his life to save his best friend Cardo (Coco Martin) after enemies fired gunshots at their hiding place.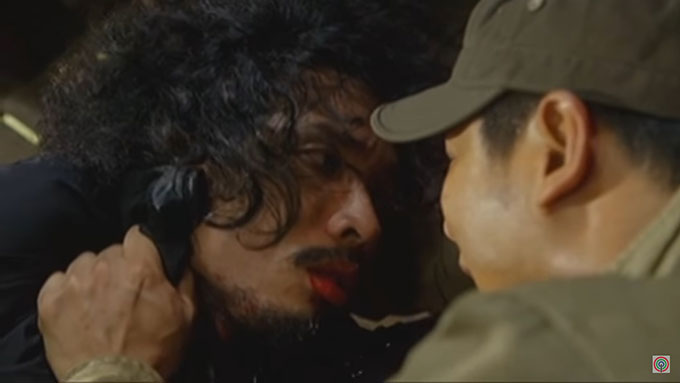 Pepe later revealed that he had to leave the show for medical reasons and at the same time, take care of his mother.
11. FPJ's Ang Probinsyano: Onyok's sudden exit from the show sparked controversies.
In May 2017, viewers of the Coco Martin-starrer were once again surprised after the sudden exit of Onyok, whose real name is Xymon Ezekiel Pineda.
In the story, Onyok was found by his long-lost mother (Alessandra de Rossi). The lovable kid left town to be with his mother.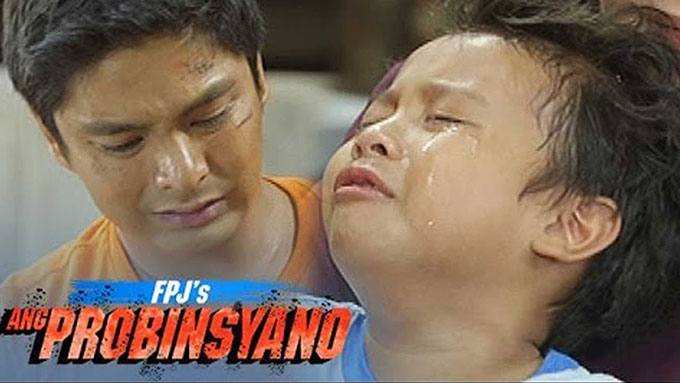 Onyok's departure from the show became controversial after rumors floated that the child star's mother made demands about her son's cut-off in the show.
Coco later clarified that no such confrontation happened and Onyok's camp asked permission for the child to prioritize his studies.
Onyok's mother also said that she did not pull out her son from the series in a rude manner, and that Onyok is set to attend regular school.
12. Destined To Be Yours: Thea Tolentino's entrance to the show did not sit well with some AlDub fans.
Some fans of Alden Richards and Maine Mendoza went ballistic on social media over the entrance of Thea Tolentino in the love team's prime-time series Destined To Be Yours.
In the latter part of the series, Thea was cast as the third wheel to the characters portrayed by Alden and Maine.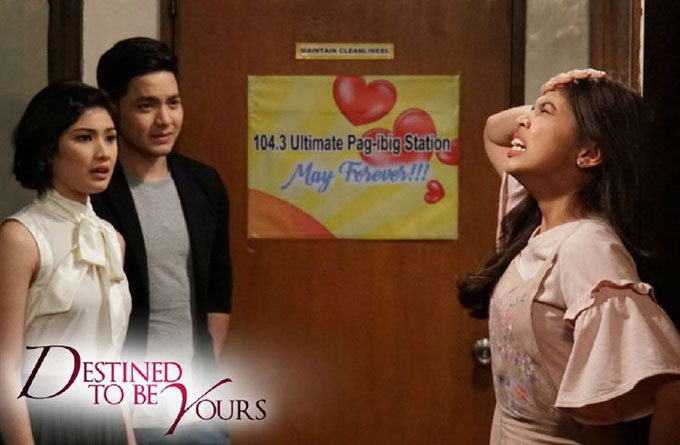 At one point, Thea even responded to bashers on social media who criticized her speaking voice.
Some fans reached out to DTBY creative consultant Suzette Doctolero to ask what's happening in the story.
Suzette pointed out that the first three weeks of Destined To Be Yours did not rate well until a third wheel came along in the story.
Suzette's response, however, led to accusations that the GMA creative writer is Thea's "ninang" or godparent, which is why the Kapuso actress had better exposure in the show.
Eventually, the first AlDub teleserye ended after a 13-week run, with the characters of Alden and Maine getting a church wedding.
13. The Better Half: Denise Laurel and Carlo Aquino's love scene earned the ire of Mocha Uson.
The pilot episode of ABS-CBN's The Better Half proved to be steamy when Denise Laurel and Carlo Aquino's characters had a very intimate scene. Denise's character was seen on top of Carlo after she took off all of their clothes.
While the show received positive reviews despite its SPG rating, former MTRCB board member Mocha Uson called out ABS-CBN on her video blog and questioned the existence of these kinds of scenes.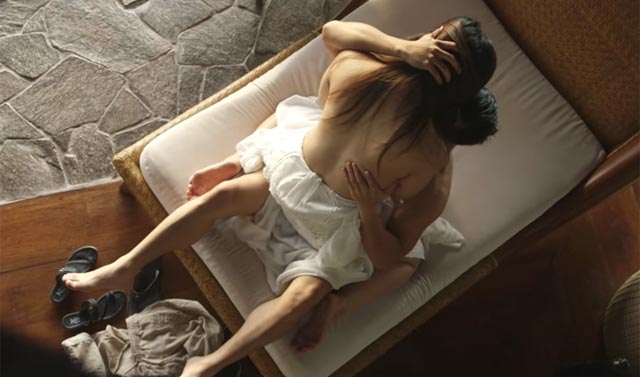 She even accused the Kapamilya network of taking advantage of the SPG rating to air such scenes.
Mocha claimed, "Itong reklamong ito, hindi lang po sa akin, may public pressure po dito. Kinukulit po ako kung bakit nakakalusot po ito."
However, business unit head Ginny Ocampo already said even before the show's premiere, the MTRCB already reviewed its pilot episode and allowed the episode to air with the SPG rating.
Mocha eventually resigned from her MTRCB post while The Better Half went on airing until its final episode in September 2017.
14. Impostora: MTRCB summoned the show for sexy scenes of Kris Bernal and Rafael Rosell.
Prior to its airing on TV, Impostora was already expected to feature steamy love scenes between Kris Bernal and Rafael Rosell.
Kris openly talked about her experience of doing these scenes, and even admitted that Rafael used to be her crush.
These love scenes caught the attention of the MTRCB.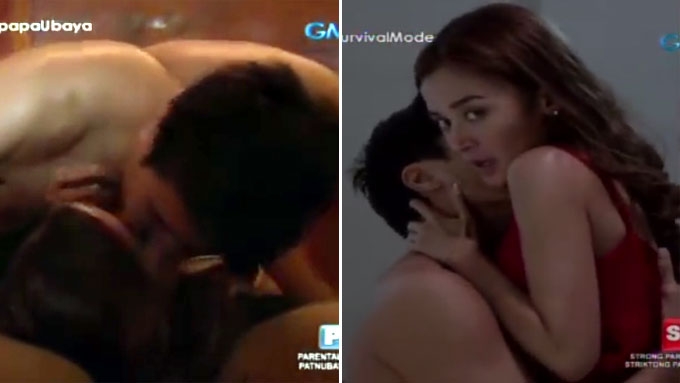 Director Albert Langitan even revealed to the press that MTRCB once called the attention of the show's producers for a dialogue about these kinds of love scenes. The issue was later resolved.
However, Direk Albert clarified that this won't stop Impostora from showing love scenes, while Kris quipped that, at least, her love scenes were believable.
Despite the controversy, Impostora enjoyed high ratings on its timeslot and has been extended until the first quarter of 2018.
15. Mulawin vs. Ravena: Heart Evangelista's alleged smartphone blooper

In its pilot week, Mulawin vs. Ravena alredy went viral on social media because of an alleged smartphone blooper in one of its scenes.
In the scene, which was shown in the recap part of the episode, a smartphone was seen peeking out Heart's Alwina costume.
The screen capture was uploaded by viewers and bashers alike.
However, when PEP.ph checked the full episode uploaded by GMANetwork.com, the smartphone was nowhere to be seen.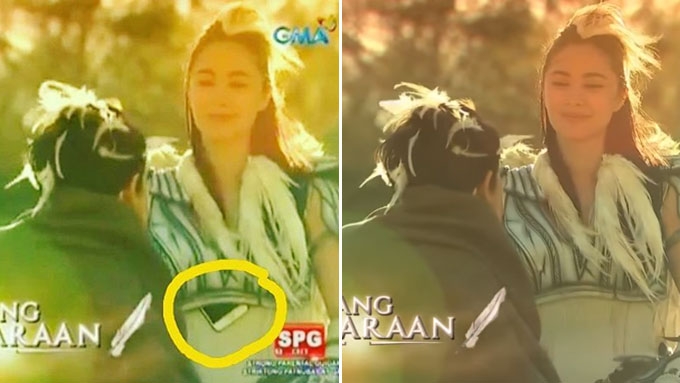 The alleged blooper spawned witty tweets from netizens. One version said that the new Alwina is a millennial, rich kid version of the popular humanoid bird (previously played by Angel Locsin).
Apart from the smartphone blooper of Mulawin vs. Ravena, social media also made fun of ABS-CBN shows whose characters were seen holding smartphones upside down while having a phone conversation.
This included Eddie Garcia's character in FPJ's Ang Probinsyano and RK Bagatsing in Wildflower.
16. Mulawin vs. Ravena: Fans were saddened by Alwina's death.
In the June 21 episode of Mulawin vs. Ravena, a month after its pilot episode, viewers were saddened when Alwina (Heart) was killed in the show.
Alwina was repeatedly stabbed by evil Ravena queen Rashana (Chynna Ortaleza) after a battle.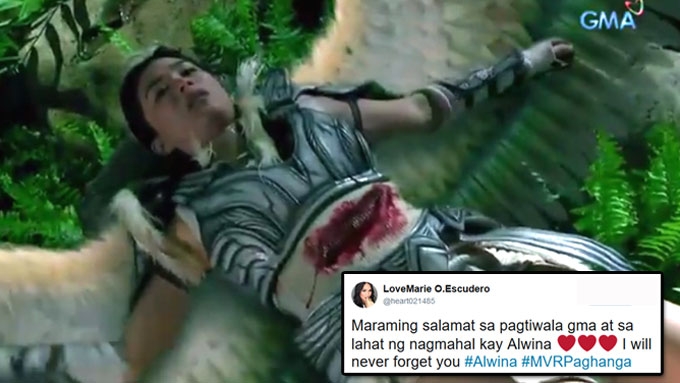 Fans of Mulawin took to Twitter to mourn the death of the show's well-loved character.
For her part, Heart expressed her gratitude for being Angel Locsin's successor in portraying the character.
Apparently, Alwina was not meant to stay on the show since Heart was given her own TV series, My Korean Jagiya.
17. Meant To Be: Barbie Forteza praised by fellow celebrities for wearing a two-piece swimsuit.
Barbie Forteza, formerly known as GMA-7's tween royalty during her teenage years, surprised everyone when she appeared in Meant To Be wearing a two-piece bikini in their summer episode.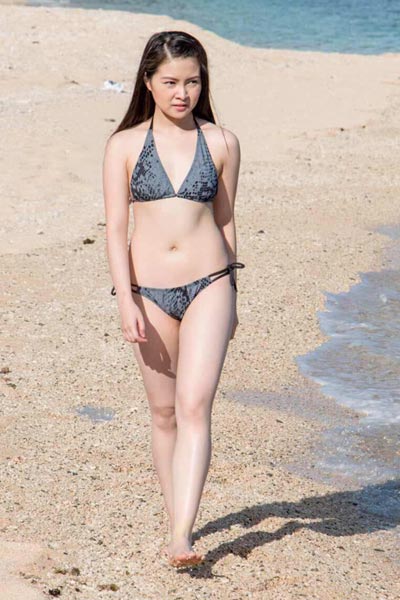 This was the first time that Barbie agreed to wear a sexy swimsuit in a TV show since she used to play teenybopper roles in her past teleseryes.
Barbie earned praise from her celebrity friends such as GMA stars Jerald Napoles, Joyce Ching, Kris Bernal, Lovi Poe, Rochelle Pangilinan, Sanya Lopez, Bea Binene, and ABS-CBN actress Bela Padilla.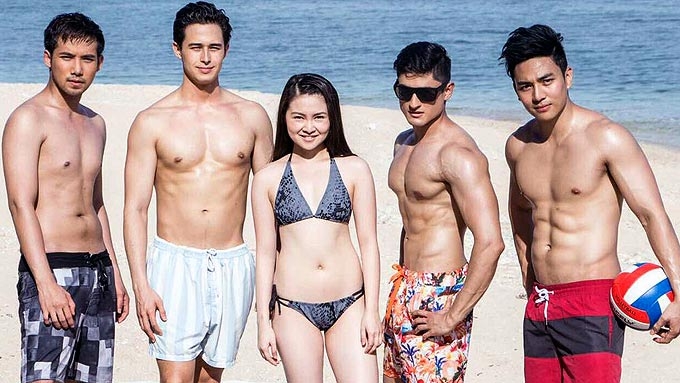 Barbie's four leading men--Ken Chan, Addy Raj, Ivan Dorschner, and Jak Roberto--showed their hot bodies and went topless while wearing board shorts.
However, this did not come as a surprise to viewers because right from the start, Meant To Be had been showing the well-toned abs of Barbie's leading men.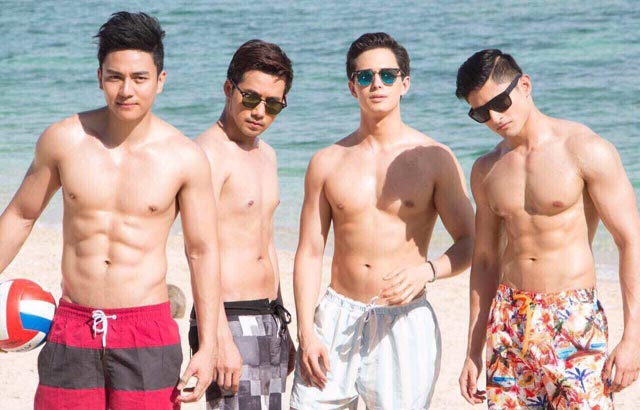 18. Ikaw Lang Ang Iibigin: Arci Munoz debuts new look.
Arci Munoz's inclusion in the daytime series Ikaw Lang Ang Iibigin did not come as a surprise to viewers since teasers already aired about her guest appearance in the show.
What shocked viewers was the new look of Arci.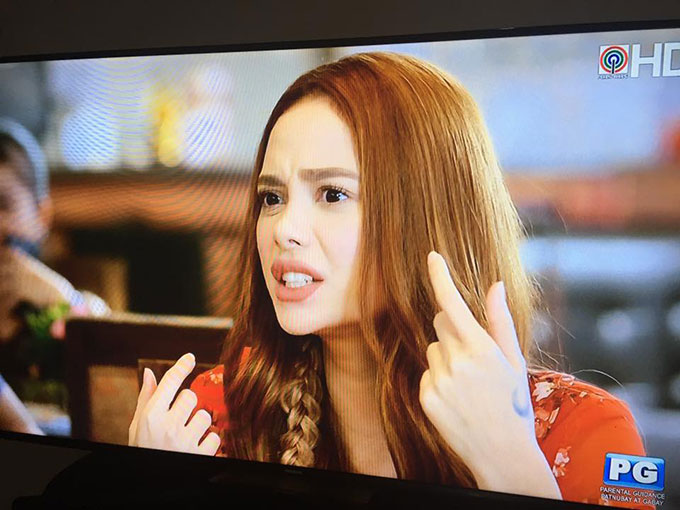 Netizens speculated that Arci might have undergone plastic surgery, specifically for her nose.
When she was interviewed by PEP.ph, Arci simply shrugged off talks about her new look but she did not deny if she really went through plastic surgery.
Arci no longer appears in the series starring Kim Chiu, Gerald Anderson, and Jake Cuenca.
19. The Greatest Love: Sylvia Sanchez's dining table scene is accused of being copied from a film.
The Greatest Love caught the attention of netizens when it first aired its teaser in June 2016 showing a family fighting at a dining table. The shouting escalates until the mother suddenly forgets the identities of her children and it is revealed that she has Alzheimer's Disease.
The show was accused of copying a Visayan film that also showed a woman inflicted with the same illness while eating with her children.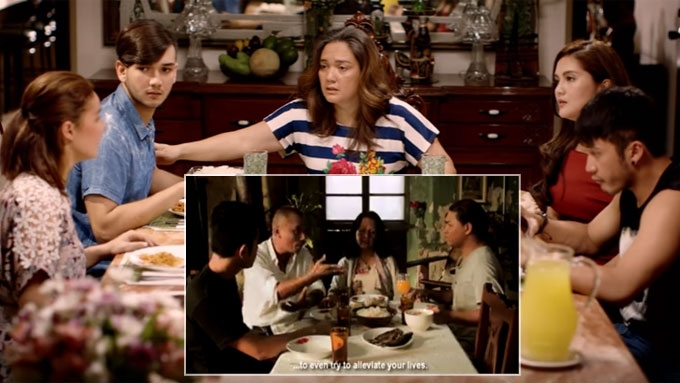 On January 2017, or four months after its pilot episode, The Greatest Love finally aired the controversial scene, where the character of Dimples Romana accused her mother Gloria played by Sylvia Sanchez of lying and being an attention-seeker.
A word war ensued among Gloria's children—with the others played by Andi Eigenmann, Matt Evans, and Arron Villaflor.
The confrontation ignited Gloria's Alzheimer's disease, and manifested in front of her children.
The scene received good reviews from netizens and became a trending topic on Twitter.
It even spawned a meme involving Dimples and Sylvia's real-life son Arjo Atayde.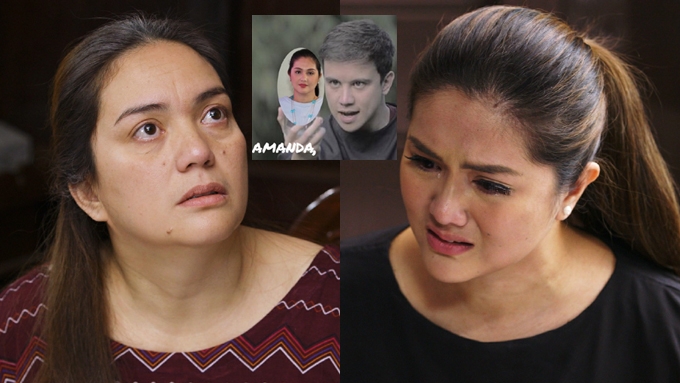 The meme showed Arjo holding Dimples's picture while glaring at her, with the text saying, "Amanda, tigilan mo si Gloria –Joaquin."
Joaquin is the former archnemesis of Coco Martin in FPJ's Ang Probinsyano.
20. Pusong Ligaw: Fans shocked by Rafa's shocking and brutal death.
Viewers were surprised when Enzo Pineda's character was suddenly killed in Pusong Ligaw.
The scene showed Enzo's character Rafa hugging his surrogate father Jaime (Raymond Bagatsing), the main antagonist of the afternoon show.
While hugging each other, Jaime silently brought out his gun and shot Rafa to death.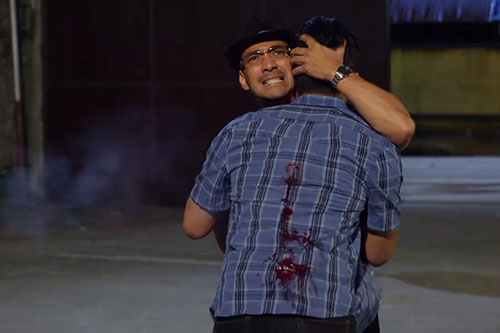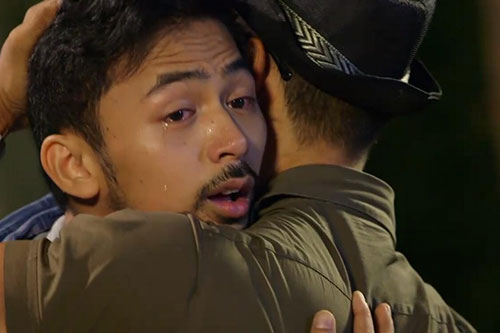 Netizens took to Twitter to question Rafa's death on the show, with some even saying that Enzo is one of the main reasons why they faithfully tune in to the series.
The episode's hashtag, #PLNoMercy, became a trending topic on Twitter during its timeslot.
Pusong Ligaw is Enzo's first major project with ABS-CBN since he transferred in late 2016.
PEPsters, what do you consider as the most memorable TV moments for the year 2017?
Share your thoughts in the comments section below.