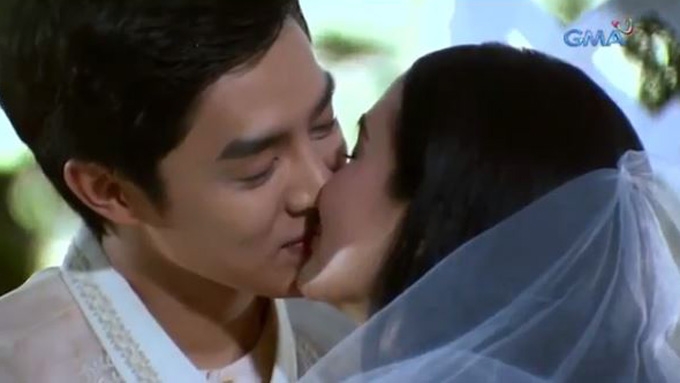 ---
 
After almost five months, GMA-7 aired the finale of My Korean Jagiya on January 12, 2018.
In the final episode of the My Korean Jagiya, Gia (Heart Evangelista) is in Seoul for a job interview at the Seoul Arts Academy and Jun-Ho (Alexander Lee) is looking for her.

As he passes by a statue of a Korean hero, he remembers the time when he was there with Gia and he talked about the nationalist who fought for the independence of Korea during the Japanese occupation. She likened that passion to love: "If you love someone, you'll fight for them."
Back to the present time, and Jun-Ho says: "Now I understand. Now I do."
Gia arrives early for her interview, so she hangs out in the park and sees a pair of lovers. She writes on a page of her notebook: "Love never fails" in Hangul. Then she tears up the piece of paper, crumples it, and leaves it there.
Meanwhile, some fans recognize Jun-Ho and ask to take a photo with him. Soon, a crowd follows him and he runs away from them. He ends up on the same spot where Gia was and finds the piece of paper. He reads what's written inside.
Pao calls Jun-Ho, asking where he is. Aida comes in and talks to Jun-Ho on the phone, telling him about Gia's meeting at Nami Island. Jun-Ho rushes there to find Gia, to no avail.

They miss each other because Gia comes out and is on the phone, saying that she was not accepted for the job.

She goes back to the place where she left a lock, among many love locks,  with a note saying: "Mamahalin mo rin ako, Jun-Ho."

She remembers saying that "Great love is worth the wait." She calls out Jun-Ho's name and suddenly, behind her, feels someone close. She turns to hug him, only to find that it is another guy, also named Jun-Ho, who explains that he was looking for a lock he and his ex-girlfriend had placed there. He says: "No forever!" before running away.

Then, from another direction, Jun-Ho emerges. He tells her: "I thought I could never love someone again. You were kind, you were patient, you always protected me, you always trusted me, you hoped and persevered for me. Your love did not fail you. I'm sorry it took me a while to realize. I love you. Mahal na mahal kita, Gia."

He gives her a yellow piece of paper cut in the shape of a heart. They kiss. After they leave, we see these words on the yellow heart: "Mahal Na Rin Kita, Gia – Jun-Ho".
ADVERTISEMENT - CONTINUE READING BELOW
Jun-Ho comes to talk to Aida and Josie to ask for Gia's hand in marriage.
"I want to be her husband again, this time: a real and loving husband."
Josie agrees, but insists that the wedding be held in the Philippines, and that she will plan it.
In Jun-Ho's home, Gia and Jun-Ho sit together and he proposes to her. He gets on one knee, holds out a ring, and says: "I used to be a sad superstar. You gave me the reason to smile. Gia, will you marry me…again?"
With Kerwin, Pao, and Hannah, the couple talk about their plans. Then, Madame Chairman calls Hannah, who passes the phone to Gia. She says that they should have a traditional Korean wedding to be held in Seoul.
Next, the Asuncion household is rocked by news that Clarissa is missing. Gia goes out to find her, and stops by a fortune teller. The fortune teller, upon touching Gia's hand, reveals what she sees: "Luha, kalungkutan, kasawian! 'Di pa nawawala ang sumpa ng pamilya ninyo. Magkakaroon pa rin ng alay sa bawat henerasyon. May magiging matandang dalaga. Ikaw ang tatandang dalaga. Hindi matutuloy ang kasal!"
When they get home, Clarissa comes back and she announces that she has gotten married to Robert Redford White.
Gia goes weak in the knees, dreading that the fortune teller's prophecy will come true. That her wedding will not push through.
Meanwhile, Aida, Josie, and Dodong discuss about the wedding, and that it should be held in the Philippines. Jun-Ho comes to talk to them.
ADVERTISEMENT - CONTINUE READING BELOW
Josie tells him that their ancestors visited him in a dream, saying that Gia and Jun-Ho should be married in the Philippines. Josie reminds Jun-Ho about his promise when he asked for permission to propose to Gia. Jun-Ho replies: "You have my word, the wedding will be here in the Philippines."
In Jun-Ho's home, Gia and Jun-Ho argue about where the wedding will be held. Jun-Ho does not want to go back on his word to Gia's relatives but Gia does not want to go back on her word to Jun-Ho's mother. Neither gives in and they decide to cancel the wedding.
Gia's relatives find a way to set them up so that they meet in the park. The lovers apologize to each other and decide to get married in both Seoul and the Philippines.
The weddings in both locations are shown side by side, and their vows to each other.
Jun-Ho says: "This is just the beginning of a wild, wacky, crazy chapter with you."
Gia says: "Sino makakapaniwala na isang fangirl tulad ko ay magiging leading lady ng buhay mo?"
Jun-Ho sings to Gia.
Gia tells him: "Jun-Ho, you are my one and only Korean Jagiya!"
As they light a sky lantern together, Gia gives this advice:
"Kailangan lang maging patient at maging kind para mahanap mo ang iyong Jagiya. At pag nahanap mo na siya, huwag mo na pakakawalan!"


AGB RATINGS. How did the finale episode of My Korean Jagiya fare in the ratings game based on AGB Nielsen data?
ADVERTISEMENT - CONTINUE READING BELOW
The GMA-7 teleserye, which used the hashtag #MKJKiligFinale, registered an AGB rating of 8.5%.

Its rival program in ABS-CBN, The Good Son, registered an AGB rating of 7.5%.
The Kapuso rom-com starring Heart Evangelista and Alexander Lee, which has been airing since August 21, 2017, got a TV rating that is 1 point higher than The Good Son.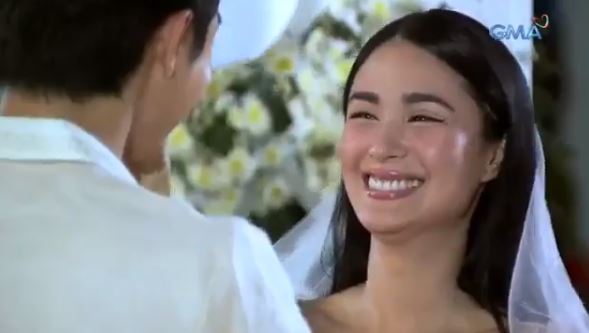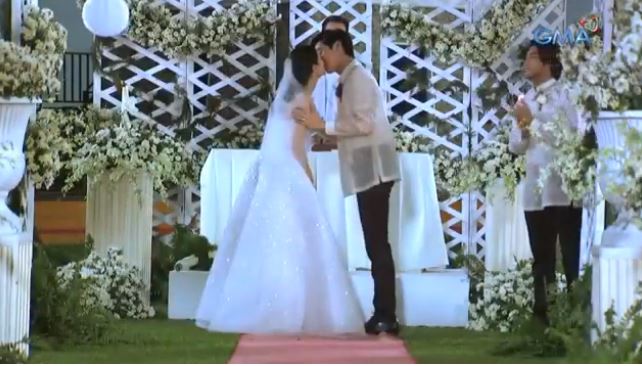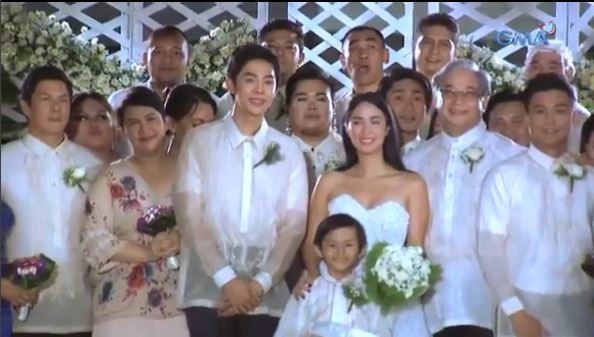 ADVERTISEMENT - CONTINUE READING BELOW