Last night, January 15, GMA-7 premiered its new primetime rom-com titled The One That Got Away.
In this show known as TOTGA, Lovi Poe is cast as Alex, Max Collins plays Darcy, and Rhian Ramos portrays Zoe. All three women have one thing in common: their ex-boyfriend, Liam, played by Dennis Trillo.
Alex (Lovi Poe) is a segment host for a lifestyle TV show. The premiere episode shows her in a fantastic wedding dress that she dons to cover a wedding expo in a hotel.
Next, we are introduced to Darcy (Max Collins), a personal trainer.
Finally, at a fashion show, fashion designer Zoe shows off her curves. While kissing her boyfriend in the elevator, the doors open and Zoe sees her ex boyfriend Liam outside. This takes Zoe (Rhian Ramos) back to 2017, when she and Liam were still a couple. He walks away before she is able to catch his attention.
At the ballroom of the hotel, Liam is accepting the award for CEO of the Year for his work in his family's business, the Ilustre Organic Farm.
Outside, with the sun setting in the horizon, Alex and Liam run into each other. We see a flashback to 2014, when the two were still together. They talk and ascertain that both are still single—despite the wedding dress and tuxedo that they are wearing.
Alex runs outside, with Liam behind her, and she is almost run over by Darcy, who is on her motorbike. A flashback from 2015 reveals that Darcy and Liam were a couple back then.
All three women and Liam meet up outside the hotel and Zoe reveals that she knows that the other two are also Liam's ex girlfriends. Bunny (Nar Cabico), Darcy's gay best friend comments on the awkward situation: "Liam, meet Karma. Karma, meet Liam."
Alex leaves in a van, then so do Darcy and Zoe.
At the Ilustre home, Liam talks to his relatives about the encounter and they tease him about his exes. Liam insists that he's a one-woman man.
In Alex's home, she recounts to her family how she ran into her former lover. It turns out that Liam had proposed to Alex at least on two separate occasions, but she wanted to focus on building her career, and so turned him down.
Her mother, Patty (Snooky Serna), and father, Pancho (Bembol Roco), are both excited at the prospect that Alex will end up with Liam. Alex is non-committal.
At the gym where Darcy works, Bunny chides her for thinking about Liam. He reminds her about his philandering ways when she was in Singapore. She insists that she has moved on.
At Zoe's home, her boyfriend Drew (Fabio Ide) chastises her for leaving him to run after her ex-boyfriend. They have a fight but Drew insists that he will be back after three days and that she will once again be back with him.
Liam, alone at home with his thoughts, looks back at the times when he broke up with Alex, Darcy, and Zoe.
That night, Alex goes to Liam's house. Then, Darcy enters, followed by Zoe. Liam tells Alex to join him, Darcy, and Zoe. Alex soon wakes up from the bad dream.
Alex is actually at her desk at work, and Liam comes to visit her. They talk very amicably. Liam leaves with the promise of a "next time."
The next day, Zoe shows up at Liam's farm. They talk about the past, then she trips and falls, and Liam catches her. They hug and talk some more. Finally, she kisses him. She tells him: "Gusto ko magalit sa 'yo pero you look so good and you're so nice to me."
That night, at a dance class that Darcy is teaching, Liam shows up. He talks to her and they make peace.
The episode ends with Liam being on good terms with all three of his ex-girlfriends.
AGB RATINGS. How did the pilot episode of The One That Got Away fare in the ratings game based on AGB Nielsen data?
The new GMA-7 teleserye registered an AGB rating of 7.7%.
Its rival program in ABS-CBN, The Good Son, registered an AGB rating of 8.1%.
The Kapuso rom-com got a TV rating that is 0.4 points lower than The Good Son.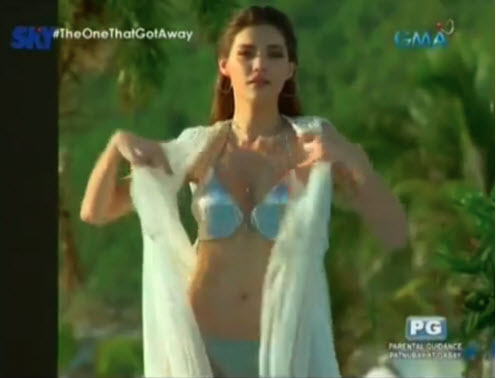 Rhian Ramos as Zoe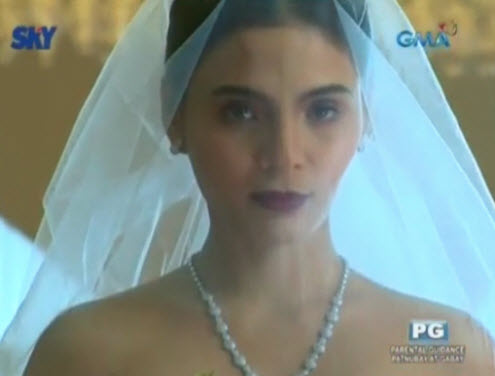 Lovi Poe as Alex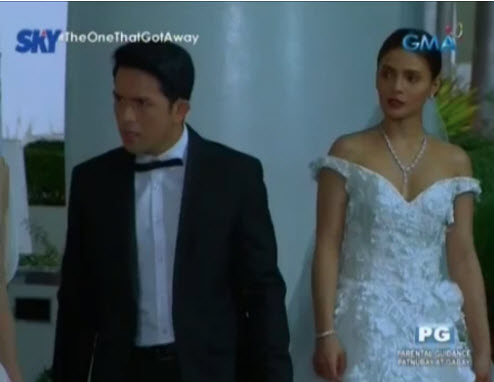 Dennis Trillo as Liam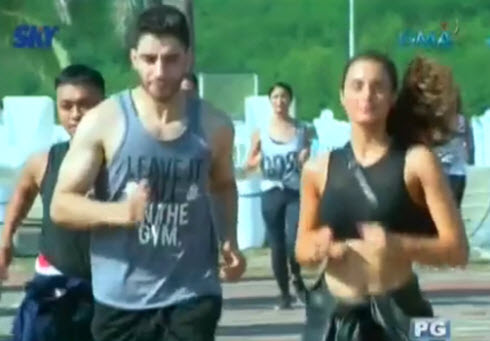 Max Collins as Darcy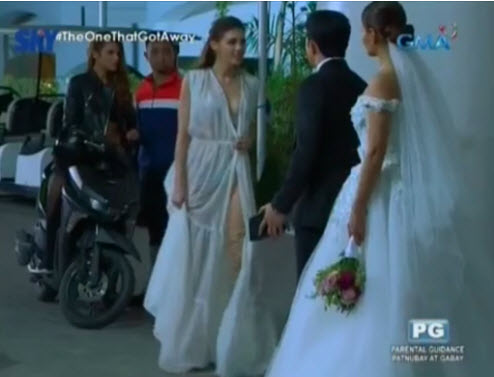 Dennis Trillo's character Liam deals with his three ex-girlfriends