ABS-CBN has aired the pilot episode of Bagani, its newest prime-time fantasy series that replaced the recently concluded La Luna Sangre.

Top-billed by Enrique Gil and Liza Soberano with Matteo Guidicelli, Sofia Andres, and Makisig Morales, this fantaserye is set in a fictional world called the Sansinukob.
It has five regions occupied by the Taga-Patag (farmers), Taga-Laot (fishermen), Taga-Kalakal (traders), Taga-Gubat (forest people), and the Taga-Disyerto (desert people).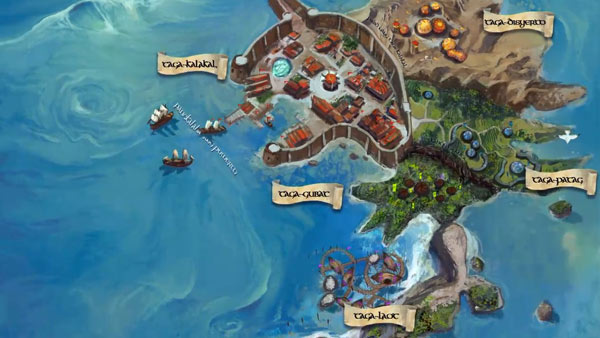 The opening sequence of Bagani shows a grownup Lakas (Enrique Gil) battling a giant fire-breathing dragon.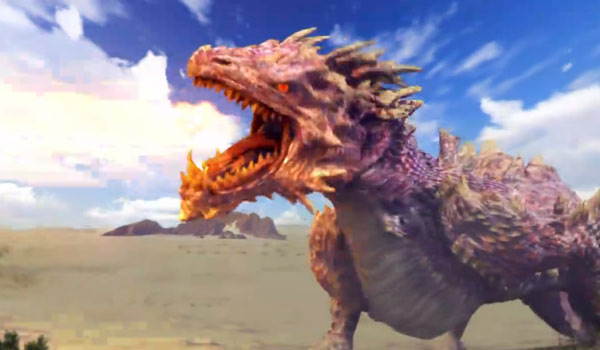 When the dragon charges towards him, Lakas grabs his flaming sword and throws it towards the beast.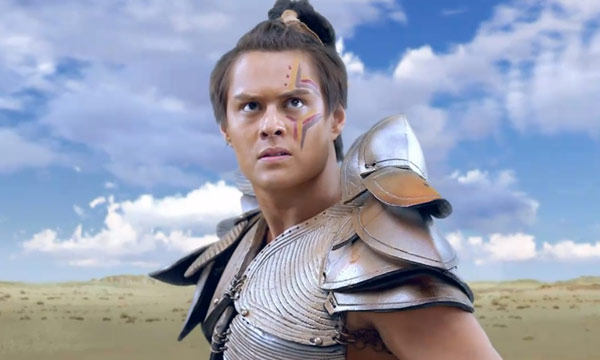 The flaming sword suddenly turns into a giant phoenix that attacks the dragon. When the dragon becomes weak, Lakas uses his sword to deliver the fatal blow to the beast.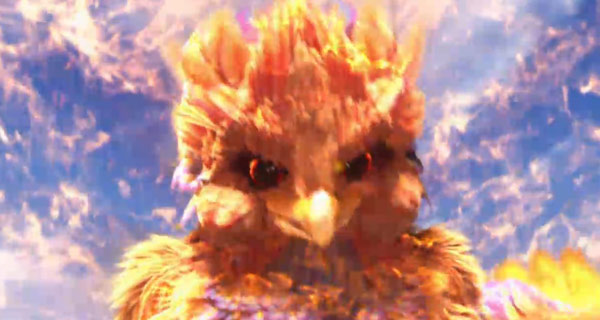 A flashback shows a young Lakas getting bullied and beaten up by other boys who called him "anak ng traydor" and "taksil." The boy tearfully asks his father if they really betrayed their tribe.

Agos then narrates why they were branded as traitors. Agos and the other mandirigmas used to be part of the Taga-Kalakal. However, the love of Agos for the daughter of a rich merchant caused their hardships.

Since they came from different social classes, Agos (Albert Martinez) and Lila (Ana Abad Santos) hid their love for each other.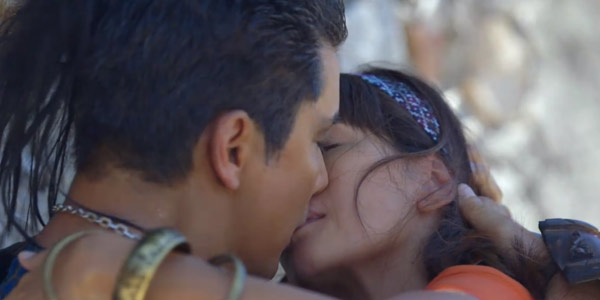 Unfortunately, the father of Lila sees their secret tryst. To retaliate, he accuses Agos and his tribe of being thieves.

The royal merchant sentences them to death but Lila stops him by professing her love for Agos.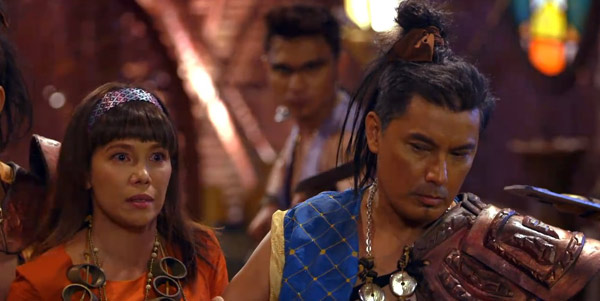 For this reason, the mandirigmas are exiled and they are forced to live in the desert. The people slowly die of hunger and their Pinunong Alab (Lito Pimentel) must come to a decision to save their tribe.

Dakim (Christian Vasquez), the son of Pinunong Alab, suggests that they steal from a nearby town.

Agos disagrees and says they should grow crops and rely on themselves instead of becoming thieves just like the accusation hurled at them.

Pinunong Alab asks them to vote and the majority deceide to steal from other tribes.
"Dahil sa gutom, isinatabi natin ang ating dangal," narrates the disapproving Agos. "Muli kaming nakipag-usap sa maharlikang mangangalakal."

At that point, Lila was pregnant with her child with Agos. She volunteers to talk to her father so that they can save their people from hunger.
Lila is happily reunited with her father but they are suddenly attacked by a group of archers.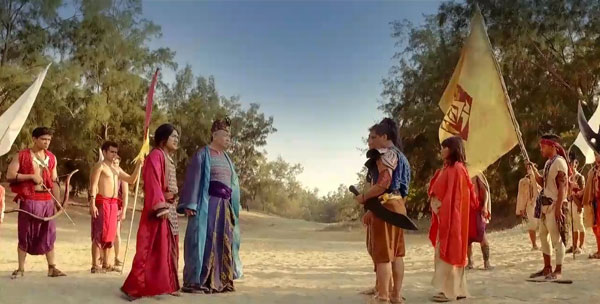 Dakim shouts at Lila and blames her for all the deaths. "Ang sabihin mo pamilya kayo ng mga taksil at traydor!"
Since then, the family of Agos was labeled as "taksil" and "traydor" for their supposed betrayal.
However, it was later revealed by Pinunong Alab that his own son, Dakim, was the one who masterminded the attack of archers.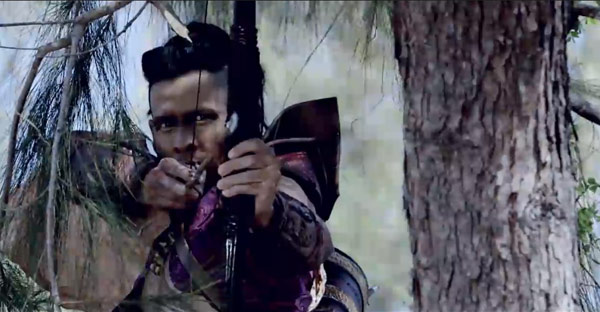 Alab suddenly falls ill and asks Agos to come to his tent.
The leader tells him, "Agos, tama ba, wala na tayong karapatang tawagin ang sarili natin bilang mandirigma dahil wala na tayong dignidad. Naging dakila na lang tayong magnanakaw.
"Pero may isang tao na nanatili ang dignidad at ikaw yun, Agos. Ikaw dapat ang naging pinuno.
"Kami ang taksil dahil hindi kami manindigan na gawin kung ano ang tama.
"Hindi ikaw ang traydor, Agos. Imbis na manindigan, pinilit kong mabuhay sa kasinungalingan."
Alab promised Agos, "Itatama ko ang lahat bago ako maubusan ng hininga. Sasabihin ko sa lahat ang totoo. Lilinisin ko ang pangalan mo.
"Ikaw ang kikilanin na pinuno."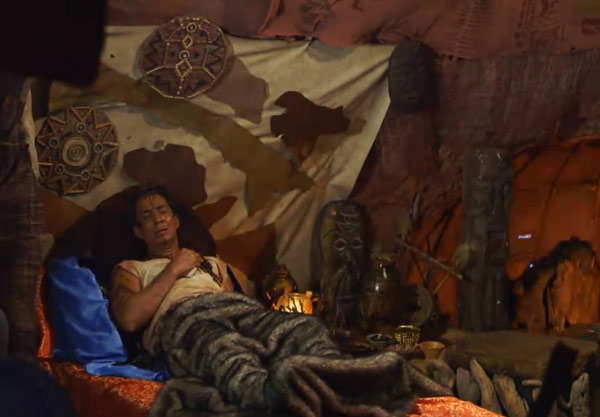 Dakim overheard Alab admitting the truth, which is why the former choked his father to death in order to cover up his sins.

Not content with this, Dakim also fought with Agos and killed him in order to bury the truth.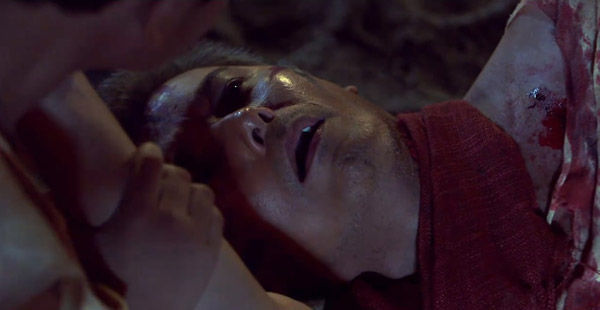 The final scene shows the grownup Lakas who vows: "Ipagpapatuloy ko ang sinimulan mo, 'tay. Ibabalik ko ang dignidad ng ating angkan. Ang dangal ng mga mandirigma."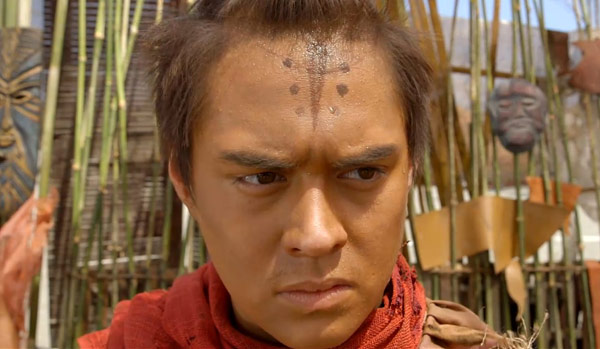 AGB RATINGS. How did the pilot episode of Bagani fare in the ratings game, according to AGB Nielsen?
The LizQuen-starrer registered an AGB rating of 12.9%. ABS-CBN's new prime-time series aired from 8:26 p.m. to 9:25 p.m.
Meanwhile, its rival program Kambal Karibal, starring Bianca Umali and Miguel Tanfelix, got an AGB rating of 8.5%.
The GMA-7 teledrama aired from 8:31 p.m. to 9:18 p.m.
The Kapamilya Network's new fantaserye got an AGB rating that is 4.4 points higher than its Kapuso counterpart Kambal Karibal.