Melissa Ricks took her followers on a trip down memory lane with her #ThrowbackThursday post on Instagram.
The 28-year-old actress posted an old photo with her co-questors in the 2004 reality show Star Circle Quest.
Melissa was flanked in the photo by SCQ batch one's two popular love teams: Joross Gamboa & Roxanne Guinoo (JoRox), and Hero Angeles & Sandara Park (HeroSan), while they do a wacky shot.
They also formed SCQ's Magic Circle of Five, or the five grand finalists who battled it out to be SCQ's Grand Questor, which was eventually won by Hero.
Melissa wrote in the caption, "14 yrs ago i met these wacky people.. Just like it was yesterday.. #SCQBatch1"


In the comments section, Melissa and Dara poked fun at Joross's face at the photo.
Dara said, "Bakit ganyan itsura ni Joross??"
Melissa answered, "ganyan naman lagi itsura niya bwhahahahahahhaa"


Meanwhile, there are fans who felt the nostalgia upon seeing Melissa's post.
Some fans requested that the five finalists of SCQ's first batch do a reunion project together.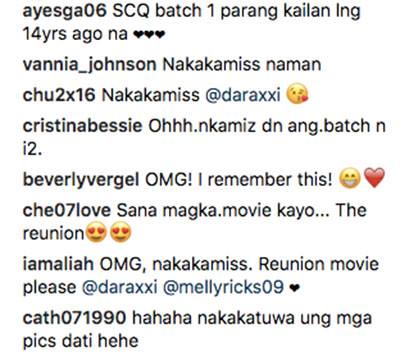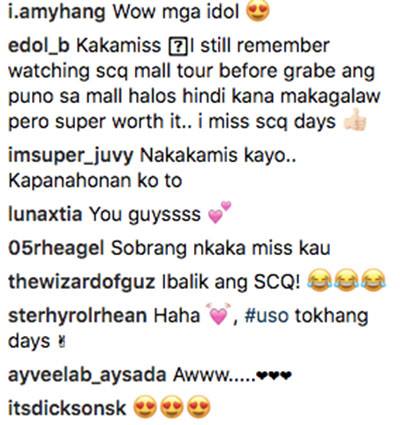 Aside from the Magic Circle of Five, the other finalists of SCQ 1 were Neri Naig, Michelle Madrigal, Errol Abalayan, Joseph Bitangcol, and Raphael Martinez.
Last December, Melissa posted several instances where she was reunited with some of her batchmates from the reality search.