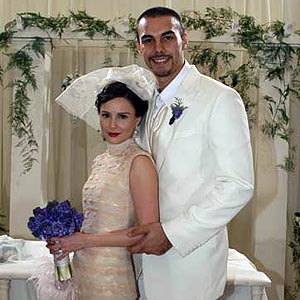 ---

As Cheska Garcia marks another milestone in her life, theco-hosts and staff members of her show Us Girls made it a point toattend her wedding and document the entire event.

Catch the second part of Us Girls special coverage of the Kramer-Garcianuptials this Sunday (October 19) on Studio 23.
The romance of Doug and Cheska started during a trip to thetropical paradise Boracay in 2003. Their friendship blossomed into a specialrelationship in just three months after they first met. After 5 years of beinga couple, they got married last October 9 at the Blue Leaf Events Pavilion inMcKinley Hill, Taguig City. In linewith the couple's chosen wedding theme of "Spanish with a twist," Cheska wore abridal gown designed by Puey Quinones.
Get to see more exclusive and never before seen happeningsand interviews during the wedding reception--the wedding dance with Cheska'sfather, brothers Patrick and Pichon, and Doug Kramer' emotional message for hismom.
Host Angel Aquino, on the other hand, got the chance to sitdown with the newlyweds and asked steamy questions you surely want to know suchhoneymoon plans, thoughts on moving in together, and, of course, starting theirown family.
All these and more in store for you this Sunday (October 19)on Us Girls, 8 pm on Studio 23.