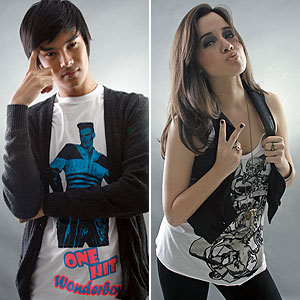 ---

On October 21, 2008,the country's popular music channel MYX will officially choose the winner ofthis year's edition of the MYX VJ Search. The special occasion will be held atthe TriNoma Mall in Quezon City.

The 12 finalists vyingfor the coveted "dream job" are Chino Lui Pio, Erika Revilla Jocson, JessicaMendoza, JC Lingad, Macky Escalona, Bianca Roque, Monica Yncierto, Paolo Alino,Robi Domingo, Sami Pinto, Cerah Hernandez, and Ezra Lacsama.

This year, the teambehind the music channel upped the ante by subjecting the aspirants to a seriesof fun challenges meant to test their mettle and ability to handle the jobshould they clinch the role.

PEP (PhilippineEntertainment Portal) managed to chat with Chino and Erika a few weeks back inGlorietta Mall in Makati City. We asked the two VJ wannabes on how exactly theyended up joining the contest and their experiences so far entering the finalstretch of the competition.

CHINOLUI PIO. Having assumed the role of a campus geek desperatelyvying for the attention of a hot schoolmate in Hale's music video "Kahit Na" afew years back led the people behind MYX to take notice.

Unfortunately, Chino'smind then was preoccupied with his studies and the thought of talking in frontof the camera as a video jock appeared to be a remote possibility.

"They asked me to audition kaya lang I was too busywith school so I had no time," shared the 22-year-old charmer.

Chino—who is the younger brother of Hale frontmanChamp Lui Pio—recently graduated at the De La Salle University where he took upBusiness Management major in Entrepreneurship.
ADVERTISEMENT - CONTINUE READING BELOW

With time and prioritiesno longer an issue, Chino incidentally learned that MYX was looking for a newbatch of aspiring VJs to induce new blood into the program. The procedureannounced was that a contestant could either show up at the studio for a liveaudition or just send in a video along with background information via e-mail.


Chino chose the lattersince, "we heard about it [the audition] at the last minute."


There's a bigdifference between talking casually and conversing while at the same timeprojecting in front of the camera, well aware that one is being judged.


Like all the otheraspirants, Chino experienced all the jitters that come every challenge. But hegladly added that he is starting to feel at ease as the contest progressed.


He expounded: "At first,I'm really not used to it 'coz this is like my first major thing on TV sosiyempre at first jitters, kabado. But I think I got the hang of it now parangsanay na like if there's a camera parang wala na lang."

The camaraderie of thecontestants is also very admirable considering that they're all fighting tooutclass each other. "We're kind of close talaga," he said, "compared to theother batch so siyempre feeling mo friends friends lang."
Chino also commendedthe MYX staff for making things easy for all of them while at the same timepushing everyone to work hard and earn their merits.
"Sobrang babait nilang lahat," gushed Chino,referring to the people behind the channel. "They make you feel na you're at home parangsobrang tagal mo ng ginagawa 'yon kahit first time mo pa lang talaga. They tellyou what to do but of course you have to do it still your own way, your ownstyle."
ADVERTISEMENT - CONTINUE READING BELOW
As for thequalifications being sought by the local music channel, Chino explained thatone doesn't have to be a walking lexicon of music terminologies to fit thebill. A little know how combined with the right chutzpah are all enough to landthe job.
"You don't have to be sobrangknowledgeable about music. Just even a little bit of information na masasabi moabout the artists and the song."
Being the brother ofChamp is like a double edgedsword. Chino confessed it works either way though he would rather focuson the advantages than the drawbacks.
"Siyempre you can'ttake that out ganun talaga wala tayong magagawa dun pero the thing is we're notin the same line of work. It's both music but I don't sing so I guess you can'treally compare it straightforward but I think it gives me an advantage dinkahit papaano," Chino smiled.
ERIKAREVILLA HOCSON. Being a Revilla is considered as a sureticket to boundless opportunities in the world of show business. But ErikaRevilla Hocson knows by heart that there is still no substitute for hardworkand gaining entry the old-fashioned way.
Prior to her audition,Erika recalled talking to brother Bernard Palanca and expressing her desire todo other things outside school related activities.
"Why don't you tryhosting or maybe you can be a VJ," Bernard casually suggested one afternoon.
The suggestion doeshave a good ring to it and Erika found the thought exciting: "So I asked him[Bernard] for help. I said If you know anyone who knows about hosting or any VJstint that I can get involved with and he was like 'Sige, I'll try to find out'and then he told me something like 'But don't expect it to be soon it mighttake a few months, weeks' and 'I said okay no problem.'"
ADVERTISEMENT - CONTINUE READING BELOW
A week after theconversation, Kai [Erika's nickname] learned that MYX was holding an auditionfor new VJs. She was supposed to be accompanied by Bernard on the audition dayitself but her brother had work so she was left with no choice but to dash to the venue byher lonesome.
"Just do it," Bernardtold his reluctant yet driven sister. Things happened quickly after that initial audition. Two weeks after theaudition, an unsuspecting Kai received a text message stating that she waschosen as one of the finalists. "I was at the car, screaming," she laughed atthe recollection.
Technically speaking, Erika'sacid hosting test occurred outside the contest. Asked by Hale vocalist ChampLui Pio to host one of the events staged by the band's Treehouse Productions,Erika was tasked to take center stage to handle the crowd, introduce and eveninterview all the bands lined up to perform that evening.
"That was without anyscript so I really had to hold my own and keep the entire thing rolling untilthe end. But I managed to pull it off, I guess," she smiled.
Most of the Revillasare, of course, more identified as actors. So why take the hosting path?
"I really enjoy actingbut I don't think I'm ready to join showbiz," Kai—who appeared in a few stageplays and musicals in the past—readily replied.
"I'll start withhosting especially with MYX and being a VJ, I don't have to worry about doinganother character or doing another role except of being myself."
As for the intriguesthat might hound her brought by her lineage, Erika said that she's well preparedto face all of these and even more.
ADVERTISEMENT - CONTINUE READING BELOW
"That's one of thefirst things that my mom talked me about. She said that, of course, they're gonnadubbed you as Bernard and Miko's sister, as Armando Goyena's granddaughter, asBianca Araneta's cousin, you know the list goes on.
But I think I'mprepared for that but eventually I hope that in time they'd be able to separatethat label and know me as Erika Hocson. But, yeah, I'm prepared for that," confidedErika.