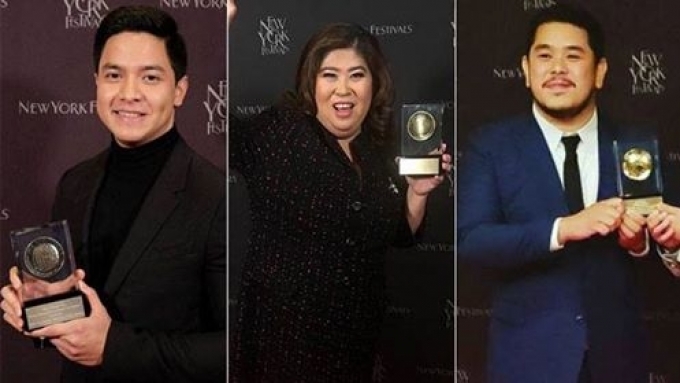 ---

Philippine TV networks ABS-CBN and GMA-7 bagged several awards at the New York Film & TV Festivals 2018.
ABS-CBN bagged 1 Gold, 1 Silver, 1 Bronze, and 1 Finalist Certificate award, while GMA-7 got 1 Gold, 2 Silver, 5 Bronze, and 4 Finalist Certificate awards.
The Kapuso Martial Law docudrama Alaala, top-billed by Alden Richards, earned a Silver World Medal in the Docudrama category of the prestigious award-giving body.
Alden personally accepted the trophy, which he posted on his Instagram stories.
He wrote in a separate Instagram post, "Thank you to the New York Festivals for this great recognition. Congratulations to Team Alaala for the win! To GOD be the glory! #humbled"


GMA-7 Vice President for Public Affairs Jessica Soho also received the Bronze Medal for the Best News Anchor category.
She is the anchor of GMA News TV's nightly newscast program State of the Nation.
ABS-CBN current affairs hosts Jeff Canoy and Chiara Zambrano, who created and hosted the Marawi war-themed documentary Di Ka Pasisiil, bagged the Gold World Medal for the Best in Continuing News Coverage category.
GMA-7's documentary Reel Time: Hawla The Untold Story of the Village Monster also bagged the Gold World Medal.
Director Louie Ignacio won the Bronze Medal Award for the film Area from the New York Festivals for Film and Television.

Here is the list of Philippine winners at the New York TV and Film Festivals 2018:


Gold World Medal

Reports/Features

1. Coverage of Continuing News Story: 'Di Ka Pasisiil (Never Shall Be Conquered) (ABS-CBN)

Documentary

2. Health/Medical Information: Reel Time: Hawla (The Untold Story of the Village Monster) (GMA News TV) 
ADVERTISEMENT - CONTINUE READING BELOW
Silver World Medal

Cinematography: Local Legends: Bandurria (ABS-CBN)

Docudrama: Alaala (Remember): A Martial Law Special (GMA-7)

Human Concerns: Reel Time: Gutom (Starved) (GMA-7)

Bronze World Medal

Promotion/Open & IDs

Station/Image Promotion: To Love And To Serve (ABS-CBN)

Graphic Design: EDSA 31st Anniversary Spot (ABS-CBN)

Documentary

Current Affairs: Brigada (The Brigade): Combat Camera Team (GMA News TV)

Community Portraits: Reporter's Notebook: Yapak sa Pusod ng Dagat (Footsteps on the Seabed) (GMA-7)

News Program

Best Public Affairs Program: Front Row: Batang Bomba (Bomb Pickers) (GMA News TV)

Best News Anchor: Jessica Soho (State of the Nation, GMA-7)

Craft: Films/Productions

Direction: Luisito Lagdameo Ignacio (Area, BG Productions)
Finalist Certificates

Documentary

Current Affairs: Mukha: 'Di Ka Pasisiil (Faces: Never Will Be Conquered) (ABS-CBN)

International Affairs: I-Witness: Silang Kinalimutan (The Forgotten) (GMA-7)

Human Concerns: I-Witness: Sundalong Aso (Soldiers with Paws) (GMA-7)

Craft: Promotion/Open & ID

Art Direction: Promotion/Open & IDs: Colorful Summer (GMA-7)

News: Program

Best Newscast: State of the Nation with Jessica Soho (GMA-7)