Alden Richards marks his 3rd anniversary in Eat Bulaga today, April 18, 2018.
The Pambansang Bae shared a photo of him with Julia Clarete and Sam YG.
Alden wrote in the caption: "It has been 3 years!! Woooo!! Dabarkads and proud!!! Thank you LORD!"
The hashtag #ALDUBwillAlwaysBe became a trending topic and was used by fans to reminisce about the creation of AlDub, Alden's love team with Maine Mendoza (aka Yaya Dub).

A netizen with the Twitter handle @ms_mainetans pointed out that three months after Alden started on Eat Bulaga, the AlDub love team was created on the GMA-7 noontime show. Alden and Sam YG were hosts back then of the segment "That's My Bae."
@ms_mainetans wrote:
"Happy kami dahil part kayo ng @EatBulaga ..Sa Dabarkads lang namin nakikita ang tunay na nagmamahal sa inyo ni @mainedcm. 3months nlng din 3rd anniversary na ng ALDUB.woooohhh!Kaya pa!"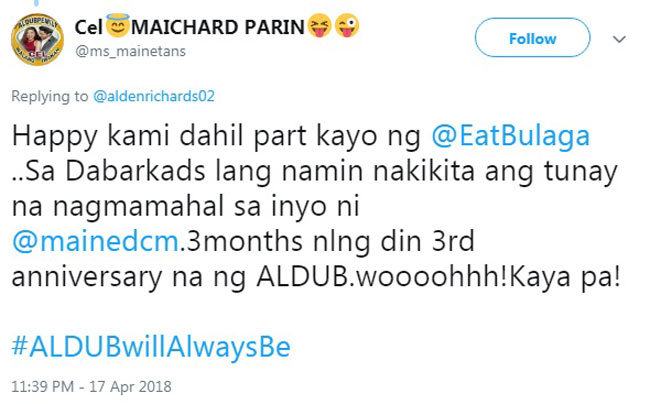 Twitter user @maichardistic recalled that Nicomaine (Maine's real name) stepped out of character as Yaya Dub when she smiled upon seeing RJ (Alden's nickname) on July 16, 2015. Yaya Dub was supposed to be stiff and strict but Maine could not help but smile upon seeing Alden observing her through a monitor.

The netizen wrote: "thats the point there. july 16 '15 is the day RJ and Nicomaine Dei meet. first time maine lay her eyes on Alden shes not Yaya Dub at all na out of character sya eh. c yaya dub kasi walang emotion. And that moment doon di lang nakita yung totoong ngiti ni alden na pati mata kasama"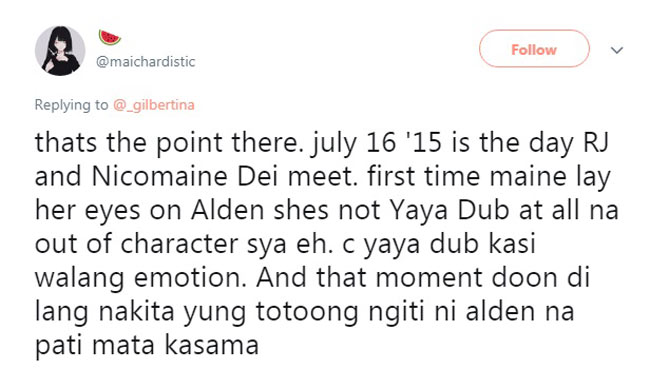 Twitter user @whally_leiyu shared a video of Maine asking them Alden to promise that they will always remain happy.

M:"Basta Alden promise mo, gani2 tau lagi sa 1't 1 palagi 4ever masaya, walang problema at laging nagmamahalan promise mo"
A: "PROMISE!"
M: "Totoo yan"
A: "Ikaw at ako, tayong 2."
M: "Pramis yan."
A: "PROMISE!"
WE'VE HEARD THAT @mainedcm & @aldenrichards02!



It has been 3 years!! Woooo!! Dabarkads and proud!!! Thank you LORD! ????? pic.twitter.com/l9Z13TZVVa

— Alden Richards (@aldenrichards02) April 18, 2018
M:"Basta Alden promise mo, gani2 tau lagi sa 1't 1 palagi 4ever masaya, walang problema at laging nagmamahalan promise mo"
A: "PROMISE!"
M: "Totoo yan"
A: "Ikaw at ako, tayong 2."
M: "Pramis yan."
A: "PROMISE!"
WE'VE HEARD THAT @mainedcm & @aldenrichards02 !#ALDUBwillAlwaysBe pic.twitter.com/J1Cw8wGvmw

— ?MaeTMagsanoc?KTFaith? (@MiraTMansterr) April 18, 2018