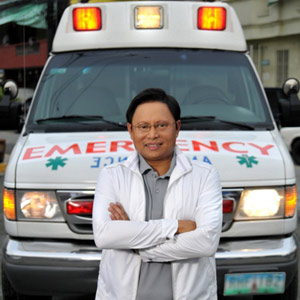 ---

This Friday, October 24, watch as producers of Emergency help make heart-warming transformations in two people's lives. These patients you once saw featured in the show will experience a new kind of hope.

Randy Cruz' hands and feet continue to grow hard, thick and dry calluses. This condition has made it difficult for him to look for a job. Because of thick and heavy fingers, even a simple activity like eating is quite a challenge for him. He hopes that a cure for his disease known as Keratoderma will soon be discovered. Otherwise, he wishes that something would be found to alleviate his discomfort and pain.
Annabel Manuel has been in the hospital for two years. A cancerous tumor that started from a mole grew and eventually consumed her face. The tumor was removed but it left a big, empty hole on her face. Her own kids could not even recognize her. She desperately wants to go home, but the frightened faces of her children discourage her.
Emergency will document the transformation of these two patients as they undergo reconstructive surgery and reunite with their families.

On October 24, watch the first part of the 13th anniversary episode of Emergency, hosted by Arnold Clavio. This long-running public affairs show airs right after Saksi on GMA-7.