Matteo Guidicelli lashed out at netizens who criticized him and his character Lakam in the ABS-CBN prime-time series Bagani.
Through his Twitter account, Matteo responded to a netizen who branded him as a favorite of ABS-CBN management and Star Creatives, the business unit behind Bagani.
A Twitter user using the handle @Zoe86475660 said that Matteo was not a good actor and that he did not deserve the role that was given to him.

Zoe wrote: "Fave ka din kasi ng management at ng SC kahit na hindi ka kagalingan pero nakukuha mo ang role na dapat mas bagay sa iba. Ang pangit ng ganun, napunta ka lang sa kinalalagyan mo kahit hindi mo naman deserve. #KoneksyonNgBAGANI"
In response, Matteo wrote: "Shh... keep ur mouth shut nalang ha"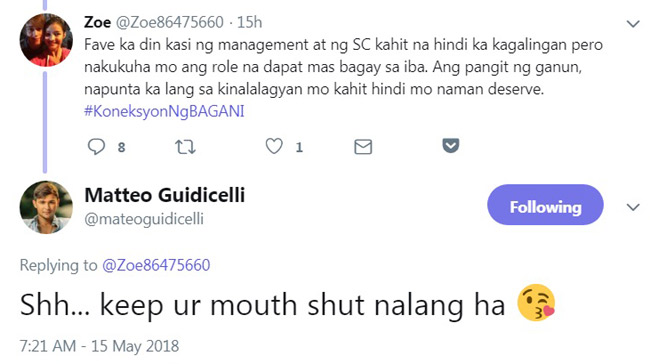 A netizen using the Twitter handle @RogynG compared Lakam to the Marvel superhero Thor when he wrote:
"Bagani's Lakam is really trying hard to be like Thor. May pa hammer axe at kidlat si mayor!"
Matteo dismissed this comparison by writing: "He is not try to be like Thor.. he is LAKAM. Period."
There are those who think that the character of Lakam will be the one who will get killed off in the Kapamilya show.
A Twitter user using the handle @Pordalabofyall provided this theory:
"I don't doubt that girl will become a Bagani, but Makiling is loyal to Ganda though. I don't think she will give her powers to Maritik. If anything, I think it will be Lakam who will die. #BAGANILiksiNgLaot"
Matteo retaliated by replying: "Ha?? How dare you?"
Another netizen advocated for the death of Lakam so that he could have redemption for his deeds.
A netizen using the Twitter account @sansinukoboffcl wrote:
"Lakam needs to redeem himself more. Maybe a great sacrifice for the greater good at the expense of his own life. After all, he was the one who unleashed evil at Sansinukob. Kill Lakam and let Bernardo find a new (cough cough girl) bagani."
Matteo replied by writing: "Lakam will find you......"