Meghan Markle was in the limelight long before she met Prince Harry, the second son of Charles, Prince of Wales.
The American actress is now set to marry the fifth in line to the British throne.
The royal wedding of Meghan and Prince Harry is slated to take place on May 19 (7 p.m., Philippine time) at St. George's Chapel in Windsor Castle in the United Kingdom.
More popularly known as Rachel Zane in the U.S. legal drama TV series Suits, Meghan has been acting for 16 years since she bagged a role in the 2002 series General Hospital.
Born to an African-American mother and a Dutch-Irish father, Meghan was born and raised in Los Angeles, California.
Meghan met Prince Harry when they went on a blind date that was set up by a mutual friend in July 2016.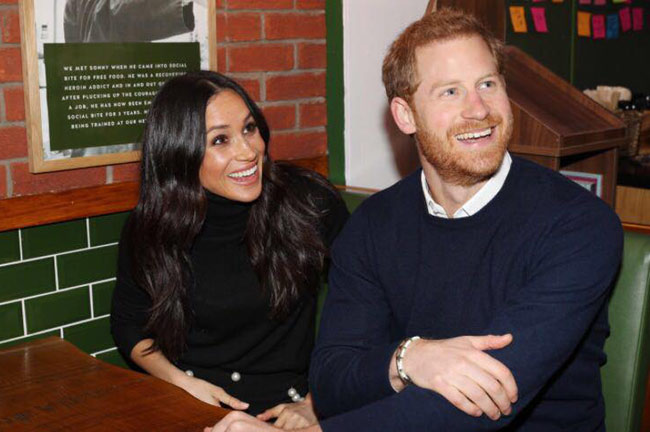 In mid-November 2017, she said she was giving up her role as Rachel Zane in Suits. The 36-year-old revealed back then that she was giving up her acting career for "a new chapter" in her life.
Before the duchess-to-be becomes part of the British royal family, take a look back on the colorful career of the woman who once struggled to bag roles.
Here are 9 times Meghan Markle showed her sexy side on TV shows and movie projects.



1. A Lot Like Love (2005 movie)
Her character is simply described as "Hot Girl" in this movie top-billed by Ashton Kutcher.
In the film A Lot Like Love, Meghan's character had the chance to sit with Ashton's internet entrepreneur character during a flight. She introduced herself as Natalie and said she was from Los Angeles. She attempted to flirt with Ashton's character but he was clearly uninterested.
2. CSI: NY (2006 TV show)

In November 2006, Meghan appeared in the hit crime series CSI: NY.
Her character named Veronica Perez was a maid who cleaned for businessmen while dressed in sexy lingerie. When one of her ex-employers was found dead, she became a prime suspect.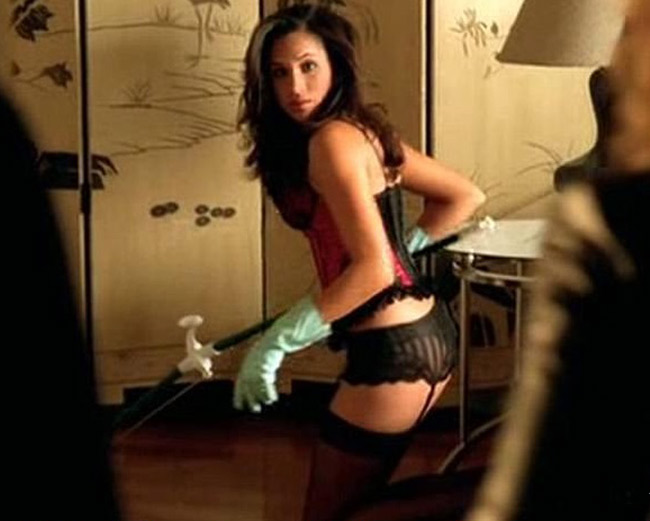 3. Deal or No Deal (2006-2007)
When she was still a struggling actress, Meghan made ends meet by being a briefcase model in Deal or No Deal. The game show featured beautiful women wearing revealing dresses as they carried numbered silver suitcases.
Meghan was assigned to hold briefcase No. 24 back then. "I would put that in the category of things I was doing while I was auditioning to try to make ends meet," she said in an interview with Esquire in 2013.
She also recalled: "I would end up standing up there forever in these terribly uncomfortable and inexpensive five-inch heels just waiting for someone to pick my number so I could go and sit down."

4. 90210 (2008 TV show)


One of the naughtiest scenes of Meghan involves her simulating oral sex inside a car.
Her character Wendy is seen giving Ethan (Dustin Milligan) a blow job while they were in a car parked in the school's parking lot.
Her X-rated role was seen in the pilot episode of the rebooted 90210 TV series.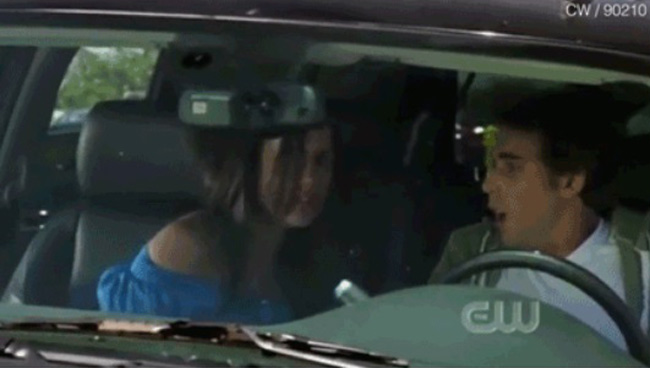 5. Knight Rider (2009 TV show)
In 2009, Meghan was cast as an army girl named Annie Ortiz in the U.S. remake of Knight Rider.
Her character was desperate to discover the truth about the death of her drill sergeant. To investigate what really happened, she became a cage fighter in an underworld fight club.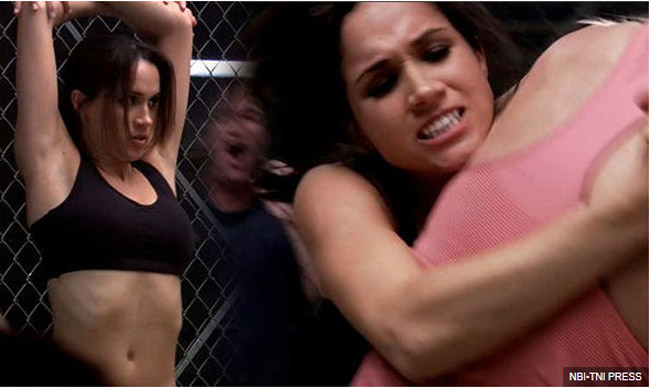 6. Get Him to the Greek (2010 movie)
Meghan was cast as a seductive partygoer named Tatiana in the comedy film Get Him to the Greek. Rock star Aldous Snow (played by Russell Brand) went to a wild party where he and Meghan shared a steamy kiss.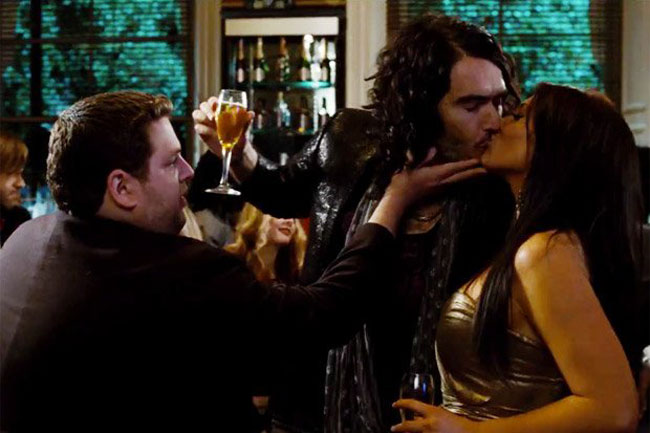 7. Horrible Bosses (2011 movie)

In case you missed it, Meghan played a delivery girl in the comedy film Horrible Bosses.

In her 30-second cameo opposite Jason Sudeikis, Meghan was cast as a courier driver named Jamie.
Jason's character named Kurt told Jamie: "I mean you're way too cute to just be a FedEx girl. You've got to be a model or actress, right? Like what happens when I open one of these boxes? Something going to jump out and bite me in the penis?"
In response, Jamie answered: "Nope, nothing's going to jump out. I'm just a FedEx girl."
8. Random Encounters (2013)

Meghan was cast as a bed-hopping party girl in Random Encounters, a romantic comedy that was released online.
Her character Mindy offered to make her guy's day "better" after he announced that he was having a bad day. She flirted with Kevin (Michael Rady) and undressed him while he was lying in bed.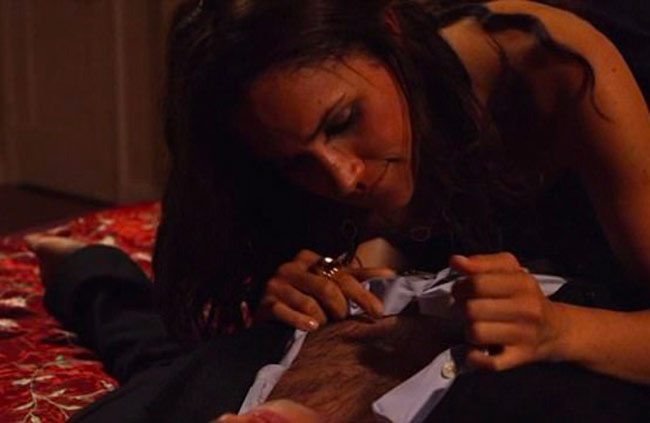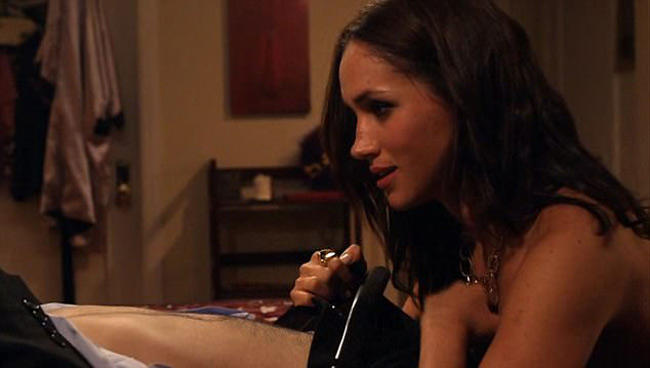 9. Suits (2011 - 2018 TV series)


For seven years, Meghan played a senior paralegal named Rachel Zane in Suits. Mike Ross (played by Patrick J. Adams) tries to hide his secret from her: that he never actually passed the bar. Their characters got engaged in Season 4 and almost got married in Season 5.
One of their confrontation scenes led to them having a passionate love scene inside the filing room of the law firm where they both work at.

Mike finally admits the truth to Rachel. They kiss each other torridly while he pulls down her dress, exposing her black lace bra underneath.


In the two-hour finale of
Suits
Season 7, Rachel got married to Mike in the episode titled "Good-Bye."
Meghan wore a bohemian A-line gown that featured a deep V-neck, intricate floral beading, and a black ribbon belt. The Versailles wedding gown was created by Atlanta-based bridal designer Anne Barge.