Weddings are seen regularly in Pinoy teleseryes.
There are even times when viewers get lucky enough to witness how the teleserye newlyweds consummate their love during their honeymoon.
Since June is known as the wedding month, PEP.ph (Philippine Entertainment Portal) presents 13 of the hottest honeymoon scenes aired on Philippine television.
1. Kim Chiu and Gerald Anderson in Tayong Dalawa and Kung Tayo'y Magkakalayo
The Kimerald love team of Kim Chiu and Gerald Anderson shot several honeymoon scenes for their teleseryes, wherein their characters showed their love for each other.
In Tayong Dalawa (2009), Audrey (Kim) and JR (Gerald) had a candle-lit set-up in their hotel room on the night of their honeymoon.
With the romantic set-up, they instantly felt the urge to make love.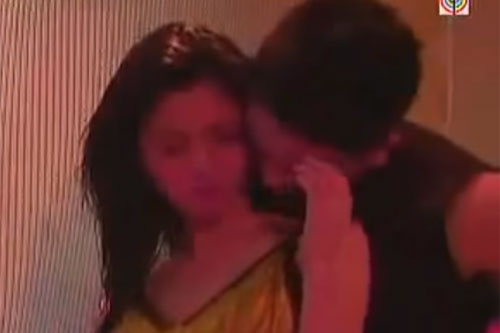 Audrey turned around to kiss JR, and he responded by raising his arms, allowing his wife to take off his black sando.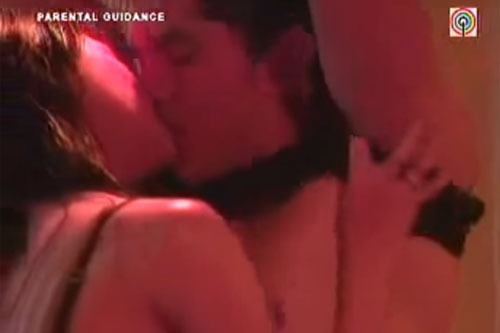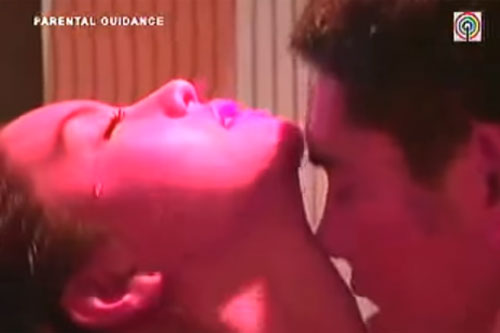 The next day, the newlywed couple enjoyed each other's company and soaked in a bath tub in their hotel room.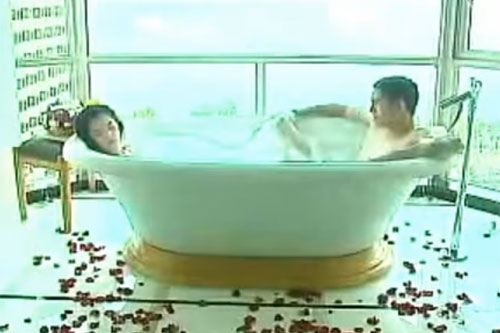 For their follow-up series Kung Tayo'y Magkakalayo (2010), Kim and Gerald had a totally different experience during their honeymoon.
In this series, Gwen (Kim) and Robbie (Gerald) went camping after their wedding.
When nighttime came, the two stayed inside their tent and made love.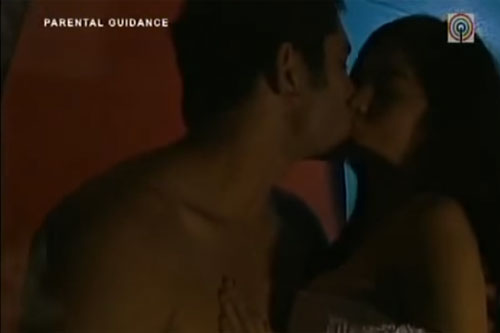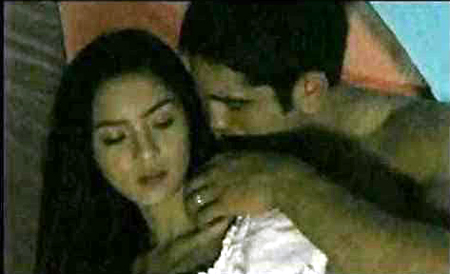 2. Kris Bernal and Rafael Rosell in Impostora
GMA-7's 2017 adaptation of Impostora, starring Kris Bernal and Rafael Rosell, became controversial because of its steamy scenes.
In fact, it was once summoned by the Movie Television Review and Classification Board (MTRCB) because of its love scenes.
The Kapuso Network implemented measures to prevent the afternoon show from being called out again by the agency.
One of the controversial scenes is the love scene during the honeymoon of Nimfa (Kris) and Homer (Rafael).
Nimfa became aggressive in bed when she grabbed Homer and gave him a passionate kiss.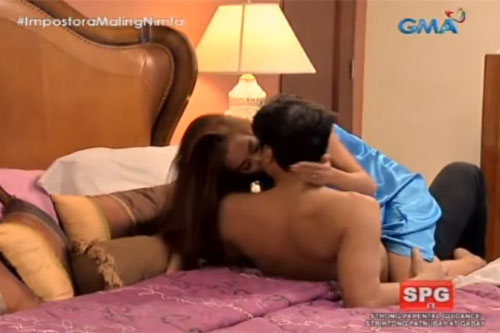 Homer was surprised to see Nimfa this way since she is known to be more subdued and wholesome. He even doubted Nimfa's identity, thinking that it might be his ex-wife Rosette, who bears the same face as Nimfa.
However, his doubts were dispelled when he saw the scar at Nimfa's back.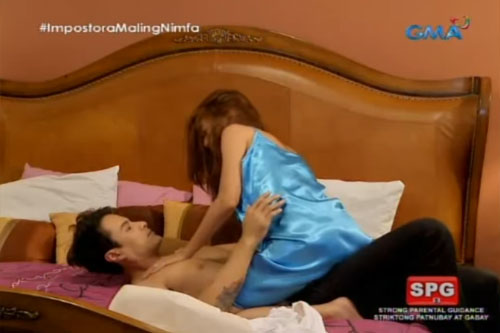 Homer reciprocated Nimfa's aggressive moves by kissing her tenderly.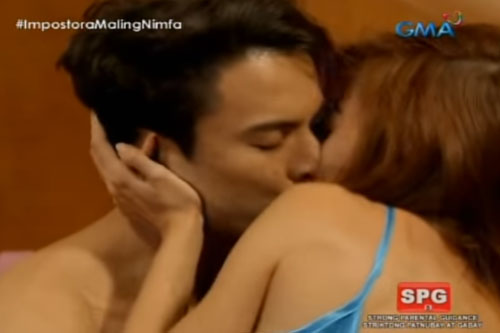 Little did Homer know that it was actually Rosette who was in bed with him since the latter kidnapped his wife.
3. Nadine Lustre and James Reid in Till I Met You
Another controversial honeymoon scene was that of Nadine Lustre and James Reid in the 2016 teleserye Till I Met You.
After their wedding, Iris (Nadine) and Basti (James) went straight to their hotel.
Since their wedding was unexpected, Iris felt a bit tense and hesitant about sharing the same room with Basti.
She decided to take a dip in the bathtub, while Basti took a shower.
Iris was surprised when Basti entered the bathroom naked and asked if he could join her in the tub.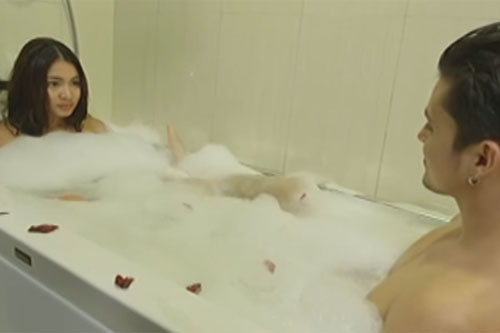 Iris showed a bit of hesitation, prompting the naughty Basti to submerge his head in the water and causing Iris to giggle.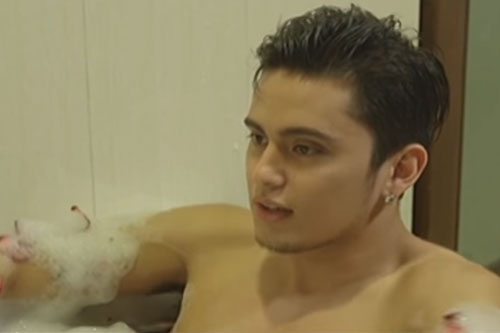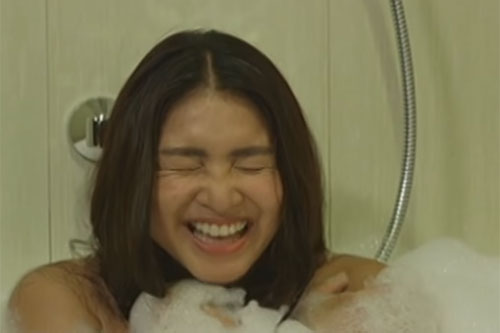 This scene from the JaDine series became controversial after the MTRCB called the attention of the show's executives for failing to put a SPG: Strong Parental Guidance rating during its airing.
4. Liza Soberano and Enrique Gil in Dolce Amore
Liza Soberano and Enrique Gil's honeymoon scene in their 2016 series Dolce Amore was a bit more wholesome since it did not involve lovemaking.
Instead, it had comedic moments when Serena (Liza) teased Tenten (Enrique) by taking off her bath robe.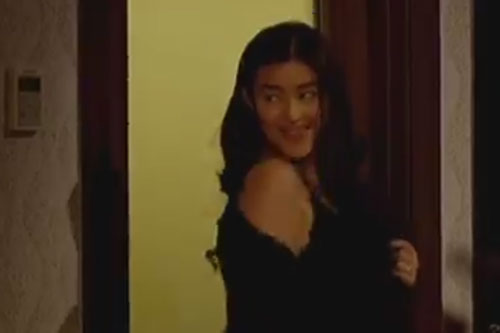 Tenten responded by taking off his white shirt and declaring that he's ready for Serena.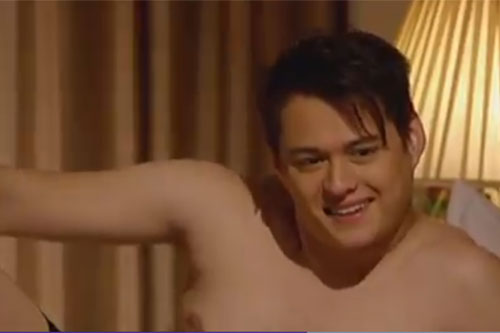 However, Serena wouldn't let Tenten catch her just like that.
She started running around the room and Tenten tried to catch her.
However, their sexy time was cut short when Serena slipped and hit her head!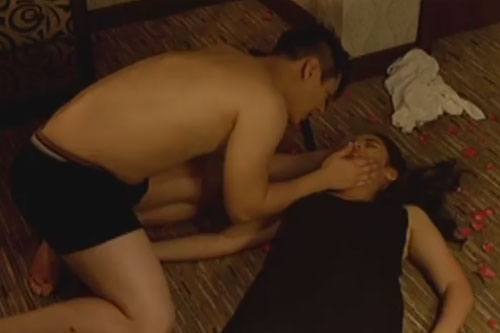 5. Jodi Sta. Maria and Robin Padilla in Sana Dalawa Ang Puso

In recent episodes of Kapamilya's daytime series Sana Dalawa Ang Puso, viewers witnessed how Lisa (Jodi Sta. Maria) and Leo's (Robin Padilla) love for each other prevailed.
This was after they decided to get married, despite the objection of their families.
On the night of their honeymoon, Lisa decided to surrender herself to Leo.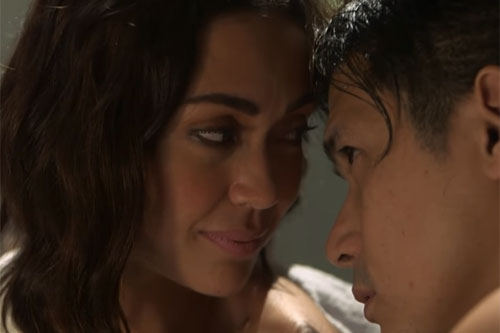 After exchanging romantic looks, Leo started making moves towards his wife.
Lisa responded by giving him a passionate caress.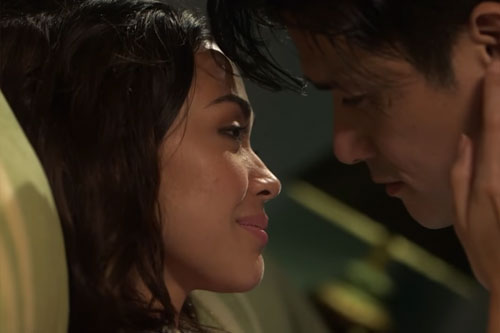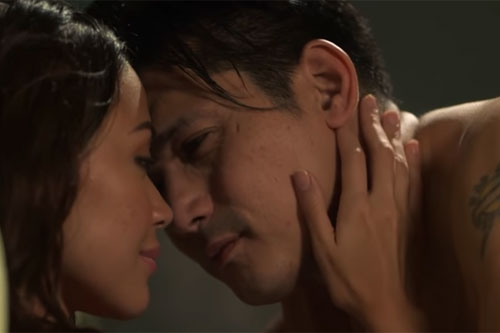 6. Ellen Adarna and Ejay Falcon in Pasion de Amor
The characters of Ellen Adarna and Ejay Falcon showed their playful and naughty sides when they had their honeymoon in the 2015 remake of Pasion de Amor.
Sari (Ellen) made Oscar (Ejay) do sexy poses while she photographed him using her camera.
She tied a black necktie around his neck and made him follow her commands.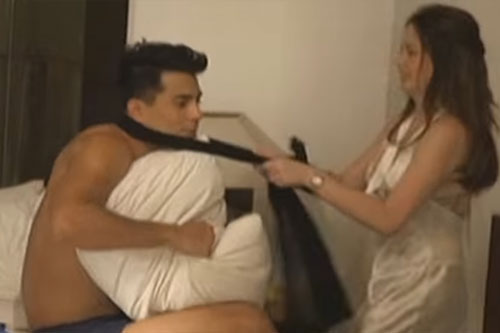 Sari pushed Oscar towards the bed and kissed him provocatively on the neck.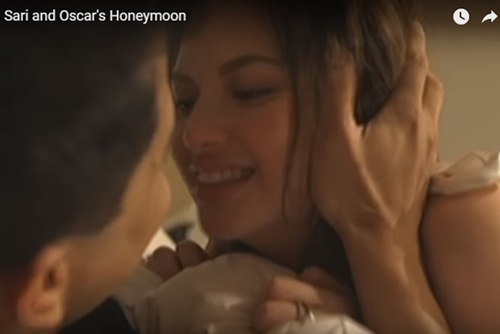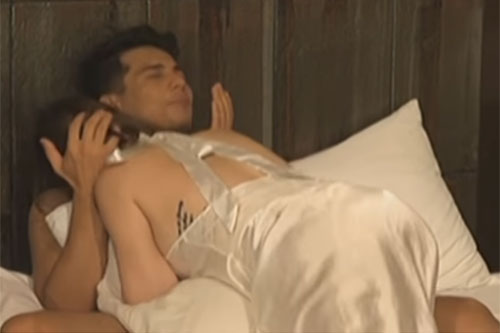 Oscar then took over and gave Sari a passionate kiss, which led to their lovemaking.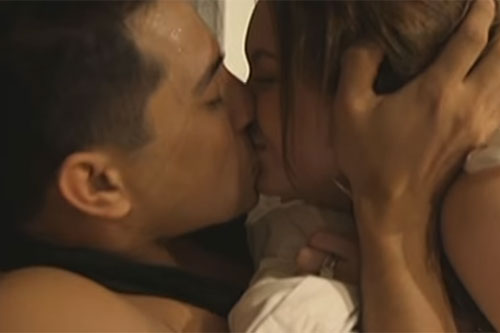 7. Lovi Poe and Dennis Trillo in The One That Got Away
The past played a big role in the honeymoon of Lovi Poe and Dennis Trillo's characters in their latest teleserye The One That Got Away.
After Liam (Dennis) changed to sando and boxers, Alex (Lovi) surprised him by showing a deck of playing cards.
Before they broke up and got back together again, Alex and Liam used these playing cards to indicate that they want to have sexy time.
They agreed that every time they picked a card with hearts, Alex would give Liam a passionate kiss.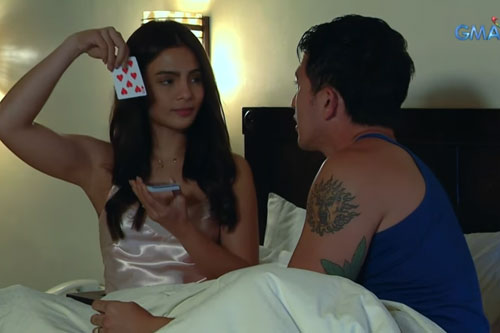 Liam got lucky since he was able to draw three cards with hearts. She then gave him a sweet kiss.
Apparently, Alex planned it all along by giving Liam a deck full of cards with hearts.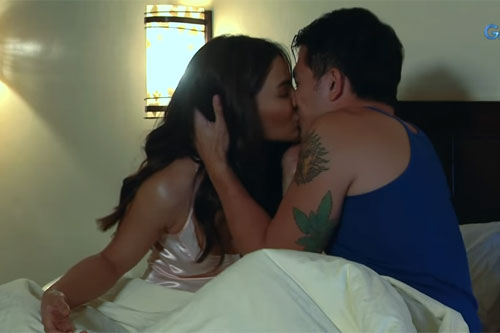 Their kiss was so passionate that they continued by having sex on bed.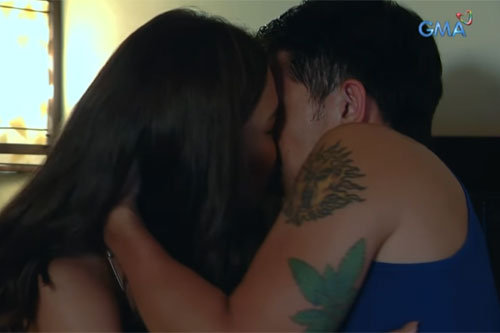 8. Arci Munoz and Jericho Rosales in Magpahanggang Wakas
While other couples do their honeymoon in a hotel room or in a house, the characters of Jericho Rosales and Arci Muñoz in Magpahanggang Wakas (2016) chose a different location.
Aryann (Arci) and Waldo (Jericho) went back to where their love started: the seashore.
The two made love in a red boat that was illuminated by a gas lamp.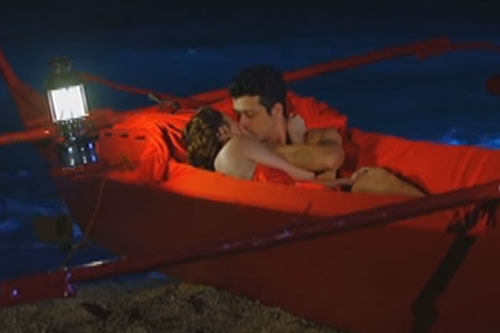 They even placed a sign that said: "Do not disturb: Just Married."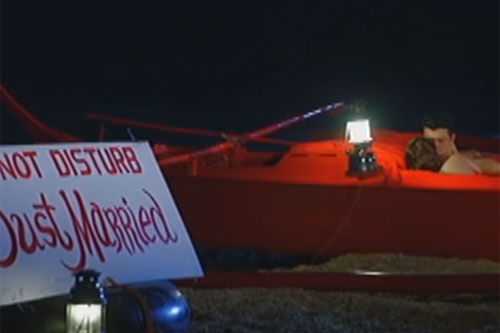 9. Shaina Magdayao and JC de Vera in The Better Half
In the 2017 afternoon drama The Better Half, the character of Shaina Magdayao played a prank on JC de Vera before having passionate sex during their honeymoon.
Camille (Shaina) asked Rafael (JC) to unbutton her wedding gown.
Rafael found a toy cockroach in Camille's gown, prompting him to run away!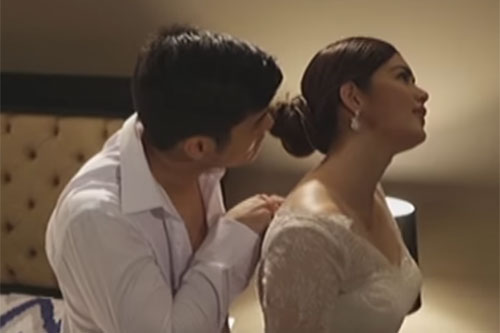 To avenge himself, Rafael took off his clothes, put his necktie around Camille's neck, and started kissing her.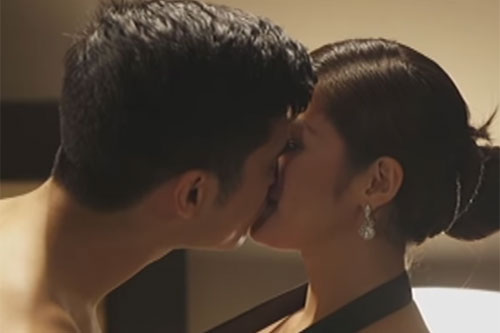 While kissing passionately, they moved to their bed and ended the night with an intense lovemaking session.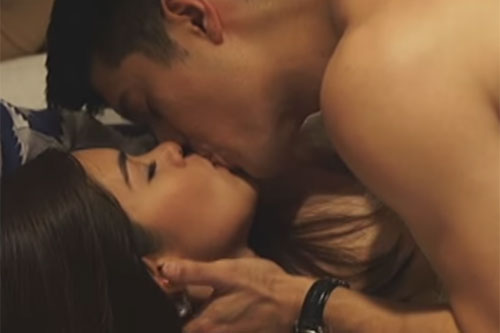 10. Heart Evangelista and Dennis Trillo in Juan Happy Love Story

In this 2016 adult sexy-drama, the characters of Heart Evangelista and Dennis Trillo prepared themselves physically and mentally before starting their honeymoon.
Juan (Dennis) did push-ups inside the restroom while Happy (Heart) psyched herself up before seducing her husband.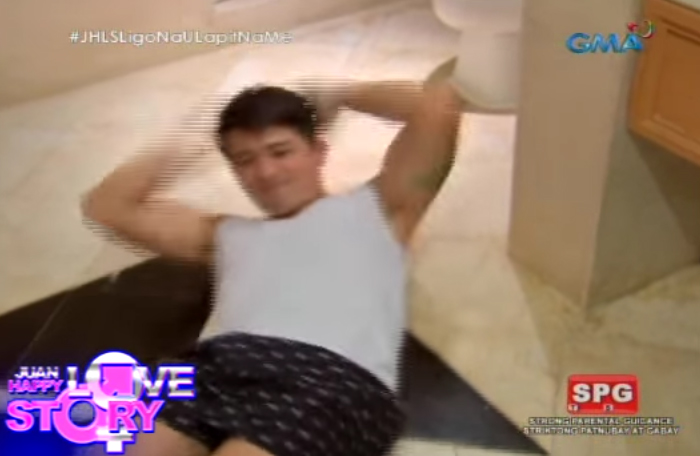 Juan caught a glimpse of Happy's booty while she scattered rose petals on their bed in order to add to the romantic mood.
This made Juan more excited to make love with Happy.
Unfortunately, when he was about to kiss her, he let out a huge sneeze!

Happy had sprayed vanilla scent in the room, triggering Juan's allergies and cutting their session short.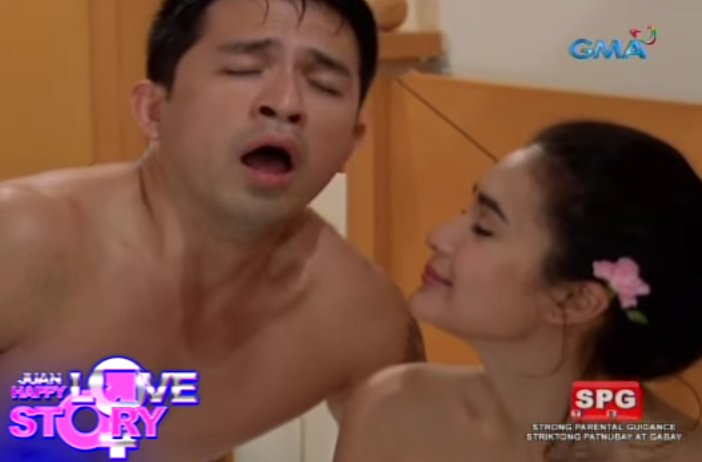 11. Meg Imperial and JC de Vera in Moon of Desire
The 2014 sensual drama Moon of Desire made sure to heat up afternoons by showcasing racy scenes up until its last episode.
In the honeymoon scene of Ayla (Meg Imperial) and Jeff (JC de Vera), the two showed so much passion while making love inside a bathtub.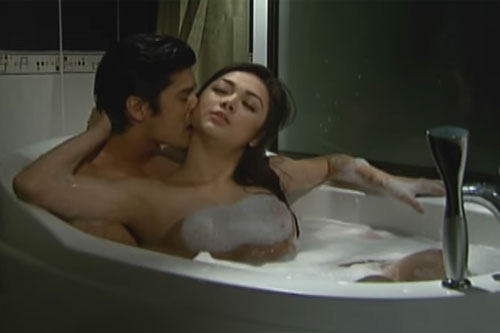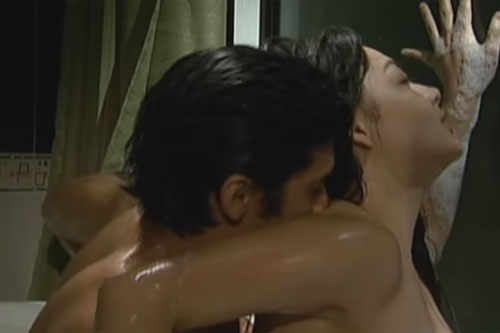 The newlywed couple was so engrossed with other as they had sex under the glow of the full moon.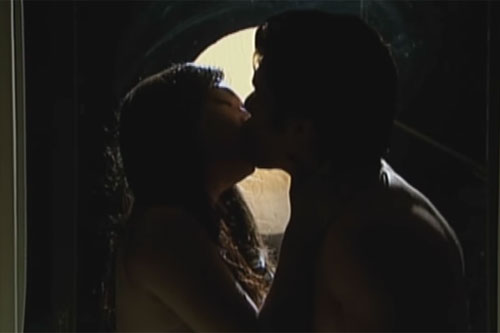 12. Bela Padilla and Arjo Atayde in FPJ's Ang Probinsyano
As part of Book 1 of FPJ's Ang Probinsyano in 2016, main villain Joaquin (Arjo Atayde) decided to marry Carmen (Bela Padilla).
On the night of their wedding, Joaquin immediately showed his domineering side when he made love to his wife.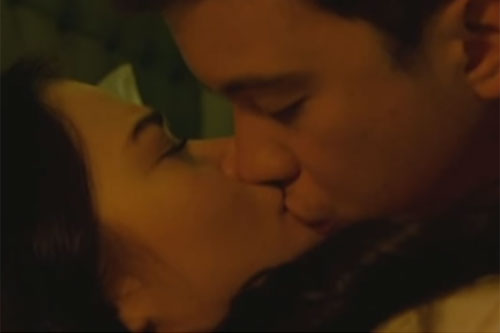 After kissing her, Joaquin told Carmen that he won't allow anyone to steal her away from him.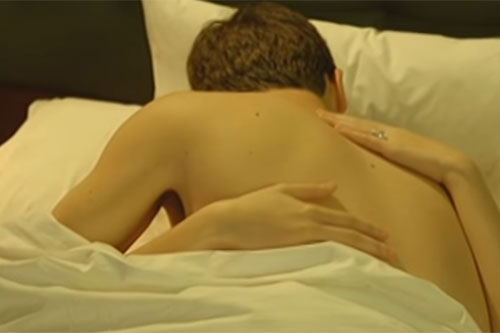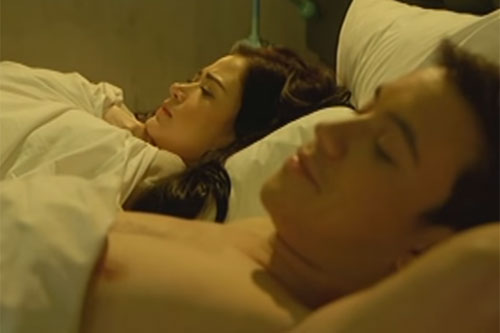 13. Erich Gonzales and Daniel Matsunaga in Be My Lady
On the night of their wedding, Pinang (Erich Gonzales) felt tense since she was sharing a room with her husband Phil (Daniel Matsunaga).
Phil went inside the restroom, allowing Pinang to prepare herself.
Pinang, who grew up in a conservative family, was surprised to see her husband naked.
They went to bed together and gave each other sweet glances.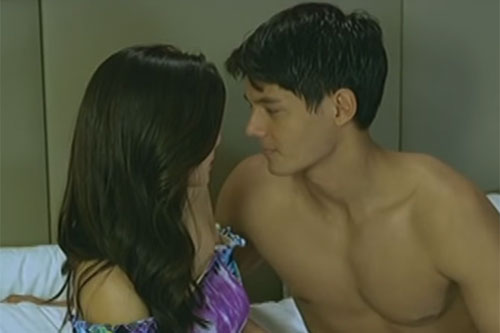 Pinang and Phil then kissed each other passionately.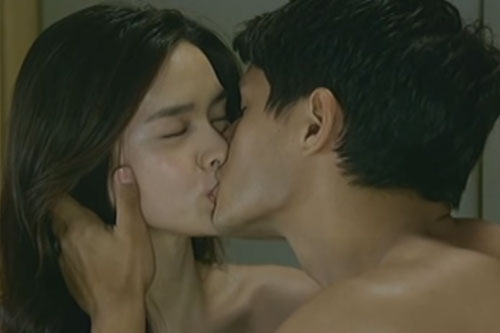 This gave Pinang the confidence to surrender herself to her husband.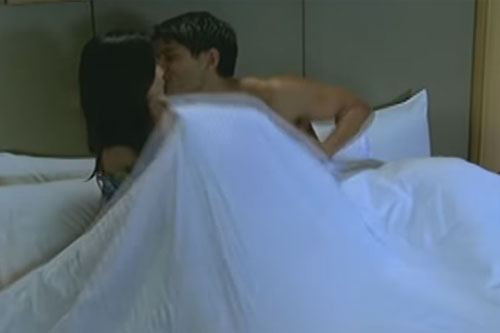 PEPsters, which do you think is the hottest honeymoon scene among these ABS-CBN and GMA-7 teleseryes?
Share your thoughts in the comments section below.