Today, July 4, marks Maine Mendoza's third anniversary in showbiz.
On this day, she was first seen on GMA-7's noontime variety show Eat Bulaga, where she became known as Yaya Dub.
Yaya Dub, whose full name is Divina Ursula Bokbokaba Smash, is the personal assistant of Lola Nidora (Wally Bayola), who was introduced in the sub-segment "Problem Solving."
"Problem Solving" was part of Eat Bulaga's segment "Juan For All, All For Juan."
Yaya Dub's name is a play on the popular app Dubsmash.
In her first few appearances, the audience did not hear Yaya Dub's voice. Instead, she only does lip synching songs and popular lines of movies, same as what people do in Dubsmash.
In her first episode as Yaya Dub, she was seen going down from a limousine.
She wore her pink apron and assisted Lola Nidora as she exited her car.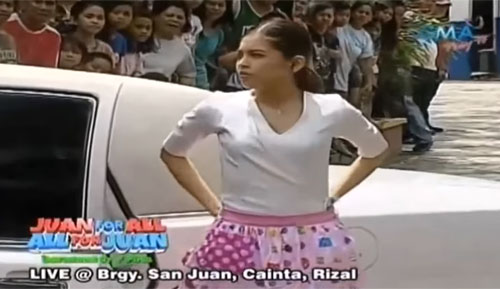 She also did several Dubsmash acts, such as Kris Aquino and Bimby's "You are pretty" conversation, and Janina San Miguel's "My Pamily" answer in Binibining Pilipinas 2008.
When host Jose Manalo tried to interview her, Yaya Dub only did gestures motioning that she doesn't want to talk to him.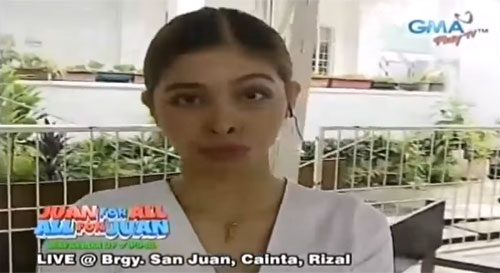 Days later, on July 16, 2015, the "Kalyeserye" segment began when Yaya Dub and Alden Richards first met through the split-screen, and the AlDub love team was born.
AUDITION VIDEO. Eat Bulaga! later released Maine's audition video, which happened on June 19, 2015.
In Maine's blog post published on August 9, 2015, the Eat Bulaga! host recalled her screen test went and how she became a "Dabarkad."
She wrote, "I was blown by surprise when Eat Bulaga called me for an interview and VTR, few days later, they called again and told me that I made it.
"The following day they invited me to watch Juan For All-All For Juan segment live (I remember it was a Thursday); asked me to observe how things come off in the set and see if I am okay with it.
"I told them I am totally fine with everything and then the next thing I heard was.. 'Okay good sa Sabado ka na illaunch.'"
"I kept on saying in my head 'Shiiiiiit, sa Sabado na. Kaya ko kaya?'' I need to be mentally and physically prepared; pag sinimulan ko na to, there's no backing out. I told myself I can do it! I need to do it! This is what I want!
"Then it happened, last 4th of July, Dora the Explorer left for Africa and was replaced by her luxurious and snobbish grandmother named Nidora Explorer a.k.a Lola Dora along with her 'alalay' Divina Ursula Bokbokoba Smash a.k.a as Yaya Dub (Smash)."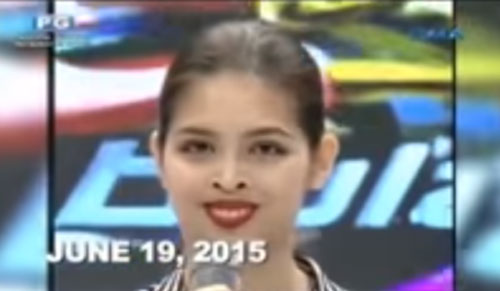 On June 16, 2016, exactly a year after her life-changing audition, Maine shared on Instagram more details about what happened on that day in 2015.
She said, "I can still remember how nervous and timid I was as I stand in the middle of the stage, facing the camera.
"It's been a year but I still wonder how I was able to survive that audition unprepared. People who tried out their luck along with me that day were all psyched-up and had everything prepared; and then there I was, as Ma'am Jenny would describe it, "Walang kalatuy-latoy."
"Those who have seen my audition video could tell that there was nothing striking in me when I stood up on that stage–aside from my big red lips that took people's attention–there was clearly nothing more.
"I mustered an ounce of confidence to act like a crazy woman when I was asked to, thinking that would be the only way to get a chance to pass the audition. I was able to do it but I knew I did it horribly. I was discouraged and I already knew right there and then that I lost my chance.
"Still, I was holding onto this little possibility that they'd call me back, also thinking that even if they don't, I am glad and proud that I did not let this opportunity pass me by. I went home with a smile on my face, gave myself a pat on the back and told myself 'At least you tried."
And the rest, as they say, is history.
Maine has done several acting projects together with love team partner Alden, including two movies, two Eat Bulaga! drama specials, and one teleserye.
Maine also did other projects as a solo artist, such as her acting stint in Princess and the Palace and Daig Kayo ng Lola Ko.
Currently, Maine is still part of Eat Bulaga, and is set to appear in another episode of Daig Kayo Ng Lola Ko this Sunday, July 8.