Just like other TV viewers, Megastar Sharon Cuneta also caught the Meteor Garden fever in 2003.
The singer-actress took a trip down memory lane when she posted a throwback photo of her and F4 member Vic Chou.
According to her Instagram post, the photo was taken during Sharon's solo interview in mid-2000s, when Vic visited the Philippines.
She wrote in the caption, "I was such a big fan of Meteor Garden, and among all of them, he was my crush! So I almost fainted when I was assigned by ABS-CBN to interview him.
"Of course I also liked Jerry Yan (who didn't?!). But I was so happy to meet Vic Chou even if I didn't get to meet the other three of F4."
Sharon even that she gave Vic a CD of her music video with Hong Kong singer-actor Andy Lau.
Andy, who performed the duet "In Your Eyes" with Sharon, was one of Vic's idols.
Sharon continued, "Vic's idol was Andy Lau. And napatalon ako when I found out kasi may music video VCD at CD na kami ni Andy ng duet namin noon, na binaon ko nga and which I then gave to Vic as a gift.
"Di yata makapaniwala parang nashock ng konti! Siya yata di pa niya nakikilala si Andy noon, e!
"I also gave him a DVD of KUNG AKO NA LANG SANA with English subtitles (kasi payat ako doon at para makita niya na kasing guapo ni Aga Muhlach ang mga artistang lalaki dito!)."
Kung Ako Na Lang Sana is the 2003 movie of Sharon where she was paired with Aga Muhlach.
Sharon was also supposed to interview F4 member Jerry Yan but she had scheduling problems.
She recalled, "A few years later, I was so touched because Jerry Yan was in Manila, and his team requested specifically for me to interview him!
"I guess they were happy with my interview with Vic because I had done my research so well about him and so the interview went very well.
"I wanted to faint again kasi I was doing my own concert in either CDO or Zamboanga was it? - on the one day Jerry Yan was free for the interview. Waaaaahhhhhh!
"Please Jerry I'll fly anywhere to interview you for any new project you have! Thank you for choosing me. I am still so touched and proud!"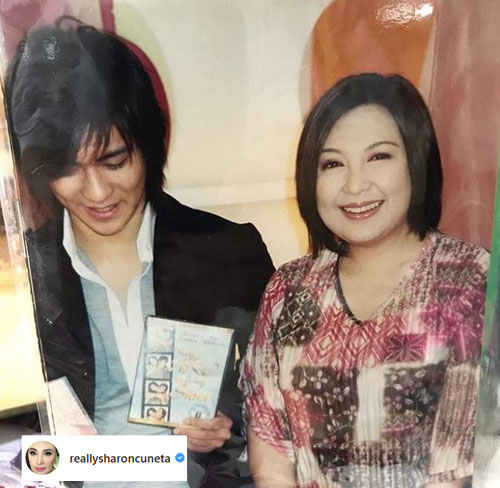 Meteor Garden, which aired in Taiwan in 2001, was bought by ABS-CBN for airing in 2003.
It enjoyed a cult following, with its cast members—including Barbie Hsu, Ken Chu, and Vaness Wu—holding sold-out concerts in the Philippines.
Meteor Garden is creating buzz again because of the remake that is being aired now in Taiwan.
The remake will soon be broadcast in the Philippines on ABS-CBN.