GMA-7's prime-time series Kambal Karibal became a big hit among viewers.
This is the reason why instead of its original eight-month run, the show was extended to eight weeks.

Aside from its compelling story about twins Crisan (Bianca Umali) and Crisel (Pauline Mendoza/Kyline Alcantara), the show was also well-followed because of controversial catfight scenes that have even been reported as becoming too real.
As the series airs its finale today, August 2, PEP.ph (Philippine Entertainment Portal) lists down 5 of the most intense confrontation scenes among the characters of Bianca, Kyline, and Pauline in Kambal Karibal:
1. The juice bar catfight
In this scene, Cheska (Kyline) tried to piss off Crisan (Bianca) by complaining about her drink, which Crisan prepared.
Crisan insisted that she gave her customer the right drink that she requested.
Cheska got irritated by Crisan's reasons so she splashed her drink towards Crisan.
Crisan controlled her temper and told Cheska, "Ma'am, sumusobra na yata kayo."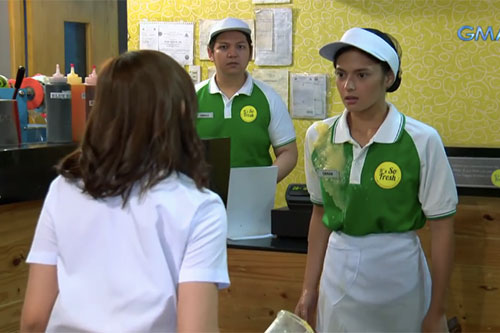 Cheska then pulled Crisan's hair and hurt her until Geraldine (Carmina Villarroel) stopped them.
Cheska tried to blame Crisan for what happened, but she ended up being humiliated after customers proved that Cheska started the fight.


2. Fight by the creek
While they were part of a cleanup drive, Cheska picked a fight with Crisan.
Crisan tried to pacify her, but Cheska ended up getting more irritated with her and pulled her hair.
While holding her hair, Cheska brought Crisan near a creek and pulled her into the water.
Cheska continued to hurt Crisan and tried to drown her.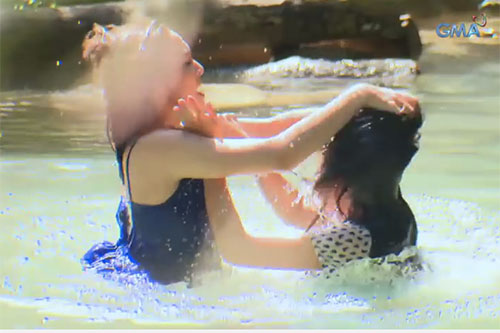 Crisan's ghost twin sister Crisel (Pauline) saw what Cheska did to her sister.
To avenge her twin, Crisel's spirit swam in the creek and pulled Cheska's legs to drown her.


3. The traffic cone fight
During this scene, Crisel's spirit was inside Crisan's body, while Crisan's soul was using Cheska's body.
Crisan was about to ride a jeepney when Crisel pulled her out of the ride.
Crisel strangled Crisan's neck, as they had a heated exchange of words.
When Crisan pushed Crisel, Crisel grabbed traffic cones and threw them one by one towards Crisan.
As they threatened each other's lives, the two even tried to hit each other with their traffic cones.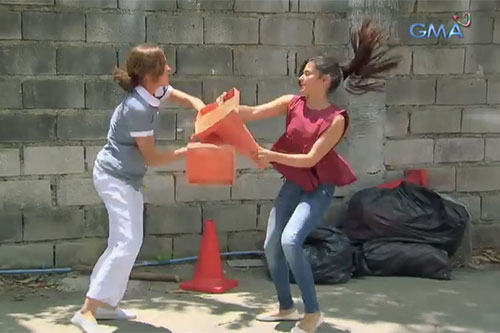 Crisan strangled Crisel's neck again, but Crisan was able to push her twin sister.
Crisan tried to run away but Crisan was able to reach her hair and pulled her back.
As Crisel was on top of Crisan and tried to choke her, Crisan threw specks of cement dust towards Crisel's eyes.
Crisan then ran away and escaped the wrath of her evil twin sister.



4. The fountain catfight
Crisel—who is using Cheska's body, lived the life of her host and continued her pretensions in order to make Crisan's life miserable.
A party was held for Cheska, which was planned by her mother Maricar (Sunshine Dizon), after years of separation.
When Crisel was giving her speech, she mentioned Crisan and humiliated her in front of everyone.
Diego (Miguel Tanfelix) told Crisan that they should leave the party.
When Crisel saw them leaving, she pulled Crisan's hair and pushed her towards the chocolate fountain.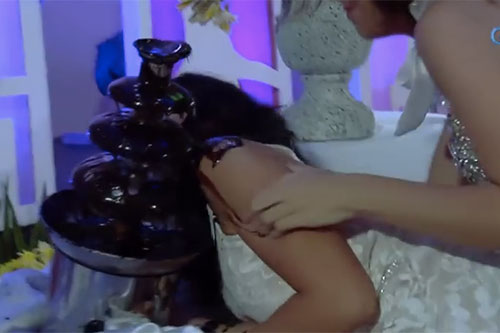 Not content with what she did, Crisel drowned Crisan in the water fountain set up in the middle of the party place.
However, she was forced to stop by Maricar, who discovered that she is just using Cheska's body.
Maricar then went inside the water fountain to save Crisan.
Unfortunately, Maricar ended up getting electrocuted after the party lights broke and fell into the water.
5. The catfight scene that allegedly became too real.
Crisan was expecting to have a date night with Diego when she went to a restaurant.
However, she found Diego having an intimate, sensual moment with Crisel, who is still inside Cheska's body.
It turns out that Black Lady went inside Diego's body to fool the twins.
Crisan slapped Diego two times, until Crisel tried to stop Crisan from making a scene.
Crisel then told her sister, "Bakit ba hindi mo matanggap Crisan? Hindi ka na niya mahal! Ako na ang mahal niya, akin na siya. Baka naman kasi masyado kang pakipot, kaya ayan tuloy, naunahan kita."
Crisel continued saying harsh words about Crisan as the poor girl cried her heart out, and even received a slap on her face.
Eventually, Crisan fought back and gave Crisel a crisp slap.
A catfight then ensued between the two of them and they created a scene inside the restaurant.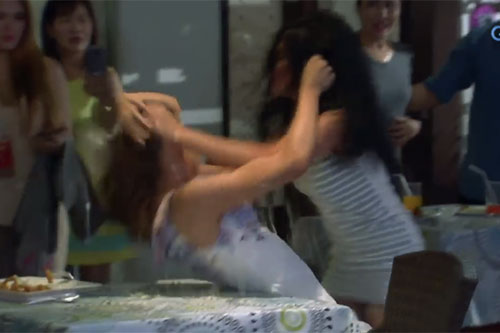 They were eventually stopped by the restaurant's guards.
This particular scene also triggered rumors about the silent feud between Kyline and Bianca.
According to a report by PEP Alerts's Cabinet Files, their acting became real when Bianca allegedly gave both Miguel and Kyline a real slap.
Back then, rumors have also been circulating that Kyline was allegedly the cause of the breakup of Bianca and Miguel, which has not been proven yet as both camps remain silent about the issue.