Both ABS-CBN and GMA-7 experienced net income decline during the first half of 2018.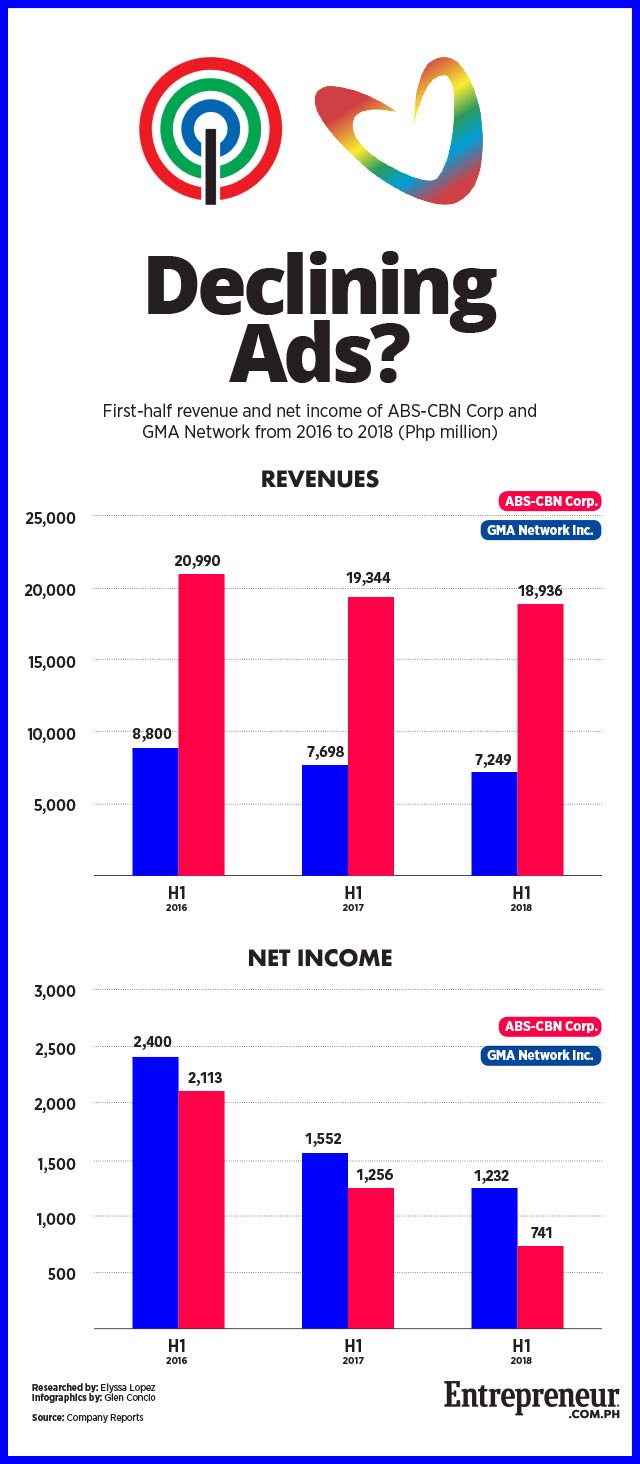 The country's two largest television networks, ABS-CBN Corp. and GMA Network Inc. posted double-digit drops in their net income in the first half of the 2018 as advertisers funnel their money elsewhere due to the seemingly growing appetite of Filipinos for alternative forms of entertainment.
ABS-CBN Corp. suffered a greater decline between the two as it posted a 41-percent drop in net income from Php1.3 billion in the first half of 2017 to Php741 million in the same period this year.

As for GMA Network, its net income only slid by 21 percent to Php1.2 billion from Php1.6 billion.
"This year saw a notable contraction in television placements from advertisers, which was felt across the broadcasting industry," GMA Network said in its second quarter financial report. Majority of both networks' revenues come from ads.
GMA Network's revenues from television and radio airtime dropped by seven percent in the first half of the year at Php6.4 billion while ABS-CBN Corp.'s advertising earnings decreased by three percent to Php9.6 billion. The latter's slowing performance was also further aggravated by the lower revenues recorded from the movies it has released under its film production arm, ABS-CBN Films (Star Cinema).
GMA Network ended the first half of the year with a six-percent decline in total revenues at Php7.2 billion while ABS-CBN Corp. saw its revenues slightly decline from Php19.34 billion to Php18.9 billion.
Still, the revenue growth slowdown comes as ABS-CBN Corp. aims to go fully online "to address the rapid digital preference move of the 'millennials'."
The company has been launching various online platforms in recent years and its investments are now starting to bear fruit. The firm's "digital and interactive media" operations posted a 50-percent increase in revenues for the first half of 2018 at Php390 million.
As for GMA, its chairman and CEO Felipe Gozon said the company remains optimistic that it will perform better for the rest of the year. After all, the network may be expecting early political advertisement placements in its shows, as the May 2019 senatorial election looms closer.
"In spite of challenging market conditions, GMA Network was still able to breach the one billion-peso mark in terms of net income for the first half of 2018," Gozon said. "We look forward to seeing the rest of the year with better results for our company."
This story originally appeared on ENTREPRENEUR.COM.PH.
* Minor edits have been made by the Pep.ph editors.