GMA-7's afternoon series The Stepdaughters earned the ire of physical therapists because of a controversial line referring to PTs as "masahistas."
This happened during the teleserye's August 27 episode where the character of Samantha Lopez exchanged dialogues with a physical therapist, portrayed by Lovely Abella.
In the show, Samantha's character Daphne is pretending to be sick to get sympathy from Hernan (Gary Estrada).
A physical therapist named Maylene is hired to look after Daphne and aid in her recovery.
Maylene got the idea that Daphne might be faking her illness.
"MASAHISTA" SCENE.
In the August 27 episode, dubbed as #TSDKarma, Daphne had a confrontation scene with Maylene.
Maylene asked her, "Tanong ko lang po, baka may kailangan kayo—gamot, injection, reality check..."
Daphne answered, "I'm okay, I can manage."
The physical therapist asked more questions to Daphne about her illness, emphasizing that she's also in the medical field.
She asked, "Miss Daphne, curious lang po ako kasi nasa medical field din po ako. Saan niyo po ba nakuha yung sakit niyo? Viral, hereditary, paano po kayo nagkaroon ng ganyang sakit?"
Daphne immediately retaliated and got mad at her therapist.
She told her, "Sandali lang! Sino ka ba? Pamilya ba kita? Di ba, may patient's confidentiality? Dami mong tanong, ah?
"Let me just remind you, ha. You're just a physical therapist! You're not a doctor, you're not a nurse.
"Ngayon, kung wala kang magawa, masahiin mo na lang ako. Tutal, yun naman ang trabaho mo, di ba? Hindi yung nakikitsismis ka diyan.
"Feeling mo reporter ka, ha? Pwede pang tindera ng diyaryo."
To get back at Daphne, Maylene told her, "Ay, Miss Daphne, alam ko na ho kung saan niyo nakuha yung sakit niyo!
Daphne asked, "Saan?"
Maylene answered, "Sa karma!"
REACTION OF PHYSICAL THERAPISTS.
Last Monday, September 3, a Facebook user named Techy Allaeza uploaded a 15-second clip of this particular scene.
The clip showed the part where Samantha was already shouting at Lovely's character, saying that she's just a physical therapist and instructing Maylene to give her a massage.
The only lines that can be heard in the clip were Daphne's dialogue: "Let me just remind you, ha. You're just a physical therapist! You're not a doctor, you're not a nurse. Ngayon, kung wala kang magawa, masahiin mo na lang ako. Tutal, yun naman ang trabaho mo di ba?"
Allaeza wrote in the caption, "We didn't spend hours and sleepless nights of studying for 5 YEARS just for you to call us 'masahista.'
"HOW DARE YOU, GMA!"
According to Allaeza's Facebook account, she is a physical therapy intern at the Philippine Orthopedic Center.
The public Facebook post already received 2.2K reactions, 1.7K shares, and 175K views as of this writing.



The post sparked discussions among netizens and other physical therapists who shared their thoughts about the scene.
Physical therapists got offended by the show's script, saying that the lines used in the script seemed to be degrading their profession.
Meanwhile, there were others who defended the show, saying that The Stepdaughters is just a teleserye and the lines were blurted out by a "matapobre" character who intended to argue with Lovely's character.
Here are some reactions of of netizens on this issue: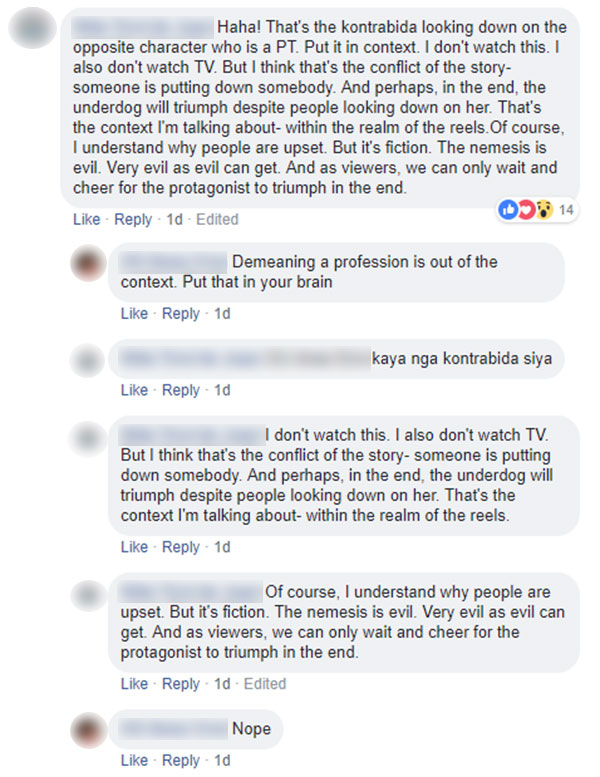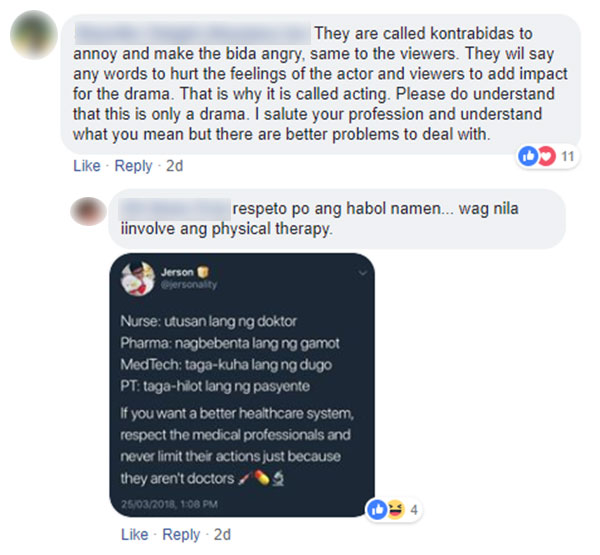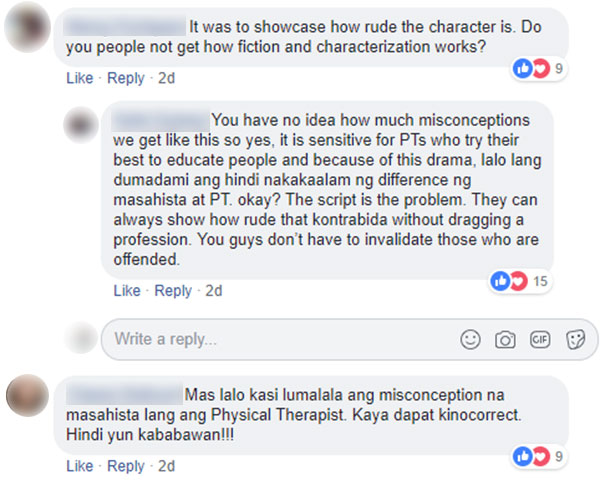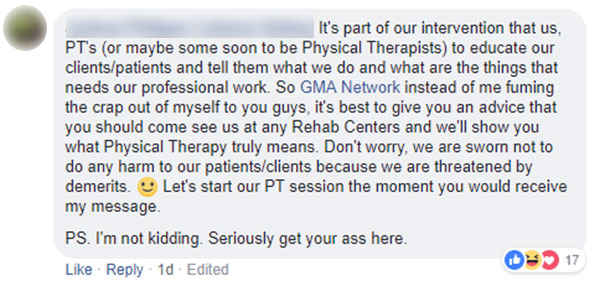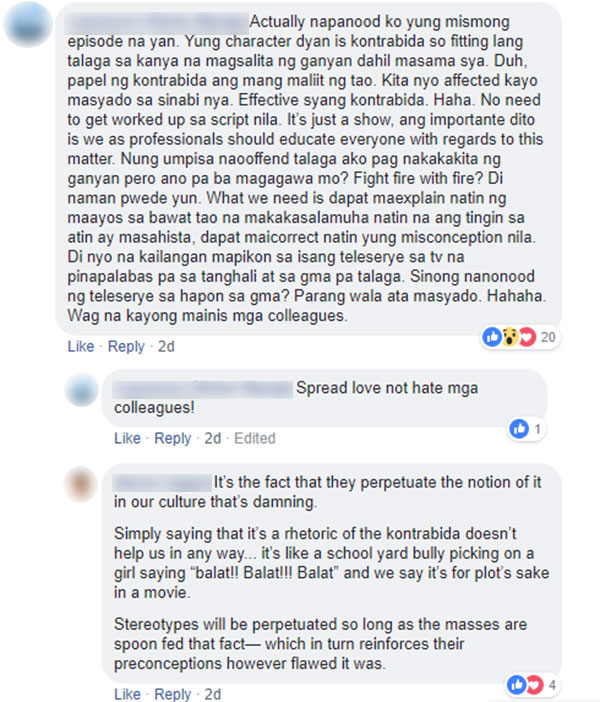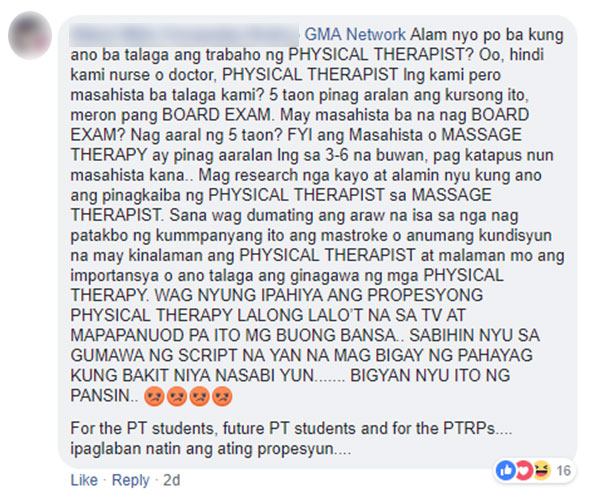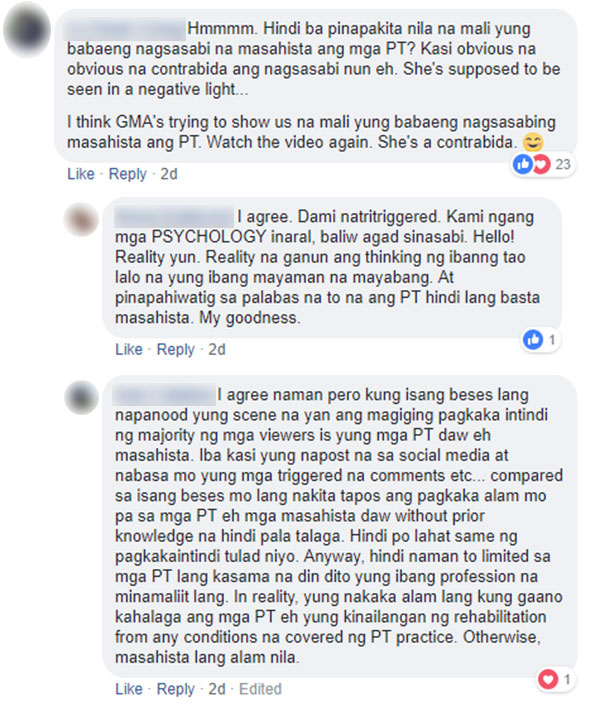 PPTA ISSUES STATEMENT.
A day after the post was uploaded, the scene caught the attention of Philippine Physical Therapy Association, Inc. (PPTA).
According to their Facebook page, PPTA is a "national professional organization of Filipino physical therapists recognized by the Philippine Professional Regulation Commission."
It was founded by the first Bachelor of Science degree in Physical Therapy graduates of the University of the Philippines - School of Allied Medical Professions on December 8, 1964, according to their website.
The organization issued a statement that was posted on their social media accounts yesterday, September 5.
The statement said the PPTA "denounces the disparaging dialogue" uttered by the character of Samantha Lopez in the GMA-7 show.
The group pointed out that even if Samantha's character was a villain, her dialogue was still an insult directed not just to Lovely's character but to the entire profession.
Part of the statement goes: "Even if it was said in feigned ignorance, it demonstrated a clear lack of awareness and absolute disregard for the honor and sensitivities of Filipino physical therapists here and abroad.
"The insult towards an entire profession whose daily contribution as an integral member of the healthcare team does so much to help thousands of people return to function is uncalled for, and necessitates a response, if only to correct a misconception."
Citing a quote from the World Confederation for Physical Therapy in 2015, the PPTA also pointed out in its statement that physical therapists provide services to patients that "develop, maintain, and restore people's maximum movement and functional ability."
The PPTA has already contacted GMA-7's Senior Vice President of GMA-7's Entertainment Group regarding the resolution of this matter.
Here is the full statement of PPTA: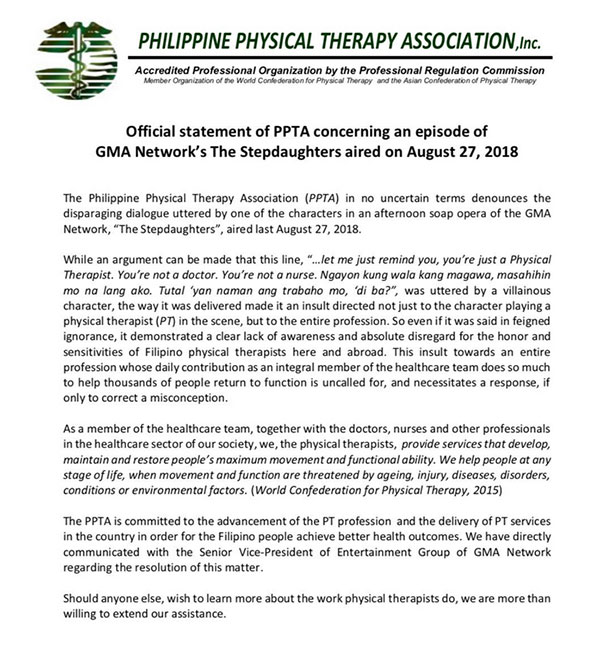 As of this writing, GMA-7 has yet to issue a statement or reaction about PPTA's concern.
PEP.ph (Philippine Entertainment Portal) contacted the Kapuso network—through its Corporate Communications Department—for any statement or answer regarding this issue.
PEP.ph remains open to both parties who wish to air their side regarding the resolution of this matter.
The Stepdaughters, a series about two stepsisters competing for supremacy in the cosmetic world and the love of one man, airs from Mondays to Fridays on GMA Afternoon Prime.
The show, which premiered on February 12, 2018, is currently on its seventh month of airing on television.