Former Eat Bulaga host Julia Clarete is currently in the Philippines.
She has not divulged her reason for visiting Manila but she did mention the celebrities whom she met recently.
Julia posted on Instagram her photo with singer-actor Randy Santiago. She wrote in the caption: "This is too funny. Ran into Sam the other night, bumped into Randy Santiago yesterday. Who am I gonna see today?"
Sam refers to former Eat Bulaga host Sam YG. In a separate Instagram post, Julia posted her photo with her husband Gareth McGeown. Sam wrote in the comments section: "Good seeing you guys. Welcome back @juliaclarette"
Current Dabarkad Pia Guanio also greeted Julia and her husband by commenting: "When do we see you guys and congratulate the new CEO?"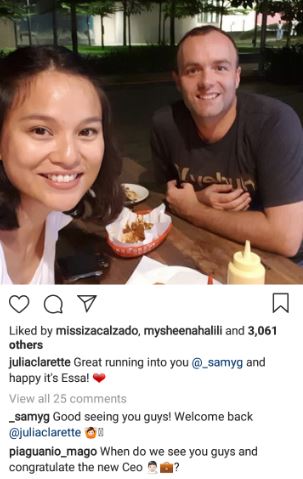 Netizens were excited to see Julia and most of them requested that she return as one of the co-hosts of Eat Bulaga.