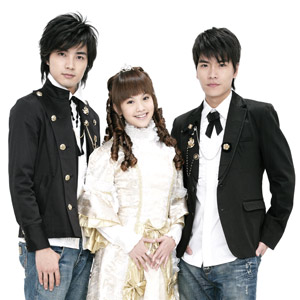 ---

What if a special love coupon can change your destiny?

Will you let your dream guy claim you as a prize or will you still allow your heart to be drawn as a consolation?

Fall in love every weekday afternoons with this cute and romantic story starring Meteor Garden's Rainie Yang in ABS-CBN newest offering, Why Why Love beginning Monday (November 3).

Follow the life of Stephanie (Yang), a simple girl working very hard to support her family and clear her mother's debts. She is so determined that even her love life has been put aside.

Luckily, her best friend Joanna wishes her well and wants her to fall in love again thus, she placed a "love coupon" on Stephanie's raffle box for a charity event in hopes that the lucky guy who draws it will sweep her off her feet.

It turns out that Joseph (Kingone Wang), a perfect gentleman and a handsome shopping mall general manager Stephanie has a secret crush on, is the lucky guy.

But, though the prince can exchange the coupon for Cinderella's love, it doesn't mean he will, especially when his rebellious younger brother Joshua (Mike He) get on the way and is determined to exchange his "Master/Angel" coupon for her servitude.

Stephanie will get to know both Joseph and Joshua more while the half brothers can't help but fall in love with her at the same time.

Who will she choose? Who really owns the coupon to Stephanie's heart? Is it the perfect guy or the rebellious heartthrob?

Don't miss this not-so-ordinary love triangle story when Why Why Love airs its pilot episode on Monday (November 3) after Basketball Tribe on ABS-CBN.