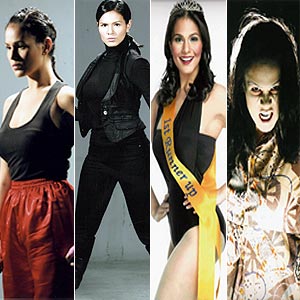 ---

This November, Iza Calzado will showcase herversatility as an actress as she portrays four challenging roles that willdisplay different facets of her personality.

These four touching stories are titled "Sanib,""Boksingera," "Beauty Queer," and "Stella .45." These episodes will be directedby the country's new breed of directors, namely Toppel Lee, Mark Reyes, DominicZapata, and Rico Gutierrez.

Directed by Toppel Lee, "Sanib" is Obra'sHalloween special that tells about a woman possessed by an evil spirit with asinister past. How can she and her husband surpass this supernatural foe whenthey still have to exorcise the ghosts of their own past?

Then, she plays the role of a female boxer whose heart will be torn between theman she loves and her father's fervent dream for her in the emotionallygripping episode "Boksingera" directed by Mark Reyes.

In the funny yet heartwarming episode "BeautyQueer," Iza plays the role of a consistent "thank you girl" or a losingcontestant in beauty pageants who is determined to win a crown. She the resortsto joining a gay beauty contest but can she continue with her plan even if itmeans exchanging triumph for love? This comedic episode is directed by DominicZapata.

Lastly, the award-winning actress will portraythe role of an assassin who wants to change her life but her profession keepshaunting her in the episode "Stella .45" directed by Rico Gutierrez.

BACKGROUND. Iza worked as a dubberbefore she entered show business. Her ethereal beauty captured the public'shearts when she did a shampoo commercial. Since then she became active in theentertainment industry and was later included in the roster of GMA-7'stop-caliber artists.

She started out as a guest teen star of theGMA-7 show Click and was later featured in Kung Mawawala Ka whereher acting skills stood out. Soon after, she was given She earned her firstleading role in the primetime series Te Amo (I Love You) oppositeArgentine actor Segundo Cernadas. Later, Iza proved that she is indeedmulti-faceted when she was commended for her good hosting skills in theprograms 3R, At Your Service and SOP.
ADVERTISEMENT - CONTINUE READING BELOW

But it was her role as the wind-goddess ReynaAmihan in GMA-7's telefantasya Encantadia that catapulted her tostardom. The opportunity to be seen regularly on primetime kept pouring in forthe 26-year-old actress. She played more challenging roles such as the powerfulsea-goddess Amaya in Atlantika, the beautiful twin Lara in Impostora,the clairvoyant Cassandra in ESP and the magical Sera in La Lola.In the action-adventure series Joaquin Bordado, she played the role ofSofia Apacible, allowing her to become a semi-finalist in the Best Actressnominee in the 2008 International Emmy Awards.

She is also very much visible on the big screen.Iza is also well known for her roles in various movies such as Mulawin theMovie, Shake, Rattle & Roll 8, Batanes, Desperadas, Blackout, Mona:Singapore Escort, Moments of Love, Eternity, Ouija, Milan and theinternationally-acclaimed movie Sigaw as well as its Hollywood remake TheEcho.

All her work has been paying off as she earnednumerous awards here and abroad. She has received the 5th Golden Screen AwardBest Supporting Actress for her portrayal in the movie Blackout, 2005Golden Screen Best Breakthrough Performance Award for Milan, 2nd USTvThomasian Students Choice Award Best Actress and 28th Gawad Urian BestSupporting Actress award for her portrayal in the movie Sigaw. Lastyear, her beautiful face earned her the Female Asia Award in the 2007 KoreanAsia Model Award Festival.

Don't miss the new set of exceptional stories inObra presents Iza Calzado beginning November 6 after GMATelebabad.