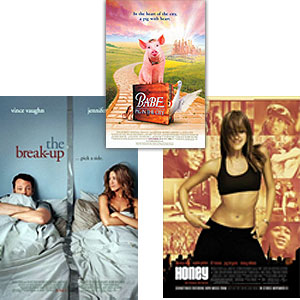 ---

A diverse variety of heroes and heroines are portrayed in different ways in TV5's 5MAX Movies. These include a dancer, a singer, an ex-chief officer, a perplexed couple, a sinner-turned-saint and...a pig?

When an explosion blocks a city tunnel at both ends, ex-chief officer Kit Latura (Sylvester Stalone) is the only one with experience to save the trapped people in the tunnel. Will he be able to save the day? Find out tonight in Daylight (November 4).

On Wednesday (November 5), watch an aspiring singer in American Dreamz and imagine a country where the President never reads the newspaper, where the government goes to war for all the wrong reasons and more people vote for a pop idol than their next President. While on Thursday (November 6), get involved in the charming and unpredictable comedy The Break-Up, starring Jennifer Aniston and Vince Vaughn, and get ready for an all-out war of the exes in this fun date movie that's heartfelt and hilarious.

Dance along with sexy Jessica Alba in Honey on Friday (November 7), as the feisty and persistent choreographer who struggles to make her dreams come true as a professional dancer; and repent and turn into a saint from a sinner in Santa Santita featuring Angelica Panganiban as the modern-day Quiapo Magdalene on Saturday (November 8).

This little pig went to the city...and this little pig's adventure can be witnessed on Sunday (November 9) as Babe: Pig In The City brings you to the metropolis to follow the sweet and polite pig, Babe, in raising money for the ailing Hoggett farm. But upon arriving in the big city, Babe and Mrs. Hogget are faced with an urban nightmare. After having their bags stolen, Babe ventures out to save not only the Hoggetts' bacon, but that of the city's animal population as well.

Catch these heroes and heroines in 5MAX Movies every evening at 8 p.m. only on TV5.
ADVERTISEMENT - CONTINUE READING BELOW