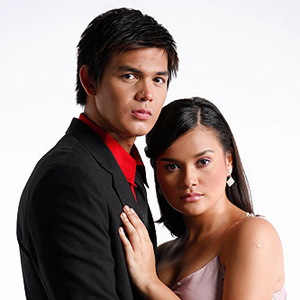 ---

The Maryo J. Delos Reyes movie SaanDarating ang Umaga? will be expanded for television beginning November 10.The eleventh installment of GMA-7's Sine Novela features the love team ofYasmien Kurdi and Dion Ignacio. This marks her return to Sine Novela afterappearing in Pati Ba Pintig ng Puso? and Pasan ko ang Daigdig.
They will be joined by Lani Mercado, JoelTorre, Dion Ignacio, and child actor Jacob Rica. Other remarkable stars areCharlie Davao, Luz Valdez, Pinky Amador, Shirley Fuentes, Andrea Del Rosariowhile Arci Muñoz and Gary Estrada will also play important roles.
Witness how a closely knit family ismercilessly torn apart by tragedy in Sine Novela presents Saan Darating ang Umaga? The story is based on the hit movie of thesame title first released in 1983. It starred award-winning dramatic actorsNida Blanca, Nestor de Villa and Maricel Soriano. The gripping story and thecharacter's strength and courage inspired viewers to triumph against theirpersonal battles.
Lani Mercado will play the role of Lorrie,the character played originally by Nida Blanca; while Joel Torre will portraythe role of Ruben originally played by Nestor de Villa. Starstruck AvengerYasmien Kurdi will portray the role of Shayne, the role originally played byMaricel Soriano who won the 1984 FAMAS Best Supporting Actress award for herperformance. Dion Ignacio relives the character Raul who was played by RaymondLauchengco while Jacob Rica plays the character of Joel originally portrayed byJaypee de Guzman.
And for the first time in the history of SineNovela, the director of the original film, the well-respected director Maryo J.Delos Reyes will also be directing the television series.
SYNOPSIS. Saan Darating ang Umaga? is about the Rodrigo clan led by a powerfulpatriarch Leonardo (Charlie Davao). Leonardo is a wealthy businessman who isvery proud of his humble beginnings. It was only through hard work anddiligence that he was able to achieve all the luxuries in life. Today, he isone of the most respected and well-known businessmen in the real-estatebusiness. And because of this, he also expects his two sons Dindo (GaryEstrada) and Ruben (Joel Torre) to follow his lead.
ADVERTISEMENT - CONTINUE READING BELOW
Dindo and Ruben are architects working fortheir father's company. But it was Ruben who took after his father's ideals andcompassion for the business. Not only is he talented but he is kind-hearted. Heis a loving husband to Lorrie and a caring father to his daughter Shayne.
Dindo, meanwhile, is the opposite of Ruben.He and his wife Agatha (Pinky Amador) are very dependent and still live withLeonardo. Aside from not having a child, Dindo has been rumored for having anextramarital affair with his secretary Mylene (Shirley Fuentes).
When Leonardo passed away, the Rodrigopatriarch left all his wealth and the firm to Ruben. But unknown to Ruben, hisfather's last will marks the beginning of a series of misfortune in theirfamily.
Ruben and Lorrie have been longing to haveanother child since their only daughter Shayne is already a teenager. However,they will find out that Lorrie can no longer bear a child leading them to adopta young boy named Joel (Jacob Rica).
Joel's presence provides an overwhelminghappiness to couple Lorrie and Ruben. But it will be the beginning of Shayne'srebellion for she will feel neglected and even competing for her own parent'sattention. Shayne will then meet Raul (Dion Ignacio) who will fill theattention she has been looking for from her parents.
Will Ruben and his family survive themisfortunes coming their way? Can Ruben keep his family from falling apart?Will Joel be a target by Dindo and Agatha to amass the wealth they have beenlonging for? What if Joel, the source of happiness of Lorrie and Ruben, becomesthe source of the family's grief later on?
Watch another heart-breaking drama in theafternoon block beginning Monday, November10, when Sine Novela presents Saan Darating ang umaga? airs on GMA-7'sDramarama sa Hapon.