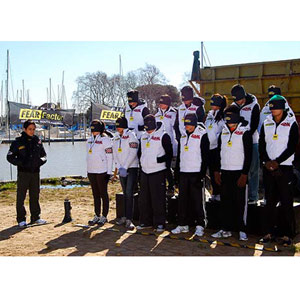 ---

Crossing a rolling beam above freezing waters, moving cow's eyes or live crablets using the mouth, and diving underwater to free a doll trapped in a car.
These are just some of the challenges that the twelve daring participantes will have to face when ABS-CBN's biggest reality game show Pinoy Fear Factor: Argentina, South America premieres on November 10.

The show brings together twelve fit, strong, and agile men and women who will have to hurdle heart-thumping and gut-wrenching stunts and challenges or face elimination.
The last person standing will be proclaimed the first El Ultimo Participante of Pinoy Fear Factor, winning the grand prize of P2 million and a house and lot from Avida.
ABS-CBN recently revealed the identities of the participantes, namely:
Veterinarian Elmer Felix is a two-time medical board exam flunker who never gave up until he got what he wanted. With fears on drowning and exotic edibles, this Kapampangan hunk must re-summon his competitive spirit to withstand unfamiliar challenges.
ADVERTISEMENT - CONTINUE READING BELOW
Model Gail Nicolas is the Bikini Summit '07 winner who is scared of heights and dark places. She is used to pressure, being a Lady Tiger Spiker and the breadwinner of her family.
Stand-up comedienne Janna Dominguez fears spiders and closed spaces. She is determined to become Pinoy Fear Factor's first El Ultimo Participante.
ModelJommy Teotico was a playboy until he almost died after being beaten up for allegedly sleeping with a married woman. Now a changed man, Jommy makes another bold move by joining the reality game show.
Fil-Spanish Jose Sarasola is an aspiring chef who has lived a life of "exclusives." Educated in an exclusive school and brought up in an exclusive village, Jose admitted that he joined Pinoy Fear Factor out of boredom.
Former actress turned preschool teacherLJ Moreno is unafraid to take responsibility and take risks. An extreme sports enthusiast, she is poised to make an impact, however fearful or extreme the situation may be.
ADVERTISEMENT - CONTINUE READING BELOW
Self-employed Manuel Chua Jr. is an unwed father of a four-year old girl. A former womanizer and a speed junkie, Manuel is now focused on reviving their family business after his father died. His greatest fear is neither heights nor arachnids, but failure.
Balikbayan Marion Angelo dela Cruz was a victim of racism back in Austria, where he grew up. He now stays with his lola in the Philippines and he hopes to win to convince his family to follow him here.
Phoemela Baranda is an entertainment news host who is tired of being called a mere "celebrity." A child from a second family, the participantes' oldest member will only settle for first place, even if it means sacrificing her physical appearance.
Ram Sagad is a former NCAA player who once quit basketball after not getting enough playing time. Hungry for a new adventure, he needs to show his winning form to take home the prize.
ADVERTISEMENT - CONTINUE READING BELOW
Divisoria kargador Bernabe "RJ" Calipus Jr. is a half-Filipino, half-French Tondo boy who never met his biological parents. Through the show, RJ will experience many firsts---his first airplane ride, first TV exposure, and first time to compete for P2 million.
Ledge dancer Savanah Lamsen is a sexy siren who dreams to go from riches-to-rags to riches again. Although a little clumsy and super funny, the former ledge dancer is set to conquer Argentina no matter what it takes.
Start placing your bets on who will be the first Pinoy Fear Factor El Ultimo Participante. Don't miss the 15-minute Pinoy Fear Factor Season Primer on Sunday (November 9) after Rated K.
Pinoy Fear Factor: Argentina, South America will air weeknights starting Monday (November 10) after I Love Betty La Fea on ABS-CBN.

Click HERE to view photos of the participantes.